Women on Top in "No Strings Attached"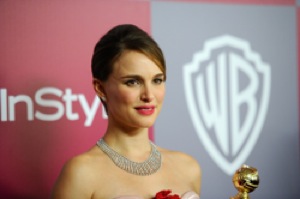 I thoroughly enjoyed No Strings Attached , the new romantic comedy in which Natalie Portman and Ashton Kutcher attempt to be "sex friends" in lieu of having a real relationship. I know this puts me in the minority among critics. Slate 's Dana Stevens was not a fan : "I follow people on Twitter who write funnier lines than most of the ones in this script," and the New York Times ' A.O. Scott, in one of my favorite reviews so far this year, called NSA "not entirely terrible." Faint praise indeed. Though I agree with Roger Ebert that the sexual politics of the movie were weirdly retrograde ("Its premise is so much more transgressive than its execution," Ebert notes.) I was impressed by the way the movie dealt with women's careers.
Natalie Portman's Emma is a doctor, and she lives with fellow doctors played by Greta Gerwig and Mindy Kaling (their bond is really positive, as are most of Portman's relationships with women). Portman's character works 80-hour weeks, and Kutcher's character is at her sexual beck and call. His career is secondary-he is an aspiring TV writer who works as an assistant on a High School Musical -type show. At his job, all of his superiors are women: The snippy head writer/show runner, the neurotic staff writer (Lake Bell) who looks out for him. About halfway through the movie, one of Portman's fellow doctors who has designs on her tells Kutcher that he's the kind of guy a girl just has sex with; not the kind a girl would want to marry. You heard right, he basically called Kutcher a Mimbo .
By the end of the movie, Kutcher's character has progressed in his career-perhaps that's because Hollywood doesn't think it's a happy ending unless the man and the woman are equally successful. Still, I appreciated that they took the work Portman's character did seriously. And I really did like the movie, though as A.O. Scott suggested, I would much rather have seen Gerwig and Kaling starring in the "year's greatest girl-bromance."
Photograph of Natalie Portman by Kevork Djansezian for Getty Images.