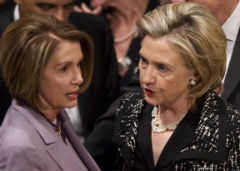 We should feel nothing but sympathy for former House Speaker Nancy Pelosi at this moment, as she was made scapegoat for absolutely everything: "You led your party into the worst electoral defeat in decades," is how Deborah Solomon introduced her, none too gently, in her interview in this Sunday's New York Times . And yet in that interview Pelosi proves herself such a peculiar specimen of her generation of feminism that it's difficult to connect. In her reflections on her tenure as the first female House Speaker, Pelosi is both victimized and tough as nails.
About the moment when John Boehner, the Ohio Republican who will succeed her as House Speaker, teared up in his acceptance speech, she says:
If I cry, it's about the personal loss of a friend or something like that. But when it comes to politics - no, I don't cry. I would never think of crying about any loss of an office, because that's always a possibility, and if you're professional, then you deal with it professionally.
But her stony face does not overlook the slights.
I was the first woman speaker. It didn't get that much play. And I'm not a publicity seeker, so it was O.K. with me. Boehner, before the election, they had him on the cover of Newsweek . Now he's on the cover of Time , and women are coming to me and saying, "Is the job less important when a woman holds it?"
Who's the "they" in that sentence? And who are these "women"? That feeling of having built up such a tough shell over the years such that one is beyond emotion and into a kind of cold paranoia is so strained, so Hillary-like, that it makes you realize it is indeed time for a new generation.
Photograph of Nancy Pelosi and Hillary Clinton by Jim Watson for Getty Images.