Book of the Week: "Ape House"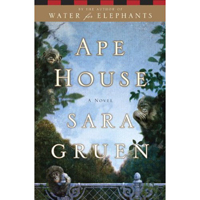 John Thigpen is a conscientious reporter for the Philadelphia Inquirer who thinks he's found the story of his career when he goes to visit scientist Isabel Duncan at the Great Ape Language Lab. He wants to write about her research into the cognitive and communicative capacity of a group of American Sign Language-trained Bonobos. But then Isabel's lab is bombed, seemingly by a terrorist animal rights group. Isabel is near-mortally wounded; the Bonobos are sold to Ken Faulks, a media mogul turned porn king, who uses them in a Big Brother-esque reality TV series; and John is forced to quit his job after being unceremoniously kicked off the ape beat by an underhanded colleague and an unsympathetic boss. That's the premise of Sara Gruen's new novel, Ape House . If it sounds like a lot to take in, that's because it is, and we haven't even met half of the important characters yet.
John's wife, Amanda, is a writer whose first novel sold so poorly she can't even get an agent to look at her second manuscript. Early in Ape House , John describes his experience of reading his wife's first book:
Her prose was beautiful and polished and swept him along but by the time he reached the end she had not blown up a single thing. There was no car wreck, no murder, no secret brotherhood or international plague. It was psychological and literary and while John understood that there were people who enjoyed such books, he wasn't one of them ...
It's unclear how firmly, if at all, Gruen's tongue is in cheek. Ape House is a fiction writer's shoot the moon, a novel that earnestly tries to be both psychological and literary and action-packed and explosive. The characters in Ape House feel everything acutely and love to pontificate on the implications of those feelings. But wait 10 seconds, and something will surely get blown up.
It's hard to take characters seriously when they are moved along by clunky plot devices. But in the end, Ape House is less about human relationships, or even inter-primate relationships, and more about people's relationships to their work--specifically that tortured relationship that writers have to their writing when they are thrust into the commercial free-for-all of present-day journalism. After leaving the Inquirer , John has to face the possible ruin of his journalistic reputation by writing for the most sensational and trashy of weekly rags. John's wife turns to novel writing to escape the horrible grind of copy-writing, but when her novel bombs, she has no choice but to move to L.A. and try to write for a scripted television show. Even that unsavory prospect is threatened by the menacing specter of reality TV, the lowest pursuit of all.
In its take on today's dismal climate for writers, Ape House is something of a modern New Grub Street , and Sara Gruen a bit of a ham-handed George Gissing. But unlike Gissing, Gruen's real talents may not lie in novel writing: I actually think she's a lot better at coming up with concepts for reality TV shows.