Is Adam Sandler Afraid of Mature Success?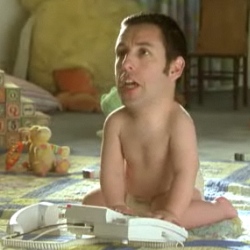 Sandler (whose much sharper early comedies were unjustly maligned by critics) can be an interesting writer and actor, but whenever he gets spooked by the reception of grown-up work like last year's Funny People , he becomes Hollywood's real-life Billy Madison-skulking off to the least challenging path.
Sandler is an incredibly successful-and wealthy-comedian at this point in his career. There is no obvious reason why he should be making "the work of people who sat around a table for an hour or so tossing around hackneyed comic notions, then decided to slap them onto the screen and hope for the best," as Holden calls it. He has the ability to make much better movies if he wants to, but he can't handle the high expectations. Which is why Smith's theory about Sandler seems to have the ring of truth to it: Sandler, though outwardly successful, is an Omega Male at heart .