Tom Cruise's "Tropic Thunder" Character Will Get A Spinoff Movie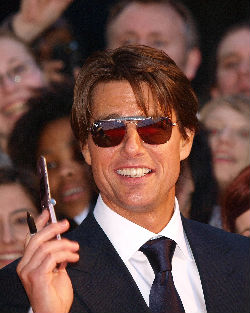 If you wondered, as I did on Sunday night, why a joke from 2008 was the recurrent theme of the 2010 MTV Video Music Awards, here's your answer: On Wednesday, Paramount announced that they're making a spinoff about the real life producer Les Grossman. It's a near-guarantee that Tom Cruise will play Grossman, the Hollywood personality on whom Cruise's gold-chain-wearing, rap-lovin', money-hungry, gelastic character in 2008's Tropic Thunder was based-a role, by the way, that earned Cruise a gajillion comeback points after he jumped on Oprah's couch and made America collectively cringe with his Scientology shilling on several news programs. Ben Stiller's commentary on the acquisition is pretty golden: "Les Grossman's life story is an inspiring tale of the classic human struggle to achieve greatness against all odds. He has assured me he plans to quote, 'F**king kill the sh*t out of this movie and make Citizen f**king Kane look like a piece of crap home movie by the time we are done.' I am honored to be working with him."

As Nikki Finke of Deadline Hollywood reports, the announcement "couldn't have come at a better time" for Cruise. His new action rom-com with Cameron Diaz, Knight and Day , is tracking badly. (Unsurprisingly-haven't we seen enough tense driving scenes with the two of them? Ahem, Vanilla Sky ?) So good for Tom Cruise, I guess. Yet to be determined: how a Les Grossman comedy/biopic will fare for the Jews.
Photograph of Tom Cruise by Max Nash/Getty Images.