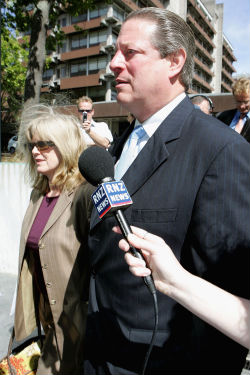 What surprised me about the Gores' breakup is not just that they really did seem to have an affectionate and functional marriage; it's that I always thought of Tipper Gore as a woman who managed to inhabit the unenviable role of political spouse about as well as it's possible to inhabit it. She seemed both independent of her husband and warmly supportive. Granted, these impressions were formed based mostly on an interview I had with her in 2002 when I was writing a profile of Al Gore, who was just starting to open up about what it was like to win the popular vote but not the presidency. Tipper talked about their ordeal for something like two hours in her childhood home in Arlington, Va., and was gracious and hospitable. I have this memory of her opening the refrigerator and urging me to have some yogurt. I think my favorite bit was when she talked about her reaction to the protesters who surrounded the vice-presidential mansion after the 2000 election, demanding that the Gores vacate "Cheney's house," as they described it, while the family was waiting for the Supreme Court opinion. Tipper responded by pushing boom-boxes against the windows and blasting whale noises and other calming sounds at them. I always thought that showed a sturdy and useful sense of humor. I also got the sense that she had spent a lot of time doing what she could to ease her husband's distress-placing relaxation candles here and there, renovating the deck to include a fountain. Small things, surely, but imagine trying to comfort or even just deal with a spouse who simultaneously won and lost the U.S. presidency. Where would you even start?

Before the interview formally began, we were chatting about 9/11, which was still very much recent history-the house we were sitting in is not far from the Pentagon-and I happened to mention that my husband worked in counterterrorism and how consuming that was just then. "You have to understand, it's not going to change," Tipper said, or words to that effect. "You have to create your own support system." She spoke with the forceful conviction of one who knew. The successful political spouses, I thought after that conversation, must be the ones who are extroverted and resourceful enough to reach out and build their own network of people who will help and listen and pay attention to them and combat neglect. Michelle Obama, for example, always seemed to me to be in the mold of Tipper; the current first lady has talked frequently about realizing that she needed to cultivate friends and helpers and fellow parents, once she came to terms with the fact that she would never have her husband to herself in the way many other wives can.

Well, maybe it was something other than the strains of a political marriage that got to them-who knows? Al Gore hasn't really been a politician for more than a decade. He's something else now-a global celebrity. Maybe it was the post-political period that was hardest. But thinking about all that Tipper Gore has gone through with her husband-the Clinton years, the race, the loss, the aftermath, etc.-I do hope she has a happy future ahead of her. I think another reason I've always had a soft spot for her is because, at the time I interviewed her, my own kids were young and I was so frazzled by the work-kids chaos that I dashed out to buy a sweater set for the interview to go with what was probably my only non-baby-food-covered pair of pants. I was in such a rush that I left the price tag on. If she noticed during the course of that two hours, she politely said nothing-schooled in the ceaseless acts of diplomacy, large and small, that public life requires.
Photograph of Al and Tipper Gore by Sandra Mu/Getty Images.