The Wrong Kind of Marrying Judge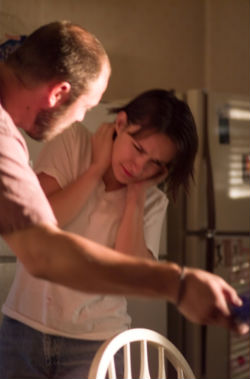 It's common knowledge that women in abusive relationships have trouble leaving their abusers. It is uncommon to the point of bizarre for a judge hearing a domestic violence complaint to take it upon himself to send a woman back into the arms of her abuser by marrying the couple. And yet, that's what Baltimore County District Judge G. Darrell Russell Jr. did last week. After hearing a second-degree assault charge against 29-year-old Frederick Wood, whose fiancee, according to the police report, said he kicked her, banged her head against a wall, and hit her in the face (she had a bloody nose when the cops showed up), Judge Russell offered to perform a wedding ceremony. This way, the woman could invoke the marital privilege against testifying and Wood would be found not guilty.
According to the Baltimore Sun : " 'He's asking for a postponement so he can go out and get married, come back and resolve the case,' said the defense attorney. "His wife will then invoke her privilege.' "

Russell replied, "Well, why don't I just marry them today in court?" And then after the wedding ceremony, "The case came to an end with the judge finding the defendant not guilty, saying, "I found you not guilty, so I can't sentence you as a defendant in any crimes, but earlier today, I sentenced you to life married to her."
A judge who is happy to serve-however utterly misguided and inappropriate such service might be. Russell has been reassigned from his regular duties, but not suspended.
Photograph of couple by Photodisc/Getty Images.