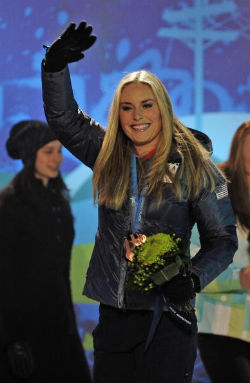 The biggest nonsecret of television: Sex sells. It's also no secret that NBC is losing money on this year's Olympic broadcast , marking the first time in history airing the Olympics has come packaged with debt. I suppose NBC figured what better way to beef up viewership than with some sex appeal? Olympic viewers already get nonstop footage of firm athletic butts in spandex leggings, but apparently that unspoken token wasn't enough. TV promos for the women's Super-G ski event that aired this past Saturday showed stills of U.S. skiers Lindsey Vonn and Julia Mancuso posed in their ski gear with the headline: "Don't Miss Team USA's Ski Divas." That's right. Ski divas .

Granted, it seems that "ski diva" might be a term thrown around a bit in women's skiing , in the way of "snow bunny." But calling serious Olympians snow bunnies or ski divas reeks of disrespect. (No one's branding the male skiers "Snow Moose.") Oh, to be a fly on the wall in the NBC meeting where some exec decided, "You know how we should sell the women's ski event? Make it sound like an MTV reality show."
Photograph of Lindsey Vonn by Olivier Morin/AFP.