Women Will Never Forgive Tiger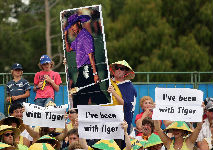 Emily, I agree with you : Tiger Woods' wife Elin should not get up on that podium and stand by her man. But not because there are feminist implications-because it truly doesn't matter for Tiger's future. This morning on Good Morning America , there was some speculation that the only way the American public would forgive Tiger is if Elin forgives him. I don't think that this is the case. Pardon this generalization, but I'd bet that in the eyes of most women, Tiger's reputation is forever ruined. That women hate him means less to Woods than it would to a Mark Sanford: Tiger doesn't have to appeal to women to make a living or be successful in his career, while any politician who wants to get elected certainly does.
Even if Tiger and Elin manage to patch things up, he will never again be able to market himself as the consummate family man. His fidelity is a joke. Now he can only market himself as the best golfer around. Whether he wins with Elin at his side is irrelevant.