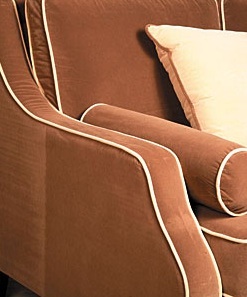 Piping, also known as "welt," is the strip of fabric-covered cord often set into the seams of upholstery, pillows, even clothing. As decorating notions go it probably lands on the traditional end of the spectrum, if only because sofas and cushions don't really need to be piped. In fact most modern pieces sport the no-welt look which I actually find quite chic in certain settings. But it's hard to resist adding an extra level of detail to solid-colored upholstery: a thin line of black or red on a beige sofa, no matter what style, can make basic quite brilliant. So why is that next to impossible to achieve on a budget?
I suppose because it's just hard to mass-produce. Calico Corners will let you pipe in any color of the rainbow, but their sofas hover around $2k BEFORE the cost of fabric, which you supply. No thanks. Beginning in September Ballard Designs will offer slipcovers with contrast cream piping, but only in 5 colors and only for their Baldwin sofa. Harumph. This chocolate brown and cream Carolyn sofa (pictured; sadly out of stock at Overstock.com) looks sort of Barbara Barry -on-the-cheap for a shocking $489.99. But I want something with more pizzazz.
Still share my pipe dream? Do you have a worn out old sofa with good bones? Why not call your local upholsterer, who can likely recover or slipcover granny's divan for less than anything at Calico or Ballard. Tell him/her you want THIN contrast welt (no wider than a quarter inch) on all seams. Solid linens or canvases shouldn't run you more than 20 bucks a yard, sometimes much less. Check out this slipcovered fantasy living room Mugatu (my boss for those just tuning in) decorated for his parents. I can guarantee none of the pieces match under their new clothes, but the white with black welt ties the entire room together.
1. I don't like contrast piping on patterned pieces. Just too busy; go for self-welt instead.
2. Many upholsterers create a double row of matching piping to serve as gimp , or the trim that hides nails and staples around the edges of framed pieces (I'm not making up the terms, I promise!). It's a personal preference but I think this also looks too commercial. Go for a braided gimp in a solid color for fancier furniture or just a single row of French grosgrain ribbon for simple stuff.