Enough With the "Trophy Kid" Talk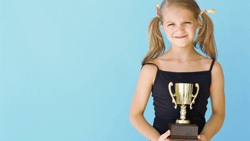 I unwillingly played most of the suburban-kid sports (my poor eye-hand coordination, pathetic stamina, and whiny insistence that I'd rather be reading didn't exactly endear me to my teammates) and over the years gathered quite a collection of these cheap plastic trophies. Every time I looked at them, I felt embarrassed. They were reminders of my ineptitude, because I knew I didn't earn them. No young athlete with any sense of perspective would mistake those trophies for genuine celebrations of accomplishment. My classmates and I joked about them; we rolled our eyes when they were passed out at end-of-season pizza parties.
Perhaps some young children are genuinely proud of their participation trophies (and they aren't limited to the sports world-I once received a small participation medal from a science fair). But for the most part, these trophies, which trend pieces hold up as the point when my generation went wrong, are one big joke to Generation Y.
Photograph by Getty Images.