Generation Y Is No More Entitled Than The Baby Boomers Before Us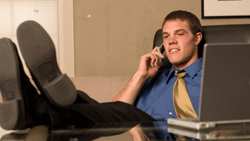 The New York Times had an article in its style section yesterday about college students' bleak prospects for employment this summer . The content is entirely unsurprising: We're in a recession where jobs are drying up for everyone. What interested me in this article was the 180 that experts are making on their previous assumptions about Generation Y:
For a while now, Generation Y has been portrayed as a bunch of sneaker-wearing lazybones who skateboard to the office and demand a four-day work week . But I would argue that the way Gen-Y workers used to behave had nothing to do with indulgent parents who told us we were infallible. The way young workers behaved in the first half of the decade had everything to do with the economy. In the mid-aughts, people of all ages were being entitled and demanding of their employers ... because they could be. In a market where jobs are abundant, it's logical for workers to try to get the most perks possible-whether or not their Mommies told them they were special.
Photograph by Getty Images.