Neda is Mythology, Not Fact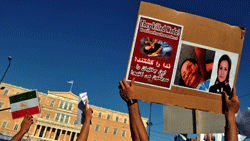 This week I chided Andrew Sullivan for posting an e-mail supposedly confirming the details of Neda's death. Andrew Sullivan defends himself , saying the details in the e-mail are confirmed in this Los Angeles Times story . Since then, I've gotten dozens of e-mails from Sullivan fans asking me to apologize and run a correction. I politely decline. Neither the Los Angeles Times story, nor any of the news stories that ran yesterday confirm any details in that e-mail. Instead, they all just bolster my conviction that we are witnessing the creation of a myth, not the investigation of a murder.
The LA Times story confirms that she was shot, and there was a doctor on the scene. I could have told you that from the video. It doesn't say anything about who killed her. Her singing instructor , who was with her that day, says he heard a shot and thinks it came from a rooftop. That is very different than what the doctor wrote in the e-mail, which is that a "basij" member "aimed straight at her heart."
Myths get created even in real time; read the contemporaneous deathbed stories of Abraham Lincoln or George Washington. Neda's mother says she begged her daughter not go to the protests, and her daughter answered, "Don't worry. It's just one bullet and its over." Again, I don't begrudge them this mythology. A mother needs something to make sense of her grief. The street protesters need a sympathetic face, and Neda is ideal. But let's just report it for what it is.
Photograph of Iranian protesters by Louisa Gouliamaki//AFP/Getty Images.