My Living Room Is Anti-Social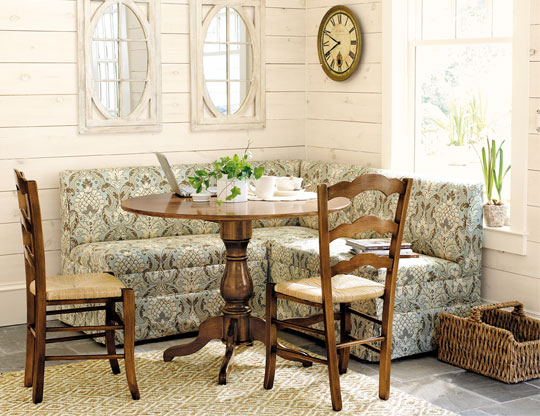 A reader emails with this dilemma:
How do you avoid the "school dance" living room furniture arrangement, when you're trying to deal with (a) all the electrical outlets are in the walls (for the lamps) and (b) the fireplace is at the end of the room, smack in the middle, just daring you to block it. Both make it so hard to cluster the furniture together in a conversational way, you know?
Oh, do I. In New York apartments I might substitute "awkward closet/entry door" for "fireplace," but the problem remains the same: lining up furniture (especially seating) to fill empty wall space and align with electrical outlets does not necessarily make for dynamic conversational groupings. Let's tackle the corner first. More often than not, the area between a fireplace and window or door could best be served by a corner banquette. Take away the unfortunate styling of this Coventry model by Ballard Design (pictured) and it illustrates my point quite well by ignoring the window and providing a spot for two or more people to eat dinner, play Scattergories, pay bills, whatever. Even if you have a formal dining room, breakfast nook, or eat-in kitchen, it's always nice to have multiple seating and table heights in a living area-too much low squishniness will feel like a basement rec room. Don't be afraid to move a couple of your dining chairs into the living room to float around for parties or everyday use.
Next, the fireplace. Common decorating logic suggests a single or pair of benches floating in front. I lean towards a pair because they're more easily pulled up to a cocktail table in front of a sofa to create more, say it with me now, conversation. Given the space, I could also see a pair of comfortable chairs facing each other, with two reading lights and a low table in between that's perpendicular to the hearth, and either bookcases or a bar table against the wall to the right or left. That's cozy. I warn against blocking a fireplace with the back of a sofa, unless it's purely decorative and can be completely disguised.
Finally, the sofa wall. If you have one long, uninterrupted expanse then that's probably the best site for a comfy three-seater, pair of end tables, and lamps. But it's not the only one. You might float a 7-foot sofa in the center of the room facing the fireplace with a console table behind it, a pair of lamps on said console, and swing-arm floor lamps hovering over each sofa arm instead of end tables (for easier passage). What about the rat's nest of cords for the 99.99 percent of the population without a floor outlet in the center of their living room? Try hiding a single extension cord under a big area rug: YES YOU CAN cut through it so the lamps plug in under your sofa! We have clients grin and bear it while the carpet surgeon pierces their 19th century Sultanabad ... so don't sweat a quarter-size hole in your jute rug from Pottery Barn.
More thoughts on floaters: I've encountered many folks concerned about "cluttering up" their living rooms with too much furniture. I concur only if it doubles as a children's playroom. Little tricycle motors need their space! Otherwise it's all about pull-up chairs, slipper chairs, pairs of benches, and even stacked floor cushions for extra seating; ditto for drinks tables and reading lamps. If the room looks static and lonely, it's probably because you can't actually use it. Sit on your sofa and look right. Is there a place for Sally to sit? A lamp for her to read by? A place to set her Shirley Temple? If not then your living room is doomed to be a wallflower!