This Little Picture Light of Mine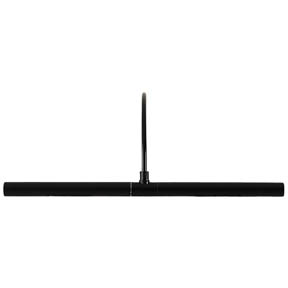 I once asked my boss about an antique carpet he'd just seen:
Response? "Like rich people having fun."
Humor, yes, but to me it's also a lesson for creating pretty, warm, and comfortable rooms: they're often not about any one star object or motif or gesture of HGTV-style ingenuity, but rather a million little details us common folk might never consider. And these details don't have to cost as much as a 19th century Oushak.
Picture lights are a great example. I'm a big fan of salon-style groupings of artwork, like those in jeweler Kenneth Jay Lane's living room or gallerist Timothy Tew's 1990s apartment in Georgia . Both gentlemen have amazing collections (what I wouldn't give for one of KJL's Orientalist paintings!), but I promise promise PROMISE you can achieve the same effect with eBay/flea market artwork and a few of these $64 dollar beauties (pictured above) from Shades of Light.
Picture lights do more than help you see a painting, they create multiple, low-wattage light sources in a room: always a recipe for coziness. They range in size, finish and of course price (these House of Troy Slimlines are super chic but a 16-incher costs $172 by comparison), so I recommend a mix. You can hang 'em on a frame or to the back of a bare canvas, why not? No, not every little drawing needs a picture light. And you may not have the appropriate wall outlets ("clock boxes") but don't stress: just let the cord hang down and paint the exposed part to match the wall. No one will notice. They'll only want to curl up, read a book, and wonder why they feel like a rich person having fun.