Voters, Cynicism, and Immigration Reform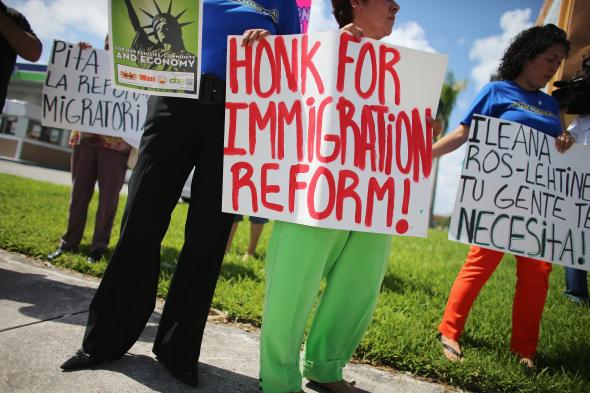 The current immigration debate in Congress is a very small, shrunk-down version of the one that occupied much of 2013. The White House wants $3.7 billion for emergency border funds; the House GOP is ready to supply $3 billion less than that. Part of the Republican calculus: that voters increasingly blame the president's management of the border, not the inaction of Congress, for the problems in Texas and California and Arizona (and, fine, New Mexico).
Fox News' new poll seems to back them up. By a 5-point margin (45–40), voters say the child migrants from Central America are not "refugees" deserving humanitarian aid. It's a tie, 42–42, when people are asked whether they blame Obama or the conditions in Honduras, etc., for the crisis. This result, though, might be the best for the GOP:
How do the numbers look when you limit the question to Hispanics? Well ... they still largely think that Democrats want reform in order to lock in more reliable votes.
True, by a larger margin, they also think Republicans believe they'll lose votes in the long run.
But some level of cynicism has taken hold, which is nice if you're a Republican congressman who wants to wait out the year and win some Senate seats in states where Hispanic voters won't be terrifically relevant.