Rand Paul and Paul Ryan Are Both Talking About Criminal Justice Reform. How Did That Happen?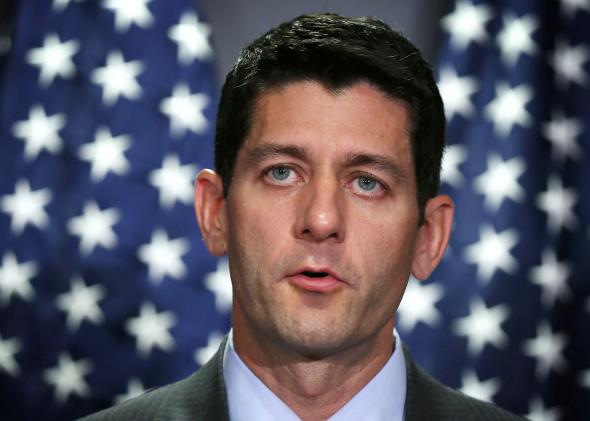 Once people have paid their debt to society, they should be able to move on. In that spirit, this proposal suggests three possible reforms:
• Grant judges more flexibility within mandatory-minimum guidelines when sentencing non-violent drug offenders.
• Implement a risk- and needs-assessment system in federal prisons while expanding enrollment in rehabilitative programming to reduce recidivism. Allow non-violent and low-risk inmates to use enrollment to earn time off their prison stay towards prerelease custody.
• Partner with reforms at the state and local level.
OK, not terribly exciting, but it follows some explanations, produced by the office of a top Republican, of how "minority men are much more likely to serve time" and overincarceration has multigenerational impacts on poverty. Ryan released this one day after Sen. Rand Paul joined the Brennan Center (briefly) for a voting rights event, and talked through his idea of reducing more felonies to misdemeanors.
Nearly all the time, it's worth being cynical about the outreach tours members of Congress take, and the speeches they give to unfamiliar constituencies. But Sen. Paul and Rep. Ryan had very similar experiences in African-American outreach. They stumbled initially, Paul with a slightly patronizing speech at Howard and Ryan with an accidentally glib description of the inner cities.
They kept at it. Paul and Ryan have held many more events with African-Americans, sometimes inviting press, sometimes not. They really have met black men whose lives were ruined because they made mistakes that suburban whites get away with all the time. Paul frequently cites the experience of a friend who went to jail for growing marijuana, and had his life ruined.
In other words ... they look sincere. Both men dabbled in immigration reform politics, and both have settled on other ways to appeal to black voters and poor whites. In a post-Obama, post-immigration-debacle polity, these might be more fruitful pursuits.