Wanted: Someone Who Knows Bowe Bergdahl and Isn't Currently Trashing Him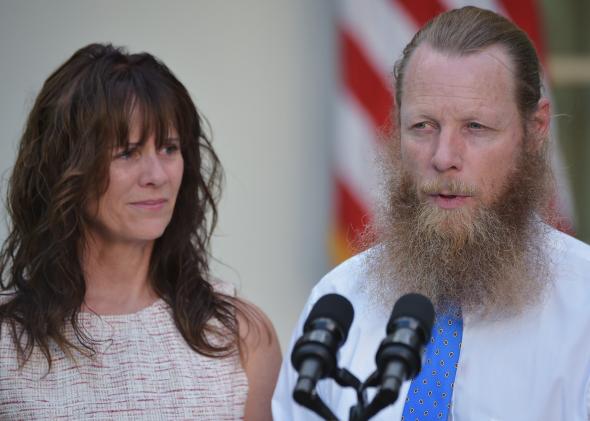 Yesterday I characterized the criticism and chin-waggery about the freeing of Bowe Bergdahl as coming from "Republicans." To a large extent, it is—it's largely Republican members of Congress, led by Sen. Kelly Ayotte and Rep. Mike Rogers, who want a full investigation of how and why Bergdahl was freed. But the cover of Stars and Stripes is a nice indication of how this conversation is spreading.
The coverage is simply reflecting reality. Reporters who are doing the normal work of profiling Bergdahl through the people who knew him are finding plenty of criticism. Soldiers who served alongside Bergdahl portray him as, at best, a flake. Via the NYT:
"He wouldn't drink beer or eat barbecue and hang out with the other 20-year-olds," Cody Full, another member of Sergeant Bergdahl's platoon, said in an interview on Monday also arranged by Republican strategists. "He was always in his bunk. He ordered Rosetta Stone for all the languages there, learning Dari and Arabic and Pashto."
... Mr. Full, then a specialist in the platoon, said he and other platoon members grew increasingly bitter at the time they were spending looking for Sergeant Bergdahl. "He had sent all his belongings home — his computer, personal items," said Mr. Full, now 25. He said Sergeant Bergdahl used to gaze at the mountains around them and say he wondered if he could get to China from there. Other platoon members said that Sergeant Bergdahl wrote Jason Bourne-type novels in which he inserted himself as the lead character.
Full, who has appeared on cable news to broadcast the claims, has gone even further:
'He seemed a little odd, you know?' he recalled. 'I was present when he first got to the unit in Alaska. One of the first questions he asked our squad leader was, "When I kill my first Taliban, can I wear his face as a mask?"'
'That's not really – yeah, he asked that of our squad leader. I was there,' Full said in a deliberate cadence.
'Statements like that? You know, it's not a normal thing to say.'
'And then there were times when he was very idealistic. Some of the stuff he said might have sounded smart inside his head at the time, but I was never inside his head,' Full mused.
It's quite distant from the reporting in Bergdahl's hometown, where the vox populi is that ... well, he's different now, but we'll see if he can adjust. But the story that Bergdahl walked into capture, and that his fellow soldiers were angry that resources were spent and men died trying to get him back, were known for years.
UPDATE: Republican strategist/Twitter troll Richard Grenell has admitted helping Bowe's critical fellow soldiers link up with media for interviews.
I asked my firm @Capitol_Media to offer pro bono services to the young soldiers. @MrBradChase quickly volunteered. Brad is not a Republican.

— Richard Grenell (@RichardGrenell) June 3, 2014
So, yes, Republicans have been involved at every stage of the controversy. That doesn't negate the sentiments of the soldiers, who have been saying stuff like this long before it was political.