Dinesh D'Souza Pleads Guilty, Becomes Part of Obama's Conspiracy Against Him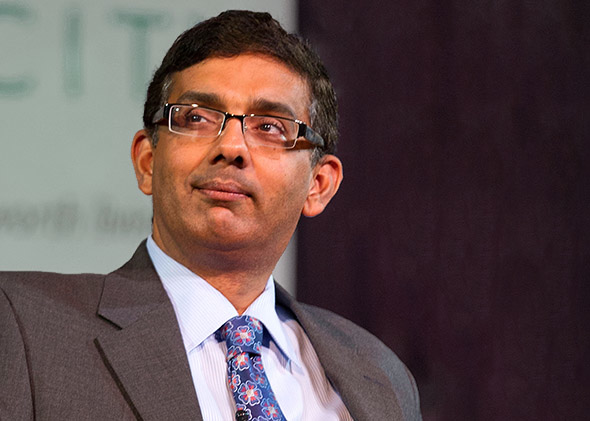 Dinesh D'Souza has entered a guilty plea in his "straw donor" case, an admission that he made campaign contributions to doomed Senate candidate Wendy Long in the names of others. "I knew that causing a campaign contribution to be made in the name of another was wrong and something the law forbids," he said, according to reporters in the courtroom.
It was a confusing moment. If you listened to a few voices on the right—the declining number of people who take D'Souza seriously—the author/filmmaker was obviously being prosecuted because his film 2016, and his argument that Barack Obama was living out the anti-colonial dreams of his father, were so devastating to the administration. Yes, sure, Obama won re-election in 2012 despite D'Souza's efforts, but surely the prosecution was vindictive.
Laura Ingraham: D'Souza's former fiance and former colleague at the Dartmouth Review insisted that the charges were "more about stifling political dissent and intimidating other people from speaking out than... about any real serious allegation of wrongdoing."
Sen. Ted Cruz: In a January interview, Cruz wound the D'Souza case into a larger story of Obama administration targeting of conservatives. "Just this week it was broken that Dinesh D'Souza, who did a very big movie criticizing the president, is now being prosecuted by this Administration," he said. "Can you image the reaction if the Bush Administration had went, gone and prosecuted Michael Moore and Alec Baldwin and Sean Penn?"
Alex Jones: The radio host and occasional actor in Richard Linklater films wondered whether D'Souza's charges, coupled with the charges against some other Republicans, meant America was sliding into a Nazi state. "The issue is here, they can find a mistake in your checking account and claim that it was fraud or wire fraud," he said. "They can do it to anybody."
Alan Dershowitz: The attorney, who does not generally call himself a conservative, thought the D'Souza charges were a put-on. "It raises the question of why he is being selected for prosecution among the many, many people who commit similar crimes," Dershowitz said. "This sounds to me like it is coming from higher places."
Gerald Molen: The producer of D'Souza's film was actually one of the first to float the conspiracy theory—I quote him last because he reiterated himself today. "This administration doesn't see its opponents as dissenters but as enemies," he told WorldNetDaily's Jerome Corsi, "and if they can't refute you they try to lock you up."
It's an interesting theory, one that might explain why Charles and David Koch are currently breaking rocks at a prison camp in the Mojave desert and why the president responded to his 2010 midterm losses by dissolving Congress and arresting every victorious Republican candidate.
Alternate theory: D'Souza, who's been a laughingstock for longer than he's been a rising star, made a huge mistake and turned it into an opportunity to rally conservatives and make accusations about the Obama administration. After all, just because he's pled guilty doesn't disprove the Dershowitz theory that, while a crime, D'Souza's offense might not have attracted the feds had he not been infamous.