Mississippi's Senate Race: Finally, a Break for the Tea Party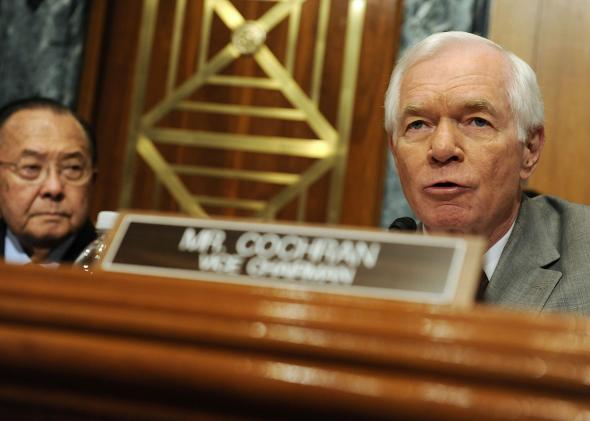 For all the time and money spent on neutering Tea Party challenges to senators, it's easy to forget how few incumbent Republicans have been beaten since 2009. In 2010, Utah Sen. Bob Bennett lost a vote at the state Republican convention, while Alaska Sen. Lisa Murkowski lost a low-turnout primary. Bennett's career was over, while Murkowski won a surprising write-in victory in the fall. In 2012, "the Tea Party" (by which I mean D.C.-based insurgents like the Club for Growth and local activists) only really took out one senator.
But it was a big one. Indiana Sen. Richard Lugar lost his 2012 primary, by a landslide, to state Treasurer Richard Mourdock. Ideology had a lot to do with it, as did Lugar's endorsement-by-omission of Barack Obama in 2008. What really did him in was an old-fashioned residency scandal, growing out of Lugar's decades of life in D.C. and his failure to keep up a Marion County farm as a permanent voting residence. It was dragged out by challenges and a review board, and publicized by third-party TV ads.
I bring this up because the Mississippi primary between Sen. Thad Cochran and state senator Chris McDaniel has long looked like the Tea Party's best shot at taking out an incumbent this year. And hey, look what Matt Boyle found.
In 2003, Cochran sold a condo in Oxford and listed his address as "U.S. Senate, Washington, D.C. 20510." Two days later, he purchased land in Oxford and listed the Capitol Hill rowhouse as his address.
In 2005, Cochran sold easement rights for a property, listing the Capitol Hill rowhouse as his address. That same year, he signed a deed of trust with the Capitol Hill rowhouse as his address.
In 2006, Cochran signed another deed of trust that listed his address as the Capitol Hill home and stated official parties should send his tax notices there.
In 2008, Cochran listed the Capitol Hill rowhouse as his address on a certificate of trust filed with the Chancery Court Clerk of Tippah County, MS.
In 2010, Cochran signed another deed of trust that listed Oxford cabin as his address.
The 2006 and 2010 deeds of trust designate the Oxford cabin as a second home. On each, a box for "second home rider" box is checked on pages initialed by Cochran.
The Cochran campaign has more records that challenge the designations, but the McDaniel campaign has embraced the story. Up to now, it's been shaming Cochran with the old "lost touch with his state" argument. Challenging the senator's residence, raising enough questions to dislodge some loyal votes? That's the next natural step. McDaniel's in a better position to take advantage of this than Dr. Milton Wolf, a first-time candidate, found himself in after Jonathan Martin wrote a similar story about Kansas Sen. Pat Roberts.