Poll: Even as Obama's Approval Recovers, Democrats Are Doomed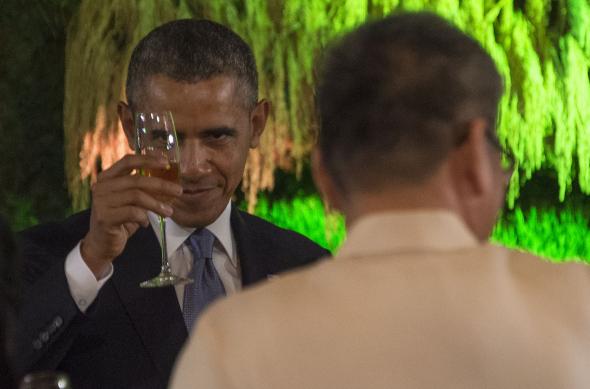 The NBC/WSJ poll is the first in a little while that's found any glimmer of optimism for the Obama administration. Unlike this week's Washington Post poll, it finds a marginal improvement in the president's approval rating (to 44 percent) and slightly less anger at the ACA (down to 46 percent disapproval). But like every poll, it finds the largely white, somewhat older Republican vote far more likely to turn out this year. Among all voters, there's a 45/45 split on which party is preferred to win the election. Among likely voters, there's a 53–38 advantage for the Republicans.
It gets worse! On Twitter I asked whether all of these national polls were being a bit too closely watched, because the key Senate races were happening on turf where Obama is phenomenally unpopular. NBC's Mark Murray answered:
@daveweigel Obama approval in South, per NBC/WSJ poll: 39%-58%. Midwest: 43%-51%. Northeast: 45%-47%. West: 51%-42%.

— Mark Murray (@mmurraypolitics) April 30, 2014
Look again at where Democrats are fighting to retain control of the Senate. The seats in West Virginia, North Carolina, Arkansas, and Louisiana are in the "South." The seats in South Dakota and Montana are in the Midwest; so are the GOP's reaches into Iowa and Michigan. The positive Obama polling in "the West" obscures how he's struggling in Colorado, but explains why the idea of Oregon as a GOP upset opportunity remains pure theory.
My point is that Obama could fight back to, say, 48 percent approval nationwide, but it would be buoyed by blue states where there are no competitive races. Democrats will still have to win in states where he's become phenomenally unpopular. They're worse off even than Republicans were in 2006. Only Rhode Island, in that year, was as blue as South Dakota/Montana/West Virginia/Arkansas/Louisiana are red. Democrats won their majority with victories in four states (Virginia, Montana, Missouri, Ohio) that had voted for George W. Bush in 2004. Back then, Democrats were able to win more of the white vote than in any election year since. This year, they basically have to reskew turnout closer to 2012 levels, and they're not sure how yet. (Terry McAuliffe's win in Virginia provided some clues, which is why you've seen Colorado Democrats try immediately to disqualify the GOP's Senate candidate, Cory Gardner, based on his old support for fetal personhood.)
Further reading: Michael Tomasky on what Republicans would do if they won the Senate. I think he's too sanguine about "Obamacare"—any Republican from John Cornyn on down will tell you that the plan in 2015 is to fully defund the law and dare Obama to reject a budget from both houses of Congress.