Democrats Are Doomed to Low Turnout
The biggest obstacle to Democratic control of the Senate this year isn't the "six-year itch," the economy, or President Obama's approval ratings. It's turnout. Yes, Republicans are projected to make gains this year, but they aren't guaranteed a majority. That depends on the Democratic Party's ability to muster its supporters in states like North Carolina and Louisiana, where Democrats can win, as long as they aren't swamped by Republican voters.
Unfortunately for Democrats, a new poll—conducted by Stan Greenberg of Democracy Corps for Women's Voices Women Vote—finds that key members of their base are among those least likely to vote in 2014.
According to Greenberg, only 64 percent of voters in the "Rising American Electorate" of 2012 (young people, unmarried women, and minorities) are "almost certain" to vote this November. That's compared with 72 percent of all people who voted in 2012, and 79 percent of people outside the Rising American Electorate—older whites, married women, men—who lean Republican.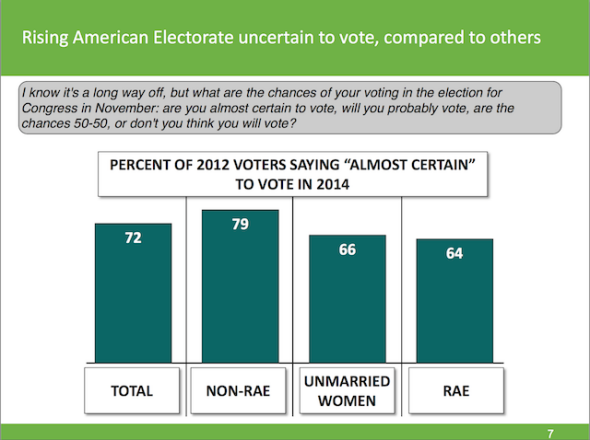 It's game over for the Democratic Senate if this is the status quo in November; a world where older whites dominate the electorate is one where Democrats have lost across the board. If the party has a goal for the next six months, it's to do everything in its power to bring its voters to the polls. Which, in practical terms, means an effort to give Democrats a material stake in the outcome. Hence today's executive order on pay transparency—barring federal contractors from punishing employees who talk about pay—and Obama's ongoing push for equal pay, unemployment benefits and a minimum wage increase. Obviously, there's no chance these would reach the president's desk. The point is to give Democrats a reason to care about the consequences of November.
If last year's election in Virginia is any indication, there's reason to believe this can work. Despite a huge drop in turnout—and an unappealing candidate in the form of Terry McAuliffe—Democrats won the governorship (and every other statewide office) by targeting their strongest supporters and running a sophisticated turnout operation, modeled on Obama's 2012 effort. Then again, Democrats were helped by the unique circumstances of the Virginia race: In addition to its unpopular gubernatorial nominee, the state GOP was engulfed by a major scandal and discredited by its extreme nominee for lieutenant governor, E.W. Jackson, who tarnished the entire ticket with his right-wing jeremiads against liberals, LGBT Americans, and others.
By contrast, Democrats this year are facing more competent candidates in an overall environment that favors the GOP. Raising turnout is possible—and Democrats aren't doomed—but like making the Kessel Run in under 12 parsecs—the party faces an incredible challenge.