World War II Veterans Occupy Their Memorial in D.C.

The OMB's shutdown instructions led to a number of closures that seemed, to neutral observers, pretty stupid. The monuments that line the Mall, which are guarded but generally free to walk through all times of night, were closed this morning. That meant that a detachment of "Honor Flight" travelers, World War II veterans in D.C. to check out the memorial built for them in 2004, couldn't actually get inside of it.
Leo Shane, a reporter for Stars and Stripes, was with the veterans as they busted through the barricade and occupied the memorial. His photo: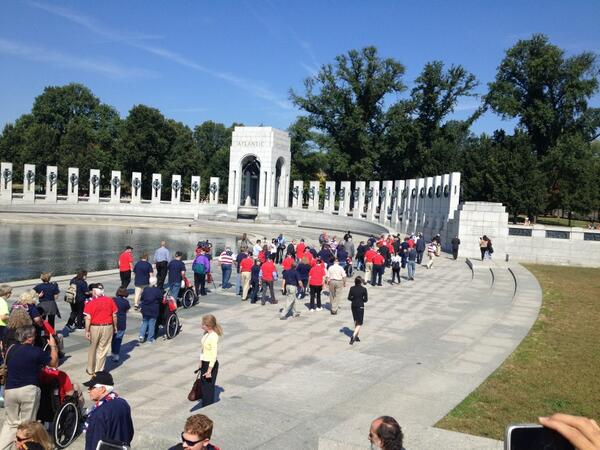 Normally I'm loath to just point to/lift another reporter's work, but Shane seemed to have the exclusive here by showing up and watching the veterans in action, as "Rep. Steve King distracted a park officer" and the staffers removed the barrier.
Closures of parks and monuments, which everybody enjoys, are referred to as applications of the "Washington Monument Strategy." You close something famous and beloved, and people notice—see all the stories about the shuttered "PandaCam" at the national zoo. The backlash isn't typically so dramatic.
Read the rest of Slate's coverage of the government shutdown.