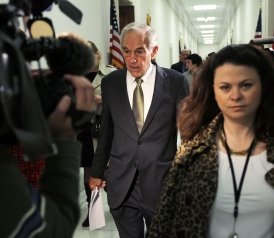 While everybody digs into the riches that are Newt Gingrich's post-speakership paper trail, we seem to be ignoring how well Ron Paul is doing in the early states. The results are mixed, sure, but in the two Bloomberg-sponsored polls of Iowa and New Hampshire, Paul is in second place.
Here's the Iowa poll, conducted by Selzer & Co. (the brains behind the definitive Des Moines Register poll), with 2,677 registered Republicans or independents, and the New Hampshire poll, conducted by the same people but among 504 likely primary voters.

Paul suffers a bit on the second choice question -- lots of Republicans who've grown wary of Cain still like him as a back-up -- and other polls don't see the same Paul strength. But it's not unrealistic. The man has been running ads in both states. Good ones.
And doesn't the clown car collision style of the primary help out Paul? The reason for a libertarian or paleoconservative diehard -- or a gold bug -- to abandon Paul is that some other candidate with acceptable values stands a better chance of winning.

ddd