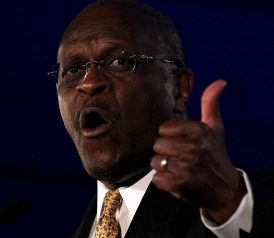 I am waiting for more backstory from Team Cain, but as Matt Lewis reports, this does seem to be a gospel album recorded by the 2012 presidential candidate. Certainly the vocal intro on "The Lord's Prayer" is unmistakable.

Advertisement

Where's Michele Bachmann's gospel album? I'll tell you where it is: Nowhere. Advantage, Cain.

UPDATE: Crucial details? It's real, it was published 15 years ago by GLC Music, Selah Sound Production & Melodic Praise Records, and it is not being distributed now by the Cain campaign.

TODAY IN SLATE
The Extraordinary Amicus Brief That Attempts to Explain the Wu-Tang Clan to the Supreme Court Justices
The Human Need to Find Connections in Everything
It's the source of creativity and delusions. It can harm us more than it helps us.