Reporting on Politics and Policy.
CPAC 2014: The Ultimate Conservative Speech
The following is a "speech" composed of applause lines from various CPAC speeches. I think it hangs together.
Thank you. If you are at CPAC, by definition you are a young person, because you believe in the future of America. You're never too young or too old to make a difference in politics. It's like y'all went rogue.
We have to stop letting the media define who we are and what we stand for. The political and media elites are lying to us. They are tolerant of diversity except when you disagree with the m.Our ideas are better than their ideas. We need to abolish the IRS. Personal courage is abolishing the IRS. We need to stop the lawlessness.
I do not like this Uncle Sam. I do not like his health care scam. Under Barack Obama, you can murder his personal representative and get away scot free. If that's your attitude, Mr. President, what the hell are we paying you for? I'd consider suing Harvard Law School to get his money back, because I'm not sure what he learned in three years. To Jimmy Carter, I want to issue a sincere apology. It is no longer accurate to say he is the worst president of my lifetime. The Supreme Court voted against this president 9-0.
Parents, not unions, should be the focus of our public education. We trust parents to make the best decisions for their children. The United Nations cannot do this. In fact, they cannot do anything.
If you want to keep your doctor, you may have to change your congressman. Conservative Republicans, we're going to take the Senate. Taking the gavel out of Harry Reid's hand on the first Tuesday in November is going to be pretty darn sweet. The truth is, that if we don't change these pensions, you're not going to collect them.
If you vote for candidates who think it's the role of the state to provide health care, don't complain when your hospitals are as badly run as everything else run by the state. They put forth candidates who keep apologizing for the values they believe in, and then they wonder why they lose. We're spending money in other places where they don't want us, and frankly, I don't want them.
We must stop this president from shredding the Constitution. The Fourth Amendment is equally as important as the Second Amendment, and conservatives cannot forget this. There is no greater freedom than the right to survive and protect our families with all the rifles, shotguns, and handguns we want. This fight was our fight, and we pushed back, and we won. And now everyone is happy, happy, happy.
We don't have an income inequality problem -- we have an opportunity inequality problem in this country, because government's trying to control the private market. Perhaps liberals are talking so much about income inequality right now because they hope you won't notice how much worse they have made it. We are not waging a war on women simply because we believe there is no reason for birth control to be free.
There is no other country that I would rather be. We either have borders, or we don't. I will continue to defy the PC police. I will not retreat an inch, and I will be heard. We start in one month on the old post office, which is an incredible building.
May God bless each of you as you strive for freedom and to create a more perfect union, and may God always continue to bless our great nation. God bless.
Poll: Florida Dem Narrowly Leads in Tomorrow's Special Congressional Race
The League of Conservation Voters has teamed with Public Policy Polling for, likely, the final poll on the race for Florida's 13th District. If accurate, it confirms what Republicans have feared—a superior Democratic organization has turned out enough votes for Democrat Alex Sink that Republican David Jolly is likely to lose tomorrow. PPP suggests that 60 percent of voters have turned out already (122,000 ballots have been cast before Election Day) and that Sink's won them by 7 points. Jolly's winning the rest of the electorate by 4 points.
That keeps Sink in the lead, bailed out by the very moderate-sounding 27-year-old Libertarian candidate Lucas Overby. And that's another factor Republicans feared—a third-party group got Rand Paul to make a robo-call, asking the sort of voters who might cast a "screw 'em" vote for Overby go for Jolly instead.
Right before early voting began, I spent five days in the district to report out how the Affordable Care Act was affecting the race (oh, and the human beings who cast votes). Conclusion: It does not help Sink. The Chamber of Commerce and NRCC have blasted Sink with ads warning voters that she "supports Obamacare." (Sink, who was state CFO from 2007 to 2011, did not get to vote on the law.) Sink has not run any ads defending the law itself, choosing instead to warn voters that Republicans like Jolly want to dismantle Social Security and Medicare, hoping that affection for the old programs outstrips any worry about the new one—oh, and that Jolly is a scummy lobbyist.
But Republicans have hedged, too. American Crossroads has hit Sink for the pension fund losses that occurred in her tenure as CFO. (2008–2009 was a suboptimal time to run a fund.) More importantly Republicans have spent months predicting that Jolly might blow it and let the Democrats take a seat that has historically, safely gone Republican. George Will's column on the race offered the ideal sentiment: "If Sink wins, Republicans nationally can shrug; if Jolly wins, Democrats should tremble."
Wealthy Democratic Candidate Ends His Flirtation With a National Sales Tax
When Rep. Jim Moran announced that he'd be retiring from Congress this year, he created a rare and precious thing—a race for a safe Democratic seat in Virginia. The 8th District, which Moran had represented (in some form) since 1990, currently encompasses the city of Alexandria and the deep-blue counties that hug the District of Columbia. In 2012 Barack Obama won the district by 37 points, running ahead of Moran, who won by a paltry ... 34 points.
Whoever wins the Democratic primary, then, is going to be in Congress next year. That's why everyone with ambition has piled into the race, and why the candidacy of Don Beyer worries some progressives.
Beyer, who turns 64 this year, was lieutenant governor of the state before it became deep red. He's made millions from Volvo dealerships in the state, and can theoretically bludgeon his competitors.
But should a safe Democratic seat go to a business-friendly Democrat? Over the weekend, one activist forwarded me this article about a 2005 event for the American International Automobile Dealers Association. The guest speaker was Tom DeLay—yeah, that one—who was friendly to the IAAA's support for estate tax repeal and suggested that the entire tax code could be replaced by a national sales tax. Reporter Harry Stoffer talked to Beyer afterward.
[People] would not be paying income tax under a DeLay-style plan. Unexpectedly, the concept was endorsed quickly by Don Beyer, an activist Democrat and Subaru-Land Rover-Volvo dealer in northern Virginia.
"It makes eminent sense as public policy," said Beyer, who is scheduled to be AIADA chairman in 2007. He said it would improve capital formation because wealthy individuals and businesses would have more money to invest in new ventures.
Nine years later, what does Beyer think?
"We're not sure about the context, but Don never supported replacing the progressive income tax with a national sales tax, and he never will," said Ann O'Hanlon, speaking on behalf of the Beyer campaign. "Don believes that the middle class and working families already bear too much of the burden. He supported Obama's rollback of Bush tax cuts for the wealthy and in Congress would work to eliminate loopholes that allow the wealthy to pay a lower effective tax rate than many middle class families."
Iowa GOP Chairman Quits, Then Joins Rand Paul's PAC
On Saturday, with no warning, Iowa's Republican Party chairman announced his resignation. A.J. Spiker, a supporter of Ron Paul's presidential campaigns, had benefited from the "liberty movement's" organizing—an effort that won Paul most of Iowa's delegates to the 2012 Republican National Convention.
In power, Spiker had been under attack, regularly, from the other factions of the party. Most of the time they criticized him for failing to raise enough money; the subtext was that the "mainstream" wanted the reins back from the Paul family. They got 'em. As Jennifer Jacobs reported, Spiker resigned after more moderate Republicans "showed up in large numbers to at-times tedious and lengthy county conventions typically frequented by only the most diehard activists."
The counter-revolution had been a long time coming. So was the upside. Ever since Spiker took over the party, and promised not to lead it through 2016, it was assumed he would return to the Paul fold. And now he has. RANDPAC, Sen. Rand Paul's political organization, has announced that Spiker will come aboard as a "political advisor."
"There is no better champion for liberty lovers then Senator Rand Paul," said Spiker in a statement. "I look forward to working with the team, together we can make a difference. I am eager to hit the ground running."
CPAC 2014: Steve Stockman's Awesome Hot Tub Party
On Saturday night, as CPAC ended and its thousands of attendees scattered, I followed some friends and reporters to find what was already known as the "Stockman party." Rumor had it that Stockman was hanging out in a suite at the Gaylord, the monumental hotel/resort that had hosted the conference.
Now that an attendee has leaked photos from the party, I might as well report that the rumor was true. One of the hotel's suites—living room, den, veranda, garden, hot tub—was playing host to dozens of people. There were students, strategists, and reporters, decompressing after three days of networking and panels. And there was Rep. Steve Stockman, a few days on from his defeat in the Texas GOP Senate prmary, holding court near a stack of Little Caesars pizzas. He was dressed down in a pullover, talking to young conservatives who seemed stoked to be in his presence. They filled their cups from a rapidly diminishing stash of brown and clear liquors.
I happened to arrive just as Stockman was offering $20 to anyone who'd jump into the hot tub. I proposed a toast, to "screwing with the left." The cups were raised; Stockman amended the toast.
"Fuck the left!" said the gentleman from Texas' 36th District.
I walked up to Stockman, wearing a "Run Ben Run" button that had been placed on me by an activist who wanted to draft Ben Carson for president. Stockman asked about the button, I told him its origins, then I introduced myself as a reporter.
"You have nothing to fear," I said. "You're not running anymore."
"Why am I covered so much?" he asked.
"I think it's because of the Twitter account and all the things you say," I said.
"I get it," said Stockman. "By the way, were you here when I spoke earlier?"
I assumed he was talking about some speech he'd given to the room. The state of the liquor bottles and pizza boxes indicated that the party had been going for a while, so I'd probably missed Stockman's remarks.
We were just starting to talk small when a young Republican ambled over and the congressman wrapped his arm around her. "We've known each other for years," explained Stockman with a laugh. She was inviting him to a join a smaller, and presumably less reporter-friendly, conversation in an adjoining room. Stockman was clearly breaking away, so I asked him about what he'd told the Dallas Morning News about maybe running statewide in the future.
"I'm being facetious," he said. He extended his hand for a high-five. I reciprocated. "See ya, brother."
None of the other reporters in the room was bugging Stockman, so I rejoined the party. An organizer found me and told me that "what happens in the room stays in the room." For that reason, I won't say who else was there or who might have taken the photo. But Stockman's a public figure, and he talked to me after I told him who I was and who I worked for.
Honestly, the brief encounter made me more confused than ever about the invisible-man strategy Stockman had just used in his disastrous Senate run. Why'd he hide from the press and the electorate? This was an affable guy who said what he thought and adhered to the principle of YOLO. It's like people said after Al Gore and Bob Dole lost the presidencies, then went on late-night comedy shows and revealed themselves to be human beings. Where was all that on the trail?
I hung around for a while, in a friendly, off-the-record environment (well, while writing some shorthand notes about what Stockman had told me), planning to leave when my friends did. On the way out, I saw the scene captured in the leaked photos—Stockman making good on his promise to pay the people who'd jumped in the hot tub.
UPDATE: Gene Berardelli, of Brooklyn GOP Radio, broke the omerta about the party after this post went up. It was thrown to promote the show, and pitched to possible attendees with a note on the official Facebook page of Reaganpalooza, the traditional post-CPAC party. "Stockman had been a friend of the show for years," said Berardelli. He was out "by 10 p.m." (The party started after 6.)
How'd they get the suite? Actually, the Gaylord bungled their original $269-per-night reservation, and given them the opulent room to make up for it. Organizers spent around $600 on liquor and provisions, and entertained around 300 people, 299 of them not currently serving in Congress.
California Democrats Now Officially Support Legal Marijuana
Seema Mehta reports from the California Democrats' annual convention:
On the marijuana issue, state Democrats "support the legalization, regulation and taxation of marijuana, in a manner similar to that of tobacco or alcohol," the platform reads. ... There was no debate on the proposals, only cheers and then a voice vote at the Los Angeles Convention Center.
Keep in mind that the California Democratic Party rules the state with only token challenges. It runs every statewide office. It has overwhelming control of the legislature, a supermajority unless one of its members manages to end his career with a scandal. (Hey, it happens.) That doesn't even matter like it used to, because in 2012, voters undid the supermajority requirement for tax increases that had been in place since the late 1970s. Barack Obama was the first presidential candidate since FDR to carry the state with more than 60 percent of the vote—twice. (No, not even Reagan pulled that off.)
So it's safe for the Democrats to back legalization. Hey, in 2010, 47 percent of Californians voted to legalize marijuana. That was a relatively weak campaign in a horrible year for Democrats. Pro-legalization groups learned to save their energy for better years; they plan to back legalization on the California ballot again in 2016, when a larger electorate comes out to (we assume) give 60 percent or so of the vote to Hillary Clinton's presidential campaign. By that point, marijuana legalization may be even more mainstreamed as a revenue source—not as offensive to conservatives, quite attractive to tourists.
Conservatism in America, 2014
NATIONAL HARBOR, Md.—Last year, Sarah Palin showed up to the CPAC stage with a Super Big Gulp, a reference to the (then-fading) proposal of New York City Mayor Mike Bloomberg to limit the sale of sodas in his city. (It would not have applied to 7-Elevens.) This year: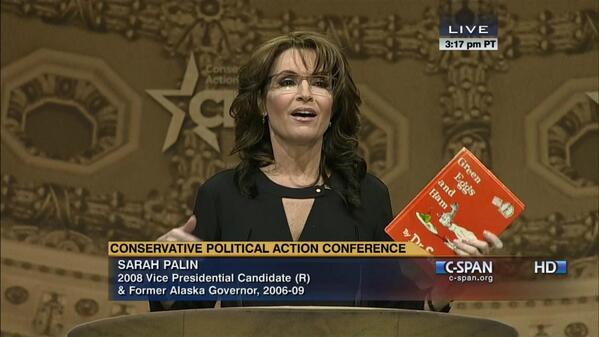 Poor Rick Santorum. On Friday, the probably 2016 presidential candidate whom the media isn't quite sure how to cover gave a well-received, condensed version of a speech he's been giving to Republican groups. Its theme: Republicans should not—could not—simply talk about "job creators" and who "built that" business. They needed a positive economic agenda; they needed to realize that government had the power to organize and persuade, just as anti-smoking laws cut down the numbers of smokers to unthinkable lows.
And then Sarah Palin closed out the conference by telling "Beltway Republicans" (like her 2008 ticket partner John McCain) to back off of immigration reform because "that victory you won in 2010? You didn't build that!"
Palin's speech was a pretty typical collection of memes, alliterative insults, and sentence fragmentation, but the one thing that stuck with me was her endorsement of the theory that Ted Cruz's demand that the CR not include funding for Obamacare was itself the reason that Obamacare had become unpopular. Also, that Cruz had acted on this demand with a "filibuster." To every pollster and (cough) Beltway Republican, the two-week government shutdown was an obvious and predictable disaster, a real-time bailout of the Democrats that distracted from the absolute nadir of Healthcare.gov's problems and gave the president a poll boost, and to everyone familiar with Senate rules, Cruz's marathon speech was not actually a filibuster.
It does not matter. On the activist right, the reality is closer to what Palin said.
CPAC 2014: Rand Paul Wins the Straw Poll, as Marco Rubio's Support Collapses
NATIONAL HARBOR, Md.—A few minutes before the CPAC 2014 presidential straw poll was released, Fox News' great political reporter Chad Pergram tweeted an error. He claimed to have the results: Ted Cruz over Rand Paul, 42–17. But he had mistakenly tweeted the Senate Conservatives Fund's numbers, released at 5:45 p.m. on a Saturday, from an online poll that few reporters had noticed.
Good on the SCF—they took advantage of a media obsession. Pergram fixed the tweet.
Cruz wins Senate Conservative Fund straw poll for prez with 42%. Rand Paul 2nd at 17%. WI Gov Walker 3rd with 10%.

— Chad Pergram (@ChadPergram) March 8, 2014
The actual CPAC straw poll was, for the fifth time, dominated by young libertarians. No surprise: Seventy-eight percent disapproved of "NSA's use of data collection." Some kind of surprise: Forty-one percent wanted to legalize marijuana, 21 percent wanted just medical marijuana legalized, and only 33 percent wanted it to remain illegal. That spoiled the results of the straw poll, which I've written below, parenthetically noting the results from 2013.
Rand Paul: 31% (+6)
Ted Cruz: 11% (+7)
Ben Carson: 9% (+5)
Chris Christie: 8% (+1)
Rick Santorum: 7% (-1)
Marco Rubio: 6% (-17)
Paul Ryan: 3% (-3)
Rick Perry: 3% (+3)
Bobby Jindal: 2% (-1)
Condi Rice: 2% (+2)
Mike Huckabee: 2% (+2)
Sarah Palin: 2% (-3)
Paul's team was so eager to win that spokesman Sergio Gor materialized in the press rows before the results had been read in full, distributing a statement from RANDPAC: "I am grateful to all of the attendees who stood with me." The statement would have worked had Paul won or lost.
CPAC 2014 and the Chamber of Echoes
NATIONAL HARBOR, Md.—It's actually quite difficult to be at CPAC and keep aware of how CPAC is being covered outside. Apparently Donald Trump's speech was worth wire stories, and Michele Bachmann's slap at Hillary Clinton went viral. Apparently, too, this video of a South Dakota state legislator is zooming around the left, provoking confusion.
"Mmm, mmm, mmm?" What does that mean? Why, it's a reference to this 2009 video of schoolchildren learning a song in which the name of Jesus Christ has been swapped out for the name of "Barack Hussein Obama." It got around because it was 1) creepy and 2) "mmm mmm mmm" sounded weird.
A small event, but sort of demonstrative of how ideas can rocket back and forth within a movement and get no traction outside it. The world at large has forgotten that Barack Obama once referred to "57 states"—that was in 2008—but Grover Norquist mentioned that he had a few states left to visit "to get to 57," and it killed.