Reporting on Politics and Policy.
Missouri's Governor: Cops Released Mike Brown Robbery Video to "Besmirch" Him
Missouri's Democratic governor, Jay Nixon, was one of the goats of last week's Ferguson coverage. He did not spring into action when protests began in the suburb of St. Louis. Only after two journalists were illegally detained by cops who wouldn't give their identities, and the story exploded, did Nixon come to Ferguson and start making orders.
He's in it now. This morning Nixon issued an executive order that will send the National Guard to Ferguson. Half a day earlier, he appeared on Face the Nation and criticized the decision of Ferguson police to release a surveillance tape showing Michael Brown apparently robbing a store.
"It had an incendiary effect," said Nixon. "When you release pictures and you clearly are attempting to besmirch the victim of a shooting ... there are a lot of folks who are concerned about that."
Nixon, in other words, agrees with the Obama administration. NBC News has reported that Eric Holder's DOJ urged the police not to release the video. Over at Breitbart.com, this is seen as a stumble that allowed a "gentle giant narrative" about Brown to take hold, only to be shattered. But think about the timeline. On Aug. 13, the reporters were arrested and video of Al Jazeera crews sprinting from tear gas went viral. On Aug. 14, Missouri State Police Captain Ron Johnson took charge of the situation, walking with protesters, talking them down, leading to the quietest night since the shooting.
On Aug. 15, the video dropped, and in a spectacularly clumsy fashion—the police put it out, then sowed confusion about whether this was the reason Brown came into deadly contact with an officer. (It wasn't.) Anyone who paid attention to George Zimmerman's trial in the killing of Trayvon Martin could remember how the dead teen was portrayed as an up-to-no-good "no limit" thug, and that this helped Zimmerman got off. And—wonder of wonders, the calm was shattered on the night of Aug. 15. The state of emergency was declared the very next day. We'll simply never know if, had the police held off on the video (until, say, a trial), the calm of Thursday night could have spread. Nixon will never know, either. You can see why he's angry.
Programming note: I am trying to finish my book about progressive rock, so this blog won't be updated at the usual pace. Last time I went on leave, Eric Cantor lost his primary; this time, the leave that was scheduled to begin last Wednesday was waylaid by the Ferguson story. Oh, I'm not complaining, just explaining why I won't be chasing every detail from Missouri. (In other words I'll be covering it as much as FiveThirtyEight.)
Rick Perry Indicted After Cutting the Funding for a State Corruption Investigation
Ah, Travis County—homeland of weird-keeping, scourge of powerful Texas Republicans. Less than a year after Tom DeLay finally beat the illegal-fundraising charges of Travis County DA Ronnie Earle, Rick Perry has been indicted on counts of abuse of power and coercion of a public servant by a Travis County grand jury.
Police found an open vodka bottle in the car and arrested her. She verbally berated the arresting officers, and she didn't stop the verbal abuse when she got to jail. Lehmberg was strapped into a restraining chair. Hours after her arrest, she blew a .239, almost three times the legal limit. Lehmberg's jailers starting filming her, as they sometimes do with uncooperative detainees. That footage quickly found its way into the hands of media outlets. It's incredibly embarrassing stuff—from Lehmberg's thinly veiled threats against sheriff's deputies, to her repeated requests to call Travis County Sheriff Greg Hamilton ("He's not going to let me sit in jail all night") to the placement of a hood, commonly known as a "spit mask," on Lehmberg's head. She ultimately pleaded guilty and served about half of a 45-day jail term. Calls for Lehmberg to resign started circulating immediately. She didn't.
Had Lehmberg resigned, Perry would have gotten the chance to replace her, ending for at least a short while the irritation of liberal Travis County DAs. So he threatened to veto funding for the DA's Public Integrity Unit, unless Lehmberg resigned. She didn't resign. He cut the funding. That neutered, to the tune of $8 million, an investigation of fishy grants disbursed by the Cancer Prevention and Research Institute of Texas.
Conservative reaction on Twitter has boiled down to (I'll paraphrase) "What, the IRS slow-walking Tea Party applications isn't a scandal, but cutting funds for a drunk-driving DA is?" Well, apparently, yes. It is.
Did Anyone Actually Yell "Kill the Police"?
Unsurprisingly, Radley Balko has the best and most measured take on the timeline in Ferguson and the mistakes that cops made in overzealously controlling civilian protests. (Read this interview with Norman Stamper if you need a sidebar.) I learned plenty from Balko, and one claim jumped right off the page. The story that protesters chanted "kill the police" was thinly sourced.
How could that be? The story was everywhere. This weekend Fox News report begins with the hook that as a crowd gathered outside the scene of Brown's death, "some people [were] even yelling kill the police." And here the problem starts, because the video doesn't really prove that, at all. One, the crowd's chants are indistinguishable. Two, Fox News' video was taken at night—but Brown was shot in the afternoon.
So who yelled "kill the police"? Let's go to the contemporary print reports, which credit the "kill the police" chant to the Associated Press. Here's where the AP got the scoop:
St. Louis County police said a large crowd confronted officers following the shooting, yelling such things as "kill the police."
ABC News, reporting independently on the story, cites St. Louis County police department spokesman Brian Schellman for the "kill" quote. So there you have it: The police department says that people yelled "kill the police," but no video has emerged of anyone saying it, despite the presence of media and countless cellphone cameras.
Four years ago, several black members of Congress said that they'd been heckled, spit at, and called the N-word on their way out of health care votes. Andrew Breitbart offered a $100,000 reward for any video proof that this had happened. No proof emerged. On the right, and more widely, the idea that Tea Partiers yelled racial slurs at John Lewis, et al. appeared to be debunked.
So what should happen with the possible canard that the people at the first protest of the Michael Brown killing were yelling about murdering cops? We've come a ways since Sunday, but that detail definitely colored the way this story was received.
Everybody Chill: People Around Ferguson Are Still Buying Lots of Guns
It may be the most reliable story in the aftermath of a shooting, or a police action. People get spooked. People buy guns. St. Louis' KMOX reports on the gun sales in Bridgeton, a Missouri suburb about 7 miles from Ferguson.
Sales have quadrupled at 'Metro Shooting' in Bridgeton according to owner Steven King. He says sales have mainly been to men, but not all:
"Probably a dozen or two dozen guns to females, single mothers. We've sold to black people, white people. We've sold to asians who have businesses on West Florissant." said King. "They're just afraid of what's going on and they're coming in to purchase either additional firearms or their first firearm."
How reliable is this trend? Frank Miniter, author of The Future of the Gun, pointed me to Florida data on background checks. In February 2012, Trayvon Martin was killed in Sanford. The results are highlighted.
Looking at that chart, you'll also see surges in background checks in November 2012 (the re-election of Barack Obama) and the winter of 2012/2013 (the Newtown shooting and subsequent discussion of the first possible gun safety bill in 20 years).
Rand Paul: "It Is Impossible for African-Americans Not to Feel Like Their Government Is Particularly Targeting Them"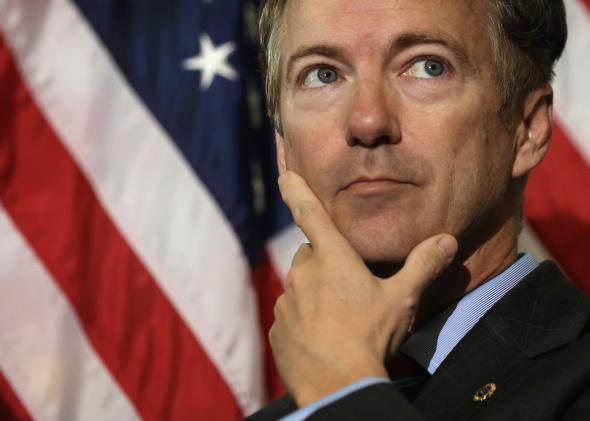 One of the sillier questions of the #Ferguson outrage was Where's Rand Paul? The Kentucky senator had been carving out room for himself to call for criminal justice reform. This was his issue, wasn't it? An unusual number of reporters (myself included) questioned when Paul would respond to the crisis, and then reported on how.
The wait is over: Paul, who's in Kentucky at the moment, has written his thoughts up for Time.com. What, like he was going to take a pass? (The magazine has placed him on its "Time 100" list of influential people for two years running.) And he hits the sweet, green spot between libertarianism and black American outreach. "If I had been told to get out of the street as a teenager," writes Paul, "there would have been a distinct possibility that I might have smarted off. But, I wouldn't have expected to be shot." Later, he sympathizes with blacks who "feel like their government is particularly targeting them." It's exactly what Paul does when he talks about drug laws and felonies, giving examples of how so many white people have escaped the life-changing criminal judgments of black people who behave the same way.
Next: the libertarianism. Paul cites a trio of conservative/libertarian writers: Instapundit Glenn Reynolds, the Cato Institute's Walter Olson, and the Heritage Foundation's Evan Bernick. I'm surprised that there's no direct quote of Radley Balko, who, as I wrote this morning, was one of the first scholar/reporters to obsess over police militarization. My hunch was that Balko, who now works at the Washington Post, is not as obvious a source to to cite if you're crediting the libertarian movement with these insights, but apparently the op-ed simply ran long. Nevertheless, you get some seriously Balkofied arguments at the end:
Big government has been at the heart of the problem. Washington has incentivized the militarization of local police precincts by using federal dollars to help municipal governments build what are essentially small armies—where police departments compete to acquire military gear that goes far beyond what most of Americans think of as law enforcement.
This is usually done in the name of fighting the war on drugs or terrorism. ... When you couple this militarization of law enforcement with an erosion of civil liberties and due process that allows the police to become judge and jury—national security letters, no-knock searches, broad general warrants, pre-conviction forfeiture—we begin to have a very serious problem on our hands.
Paul has just embraced a reform agenda that "Orange Line" libertarians have been calling for since at least the middle of the Bush presidency. Balko, et al. had frequently spotlighted individuals, often black, who were victimized by no-knock raids by militarized police. Paul has joined the conversation as the whole world has started watching.
This Video of Tear-Gassed Journalists Is Great for Foreign Propaganda Outlets
Al Jazeera's own reporting on the incident amounted to one line. In a long piece about Ferguson, Missouri police firing tear gas at protesters, the network added that "Al Jazeera journalists covering the protests in Ferguson on Wednesday night were also tear gassed by police."
Anyone wanting to see how it went down had to click over to local KSDK, which posted nearly complete video of the reporters being gassed and running, before SWAT teams show up to plunk their lights and cameras onto the grass. Later, the video picks up an exchange between cops and reporters being told to leave.
"We're OK here," says a reporter.
"We don't want you here," says a cop. "Somebody's going to get hurt." Like, say, by tear gas.
Al Jazeera's experience made me curious about how RT, the Russian propaganda channel with reporters in the U.S., was covering Ferguson. Thoroughly. In aggregation-heavy posts, RT is asking what "press freedom" means in America if reporters are tear-gassed while setting up for a story. At PressTV, the Iranian propaganda channel, there's little original coverage, but there is an essay by an American explaining how "decades of social decay have gotten us to the point where the thin veneer of civilization that we all take for granted every single day is wearing dangerously thin." Telesur, the Venezeulan propaganda channel, is missing its opportunity for coverage, and the news of arrested journalists broke around noon in North Korea but I don't see the Central News Agency making hay yet. The material's just waiting for them.
Update: The Wrap got more details from the police, who claim the tear gas was fired unintentionally, and that they reunited reporters with equipment. That's in the video—that's the sound you hear of the police telling the reporters to get scarce.
Law-and-Order vs. Overkill: The Conservative Response to #Ferguson
This blog has defined "Hannitization" as the method of cleaning up a messy situation by doing a soft-touch interview with Fox's Sean Hannity. (Hannity himself uses the verb "Hannitize" to describe the act of being convinced by him. Really, he does.)
Hannitization is not confined to raw politics. Last night, around the time that two journalists were being arrested for failing to flee a locked-down McDonald's quickly enough, Hannity got an exclusive with Ferguson's police chief, Thomas Jackson. Now, the slow and stingy flow of information from Jackson's office is a real issue on the ground. The name of the officer who killed Michael Brown has not been released. The police department has not said whether eyewitnesses who have been talking to the media have been interviewed by police, too. And while it's not the key issue in the Brown case, the heavy militarization of the police forces, a trend that had been covered by the libertarian journalist Radley Balko and the Pulitzer winner Matt Apuzzo, has broken out as a controversy.
Hannity asked about none of this.
Indeed, the whole interview is a chance for Jackson to reiterate that the cops are doing the right thing. Here's how it ends:
HANNITY: You are certain that an altercation occurred and a shot was fired within the car, meaning Mr. Brown was in the car at some point?
JACKSON: He was, he was -- yes.
HANNITY: In other words, he wasn't handcuffed in the car. He went in the car of his own volition.
HANNITY: And do you believe there was a struggle for that gun?
JACKSON: That's what the county police chief said in his opening statement. He's the one that took the -- his officers are the ones that took the statement from both the officer and the witnesses.
HANNITY: What about the unrest that has taken place now in your city? Do you believe a lot of the looting and a lot of what has happened is a result of outside agitators, as some have suggested, or do you think this is just a community angry at what happened?
JACKSON: No, it's a lot of outside agitators that are causing the violence. We've had some -- several very peaceful protests. I mean, they're angry. They want -- they have questions they want answers to. And I understand that. I get that.
Outside agitators! That's a whip-smart line to use on Fox News, which ran so much footage of the New Black Panther Party's bumbling 2008 "protection" of a Philadelphia polling place, and the subsequent legal cases against the NPP, that the Panthers practically qualified for the Screen Actors Guild.
Hannity's warm-milk interview gets at a division in conservative America. I mentioned that the reporter who's been on the "militarized police" beat the longest is Radley Balko. (While at the Cato Institute, in 2006, he published a paper on paramilitary police raids.) And in a popular column for National Review, Charles C. Cooke argued that the conservatives trying to change the subject in Ferguson to black-on-black crime are making themselves and their peers sound callous. "The question of who guards the guardians pertains now as keenly as it ever has," he wrote. "The Right's answer should be 'we do' — and we're happy to hang them high if we know that they have transgressed."
The absence of President Obama from the conversation is one reason that the pro-cop, change-the-subject argument has been limited largely to buffoons. Yes, he put out a statement about Brown, and Todd Starnes, a Fox News commentator who can be counted on to react to events in a stupid way, asked why Obama didn't say anything about the police officer. (You know, the one whose name isn't being revealed.) But Obama has been on vacation, and taken his lumps, in a marked contrast to his quick, televised response to the killing of Trayvon Martin. That response, as Ta-Nehisi Coates pointed out, fired the starting gun on conservative media coverage of Martin as a thug who was up to no good and could have killed a guy.
The modern GOP, the one that elected Richard Nixon and bult its base in the South and the suburbs, established early on that it was the "law and order" party. The crime waves of the 1960s and 1970s and the crack wars of the 1980s were crucial to Republican dominance, and led to tough-on-crime legislation that's still on the books. Only recently, as violent crime rates have tumbled, has the libertarian tendency of the GOP reasserted itself. We've seen the "Right on Crime" Republican legislators pass prison reform bills; we've seen Rand Paul talk about restoring the voting rights of felons, and shrinking the number of crimes that can be classified as life-ruining felonies.
It's an open question: Which of these tendencies will characterize the conservative response to Ferguson? The law-and-order tendency that assumes the cops pointing their guns at protesters are preventing the outside agitators from doing something wild? Or the libertarian tendency that asks if you really want a photo of the occupation of Crimea to be indistinguishable from a photo of the St. Louis metro area?
President Obama, Gov. Nixon, an Anonymous Cop: The Internet Looks for Blame in Ferguson
My colleague Elliot Hannon has collected the tweets of the Huffington Post's Ryan Reilly and the Washington Post's Wes Lowery into a long post about how the two reporters were arrested in the Ferguson, Missouri, McDonalds they'd been using as a filing center. My colleague Jamelle Bouie is on the ground in Missouri, and I have a statement from the Huffington Post:
We are relieved Ryan Reilly and Wesley Lowery are safe, but we are disturbed by their arrest and assault.

Ryan was working on his laptop in a McDonald's near the protests in Ferguson, MO, when police barged in, armed with high-powered weapons, and began clearing the restaurant. Ryan photographed the intrusion, and police demanded his ID in response. Ryan, as is his right, declined to provide it. He proceeded to pack up his belongings, but was subsequently arrested for not packing up fast enough. Both Ryan and Wesley were assaulted.

Compared to some others who have come into contact with the police department, they came out relatively unscathed, but that in no way excuses the false arrest or the militant aggression toward these journalists. Ryan, who has reported multiple times from Guantanamo Bay, said that the police resembled soldiers more than officers, and treated those inside the McDonald's as 'enemy combatants.' Police militarization has been among the most consequential and unnoticed developments of our time, and it is now beginning to affect press freedom.
Reilly and Lowery are incredibly hard-working reporters, both well-liked and respected in D.C. (Don't hold that against them.) There are reports that higher-ups in the Missouri police forces realized that the arrests were terrible mistakes, committed by people who never heard the cliché that you don't "pick a fight with people who buy ink by the barrel." This is even truer when the barrel-owners happen to own Amazon.com and AOL.com.
But the story is moving at Twitter-speed, and there is little time to waste before assigning political blame. Shortly before midnight, BuzzFeed's political editor Katherine Miller (formerly of the Washington Free Beacon) captured the zeitgeist by sharing the White House pool report and noting that "violence continued" in Missouri. Meanwhile:
[In] his toast for [Ann] Jordan, President quipped that he met Vernon and first, but liked Ann more. The menu consisted of surf and turf and pasta. The Obamas danced nearly every song. A good time was had by all.
The snark wrote itself: dancing while Ferguson burned. A tweet from the office of Gov. Jay Nixon elicited a similar, can-you-believe-the-gall response.
Canceling all appearances at the @MoStateFair to visit North #STL County tomorrow. Statement to follow.

— Governor Jay Nixon (@GovJayNixon) August 14, 2014
When you clicked on the tweet, Twitter recommended an article from Mother Jones co-editor Clara Jeffrey, headlined "Where is Governor Jay Nixon?" and illustrated by a parody of a Where's Waldo? cover. Jeffrey's piece, consisting mostly of tweets from journalists asking why Nixon was not acting, was shared on Facebook more than 1,000 times in an hour. Nixon, a Democrat re-elected in 2012, had already asked the DOJ to look into the shooting of Michael Brown. But Nixon makes a poor contrast with other governors who reacted to unrest in major cities by plunging in and meeting with municipal and law enforcement leaders.
Decades ago, when unrest and police responses broke out in cities, the measurable civilian response was limited to what the media could capture. Local Philadelphians talked to reporters about what it was like to live near the MOVE siege; residents of Cincinnati did the same when their neighbors protested the killing of Timothy Thomas. The reaction to Ferguson (or #Ferguson) is happening on social media, everywhere, shaped by conservatives who want to blame Democrats, police state critics who want to talk about militarization, and foreigners who wonder what the hell is wrong with America. The easiest and most famous targets are the politicians. But as Josh Harkinson has been reporting, Internet activists with no determinated location are currently working to identify the cop who killed Mike Brown.
Update: From Ryan Reilly's Facebook page:
A St. Louis County police officer in full riot gear, who refused to identify himself despite my repeated requests, purposefully banged my head against the window on the way out and sarcastically apologized. I'm fine. But if this is the way these officers treat a white reporter working on a laptop who moved a little too slowly for their liking, I can't imagine how horribly they treat others.
Update II: From Rep. Justin Amash, one week off his defeat of a candidate backed by the Chamber of Commerce:
Images & reports out of #Ferguson are frightening. Is this a war zone or a US city? Gov't escalates tensions w/military equipment & tactics.

— Justin Amash (@repjustinamash) August 14, 2014
Hillary Clinton's Nonexistent Hawk Problem
Jeffrey Goldberg's interview with Hillary Clinton got deep into the weeds of foreign policy, teasing out the former secretary of state's contemporary and current thinking about Obama administration moves in the Middle East. As far as the news cycle is concerned, the lede is that Clinton said " 'don't do stupid stuff' is not an organizing principle," and David Axelrod tweeted about this. It's 2008 all over again! There wasn't all that much daylight between Clinton and Obama—she defined "stupid stuff" as doing what "we did in Iraq and to have no plan about what to do after we did it"—but enough of a disagreement that the two leaders will reportedly "hug it out."
Those looking for more disagreement between Clinton and her likely Democratic primary electorate are focusing on other parts of the interview. To Goldberg, she reiterates that she thought, in 2012, "that if we were to carefully vet, train, and equip early on a core group of the developing Free Syrian Army, we would, number one, have some better insight into what was going on on the ground," and "two, we would have been helped in standing up a credible political opposition."
Noam Scheiber reads this and thinks that Clinton blew it.
[O]pposition among Democrats to overseas interventions, particularly in the Middle East, remains so strong and raw that, if Clinton continues in this vein, even a weaker insurgent candidate than Warren could theoretically rough up Clinton in a primary (although probably not defeat her outright). That's particularly so when you consider that Obama remains very popular within the Democratic Party. It's bad enough to announce your support for a more hawkish foreign policy. It's much worse to marry it with a shot at the president.
Let's proceed on the assumption that the "shot at the president" was fairly mild. The evidence that Scheiber cites for the claim that that Democrats oppose "overseas interventions" is recent polling on the Iraq war. That was a land war of choice begun by a Republican president and supported initially by Hillary Clinton. (She has apologized in the pages of Hard Choices.) What about the actions supported by President Obama? In September 2013, when the White House was attempting to build support for missile strikes in Syria, Democrats were the political group most likely to support them.
Keep in mind: In May 2013, before the White House supported the strikes, Democrats were the least likely to back them.
When it became Obama's mission, a Democratic mission, Democrats were foursquare behind it. And the same was true of the Libya intervention, which Clinton defends here. Here's Gallup, from the summer of 2011:
That last poll makes the dynamic pretty clear; but in case it isn't, let's look back to the 1990s. When Bill Clinton was president, Democrats were far more likely than Republicans to support military action—if Bill Clinton said it was necessary. Not sold yet? Consider that the mainstream left position on Iraq, from 2002 to 2008—from Al Gore to Howard Dean to Barack Obama—was that America needed to focus its might and money on the conflict in Afghanistan. And consider that Democrats voted for Barack Obama over Hillary Clinton after he came out for military actions in Pakistan with or without the approval of the country's government, and she disagreed.
The evidence, I think, is that the entire country is more skeptical of foreign intervention in the wake of the disastrous Iraq war, but that Democrats have remained generally supportive of foreign intervention if it's backed by their president and directed toward a stated goal. Clinton's stances on Iran negotiations and Israel are more problematic. But if you're wondering whether there's an anti-war movement ready to beat her, ask yourself when was the last time you saw a left-wing anti-war protest. Who was the president?
Ben Carson's New Book Just Outsold Hillary Clinton's
It's hard to gauge how seriously to take the political ambitions of Dr. Ben Carson. For starters, it's unclear exactly what his ambitions are. He lives in blue Maryland, where Democrats have comfortably won every Senate race since 1986, and where Democrat Anthony Brown is expected to soon become the state's first black governor. He has formed a PAC, and he's heading to Iowa this month—I talked to local Carson fans who are trying to get people to his book tour stops in the western and eastern parts of the state. But as a public speaker, he's sort of unfocused, spending lots of time relitigating the latest liberal calumny against him.
And yet. According to Nielsen BookScan, Carson has pushed past Hillary Clinton and become the author of the year's second-best-selling nonfiction book. Carson's One Nation has sold 224,990 copies, a massive success for his publisher, Random House. (The book came out under the conservative Sentinel imprint.) Clinton's Hard Choices has sold 222,822 copies. The two of them have been bested only by Bill O'Reilly, whose Killing Jesus has sold 228,811 copies. They are joined in the blockbuster circle by Michael Lewis (189,726 copies of Flash Boys), Charles Krauthammer (177,121 copies of his column collection) and Thomas Piketty (158,668 copies of Capital). Carson's book is substantially shorter than Clinton's, and retails for $9.05 less, but he gets bragging rights if he decides to jump into politics.
Oh, and Elizabeth Warren's A Fighting Chance has sold 71,930 copies. You were the one who asked.