Slate's soccer blog.
Olympics, FIFA, Congress, or Dictator? Take Our Bribery Quiz!
Another week, another FIFA corruption scandal. The latest disgraceful episode centers on allegations that a Qatari bid committee lobbyist paid off various officials to secure the 2022 World Cup. The charge is spectacular and could eventually result in Qatar losing the World Cup. But how does it stack up to past FIFA indignities? And what about the worst behavior of Olympic officials, members of U.S. Congress, and international dictators, three groups that seem to have a lot in common with FIFA on this front? To test your knowledge of all four groups, we've created a corruption quiz. Can you match the charge to the correct group? Good luck!
NFL Investigates Patriots for Possibly Tampering With AFC Championship Game Balls
The New England Patriots don't make it easy to be a casual fan of the franchise. On Sunday, uberhuman Tom Brady continued his life winning streak by discarding the Indianapolis Colts 45-7 and earning a spot in this year's Super Bowl. It didn't take long for the outermost coat of feel-good luster to be sanded off the Patriots' latest triumph with a report by Indianapolis station WTHR that the NFL is investigating whether the Patriots used deflated footballs during Sunday's home win, potentially making it easier for them to catch and throw in cold, rainy weather.
If this is a wormhole you'd like to dive into, here's more on how game balls are managed and regulated in the NFL, via ESPN. If not, no hard feelings.
NFL rules stipulate that footballs must be inflated between 12.5 and 13.5 pounds per square inch and weigh between 14 and 15 ounces. Former NFL official Jim Daopoulos, in an interview with ESPN on Monday morning, explained the process in which footballs are managed. Two hours and 15 minutes before each game, officials inspect 12 footballs from each team and put a mark on them to indicate they meet the proper requirements and are good for usage. Then those footballs are given to the ball attendant. There also is a second set of six footballs, used specifically for the kicking game, that are marked appropriately and remain in the possession of officials at all times… The NFL's game operations manual states: "Once the balls have left the locker room, no one, including players, equipment managers, ball boys, and coaches, is allowed to alter the footballs in any way. If any individual alters the footballs, or if a non-approved ball is used in the game, the person responsible and, if appropriate, the head coach or other club personnel will be subject to discipline, including but not limited to, a fine of $25,000."
Advertisement

While Tom Brady threw for a suspiciously handsome 226 yards and three touchdowns with one interception on Sunday, it's pretty much impossible to conjure a twitchy enough conspiracy theory to implicate the game ball in the 38-point demolition. The Patriots will therefore still be the AFC's Super Bowl representative in Arizona, but could potentially be docked a draft pick for its game day shenanigans. And the Pats are not above shenanigans as the franchise was docked a first round pick in 2008 for videotaping opposing coaches' signals.
How to Follow Soccer Now that the World Cup Is Over
The World Cup is over, and the quadrennial outbreak of American soccer fever is slowly subsiding. In the aftermath of the most-popular soccer tournament in U.S. history, though, there are signs that some are sticking with the sport. There's been a post–World Cup spike in Major League Soccer viewership, according to ESPN, and MLS streaming packages are reportedly up 300 percent. If you're still feeling that soccer itch but don't how to scratch it, here are the many ways to keep up on the sport between now and 2018.
The obvious place to start is the already-underway MLS season. There are 15 American metropolises with teams, and new franchises are coming to Orlando and New York next season and to Atlanta in 2017. If your city doesn't have a team, or you're more into fair-weather fandom, we suggest you get behind the league-leading Seattle Sounders, who drew 64,000 fans to their first post–World Cup match. The Sounders feature two of the best American players in Clint Dempsey and DeAndre Yedlin, along with former Inter Milan and Nigeria striker Obafemi Martins. Several of their upcoming games are on ESPN2, NBC, and NBC Sports Network, but outside of Seattle you'll need an MLS Direct Kick or MLS Live package to get more of the team's games.
Advertisement

MLS features 10 players from the U.S. World Cup squad, plus stars like Landon Donovan (L.A. Galaxy), former England and Tottenham striker Jermain Defoe (Toronto F.C.), France and Arsenal legend Thierry Henry (New York Red Bulls), Ireland's Robbie Keane (L.A. Galaxy), and the guy who scored the best goal of this last World Cup, Australia's Tim Cahill (New York Red Bulls). Expansion franchise New York City FC has already signed Spain's David Villa and is about to sign England's Frank Lampard. Orlando F.C., meanwhile, signed Kaka—the last Ballon d'Or winner who's not Lionel Messi or Cristiano Ronaldo—and is reportedly on the verge of signing his former Brazil teammate Robinho.
All of these players have something in common: They're over the hill. Aside from the Americans, these guys either didn't play at the World Cup, or their teams were non-factors—the talent level just doesn't come close to what you will see at a World Cup. But you already knew that.
The good news is that the World Cup isn't the highest-quality soccer competition in the world. Though nothing can match the World Cup in terms of sheer spectacle, you'll find better skill and teamwork in the Champions League, which pits Europe's best clubs against one another. Some of the best players in the world who didn't make the World Cup, like Wales and Real Madrid speed demon Gareth Bale and Sweden great Zlatan Ibrahimović (Paris Saint-Germain), do play in the Champions League. And unlike the World Cup, it happens every year.
Similar to the World Cup, the Champions League has a points-ranked group phase followed by an elimination tournament. The schedule for this year's group stage matches will be announced on Aug. 28, and the games begin on Sept. 16. That's followed by the round of 16, quarterfinals, and semifinals, and then the final on June 6, 2015 in Berlin. (Cristiano Ronaldo's Real Madrid won the Champions League title last season in a thrilling all-Madrid final against Atlético.) Unfortunately, Champions League games generally happen on Tuesday and Wednesday evening, which means Tuesday and Wednesday afternoon for U.S.-based fans. Fortunately, they typically air on Fox Sports 1, are easily recorded, and it's a lot easier to avoid spoilers during Champions League than during the World Cup.
Europe's best teams are now busy bolstering their rosters during the summer transfer window, which is like NBA free agency on steroids. Some of the top players from the World Cup have already moved to different clubs. Those transactions include Chile's Alexis Sanchez joining Arsenal from Barcelona, Spain's Cesc Fàbregas and Diego Costa joining Chelsea from Barcelona and Atlético Madrid respectively, Uruguay's Luis Suarez moving to Barcelona from Liverpool, Brazil's David Luiz moving from Chelsea to Paris Saint-Germain, Colombia's golden boot winner James Rodríguez set to complete a move from Monaco to Real Madrid, and Germany's Toni Kroos having joined Real Madrid from Bayern Munich. And there are still some huge names that are likely to move including Chile's Arturo Vidal (Juventus), Germany's Sami Khedira (Real Madrid), Argentina's Ángel di María (Real Madrid), and Uruguay's Edinson Cavani (Paris Saint-Germain).
The teams in the Champions League come from all over Europe, but the last 10 finals have exclusively featured clubs from Spain, England, Italy, and Germany, the four best domestic leagues in the world. Those domestic competitions—which take place simultaneous to the Champions League—feature between 34-and 38-game seasons. The team with the highest points total at the end of the season is the champion. Because there are no playoffs, the results can be anti-climactic. Last season, Bayern Munich won the German title with seven games left to play and Juventus won the Italian title with three matches left to play—but the Spanish and English championships both came down to the final match-day. (If you love playoffs, MLS has got them. And the format is very confusing.)
There are plenty of ways to pick a favorite club, none of them wrong for an American. If you liked World Cup champions Germany or American wunderkind Julian Green, you should root for Bayern Munich. If you like New York Yankees-style teams of superstars assembled by the mega-wealthy, then Manchester City, Paris Saint-Germain, and Chelsea are the way to go (Chelsea is also managed by the most interesting man in soccer). Arsenal is coming off of its first trophy in nine years, and has a recent reputation of playing the most open, exciting soccer in England under manager Arsène Wenger. Manchester United and Liverpool are the two teams with the richest history in the English game. Real Madrid with Ronaldo, Bale, and eventually James Rodríguez, and Barcelona with Messi, Neymar, and Suarez will have the most collective attacking talent in the world next season.
You can watch the Premier League on Saturday and Sunday mornings on NBC Sports Network and NBC, the German Bundesliga on GolTV, and the Spanish, Italian, and French leagues on beIN Sports.
If you don't care about club soccer and just want international rivalries, there are plenty of those in store. The Women's World Cup kicks off in Canada next summer with the U.S. qualifying campaign scheduled to begin this October. The Americans came achingly close to winning the title in 2011. They haven't won the tournament since 1999, but should be among the favorites.
Euro 2016 in France will feature many of the best teams from the World Cup, including reigning world champion Germany. The past three World Cup champions have come from Europe, and that's where the most concentrated international talent is. Qualifying for that tournament begins this September.
What's next for the U.S. men? The team's next international friendly is Sept. 3 against the Czech Republic and the Gold Cup—a competition among teams in North America, Central America, and the Caribbean—begins just 10 months after that. In 2016, the Copa America—usually a South American competition—will be contested on U.S. soil for the first time ever. The Americans could face Suarez's Uruguay, Messi's Argentina, Rodríguez's Colombia, and Neymar's Brazil. That tournament is the region's most prestigious event, and the chance to win at home could make for World Cup levels of excitement. CONCACAF isn't releasing the schedule for 2018 World Cup qualifiers until the end of August. But in the last cycle the U.S. campaign didn't kick off until the third round of qualifying between June and October of 2012, which would mean their World Cup 2018 campaign probably wouldn't get started until after Copa America. The next men's World Cup is supposed to begin on June 8, 2018 in Russia, but a lot of people are not happy about that.
That wraps up our World Cup coverage this year on The Spot. Until next time, thank you for reading!
This Lovely Animation Will Make You Wish the World Cup Were Still Happening
Richard Swarbrick makes amazingly gorgeous animated films based on real sports moments. Seriously, they're like Shepard Fairey portraits come to life, but better. He did one for the just finished World Cup, and watching a few seconds of it will make you wish it was 2018 right now. Some of the shots are actually kind of hard to decipher (try for yourself), but Swarbrick sent us his approximate shot list, which is reprinted below with some minor modifications for accuracy purposes.
Advertisement

If you didn't care about the World Cup to begin with, this lovely animation will make you wish that the NBA season was still going, and this lovely animation will make you wish that the Doctor Who season had started already.
Want to Keep Americans Caring About Soccer? USA-England. July 4. Let's Get It On.
It was the middle of the afternoon on July Fourth, and I was crouched awkwardly on a tiny stool in a stranger's house, watching Brazil face off against Colombia on a tiny laptop screen. "Well," I said, looking at the two guys sitting beside me, "this is just about the least American thing we could be doing right now." We all laughed. Independence Day. Indoors. Piddling entertainment system. Fútbol. Unpatriotic indeed. But we all really wanted to catch that game.
Now that the World Cup has come and gone, soccer fans are left to wonder: Will America's tournament-time infatuation with the sport turn out to be just another brief fling, or the seed of a longer love affair? The answer, I think, is that soccer is slowly but steadily gathering fans in the U.S. and will probably continue its gradual march. But for those worried about whether Americans will pay attention to the beautiful game more than once every four years, I believe the fact that fans are willing to watch on July Fourth—even without Team USA playing—presents an opportunity. It's time to make soccer a holiday tradition. Specifically, we need to schedule a regular Independence Day grudge match against our old colonial overlords, the English.
Advertisement

It would be a perfect fit. July Fourth is meant to be celebrated by drinking beer while indulging in garish, flag-draped displays of nationalism. So too is international soccer. On the eve of the revolution, the United States was a ragtag upstart fighting against a vast empire. Today, we'd get to faintly relive the experience as the slight underdog on the pitch—despite England's early exit from the World Cup, ESPN's Soccer Power Index has them ranked No. 10 in the world while the United States is at No. 20. True, our relative positions might one day flip, but it will likely be a good, long while before the United States feels like the favorite against the soccer-mad English. We'd be taking them on at their own beloved game.
What would be in it for England? To start, national teams use friendly matches outside of major tournaments to road-test their lineups. They would also have the opportunity to market their star players in one of the world's biggest markets—the leadership of England's Premier League would no doubt be pleased. But far more importantly, they would get the chance to exact some sweet revenge on behalf of the crown. If we win, it's 1776. If they win, it's the War of 1812—at least the burning of the White House part.

A revolutionary rematch would also be a vast improvement over America's only July Fourth sports tradition: heading to the ballpark. The issue is not whether soccer is a superior sport (each has its virtues). It's that Major League Baseball is all about regional loyalism—Americans are united in their love of the game but divided by their home teams. Rooting against the redcoats, on the other hand, would give the entire country something to rally around aside from charred hot dogs and fireworks.
Of course, the match wouldn't be everybody's cup of Earl Grey.* Some conservatives instinctively distrust soccer, in part because of its international flavor, and in part because, as Peter Beinart argued in the Atlantic, the sport's core fan base of Hispanics and young, cosmopolitan liberals in places like New York and Washington, D.C., "looks a lot like the Obama coalition." It might be a bit much to expect wary GOP-ers to spend Independence Day celebrating a game that's growing in popularity for the same demographic reasons Democrats keep winning presidential elections.
But if Republicans could keep an open mind, they might find plenty to like. Even a hardened, anti-soccer soul would have to see some virtue in ritually re-enacting our nation's formative rebellion through sport and combining it with the obligatory flag waving, "U-S-A!" chants,and red-white-and-blue drink specials.
One potential hurdle: scheduling. Obviously there's the World Cup to worry about—July 4 would be a no go every four years. The European Championship also comes around every four years—the next is scheduled to run well into July 2016. That leaves the odd years, which feature summer tournaments like the CONCACAF Gold Cup and the Confederations Cup. It won't be easy to schedule around those competitions, but from what I could tell it would theoretically be doable. And from FIFA's perspective, the tight calendar might even be a perk, since it would drum up American interest right around those major events.
Even if the logistics turn out to be difficult, the end result would be worth it. A biennial July Fourth match against the English would give us a holiday event for a new generation of multi-ethnic, globally aware Americans who still want to spend an afternoon at war with our ancestral rivals. We already have Thanksgiving football. It's time for Independence Day fútbol.
*Correction, July 15, 2014: This post originally misspelled "Earl Grey" as "Earl Gray."
The Best Part of the World Cup Trophy Ceremony
No one who followed the World Cup was surprised when FIFA selected Manuel Neuer as the winner of the 2014 Golden Glove award. The German goalkeeper, known for roaming far beyond the goal area to execute spectacular defensive moves (including a Harald Schumacher-esque challenge that nearly knocked out Argentina's Gonzalo Higuaín in the second half of the final), is widely considered one of the best in the world, and his talent was one of the key factors that propelled Germany to victory in Brazil.
There was, nonetheless, one surprising element of Neuer's Golden Glove ceremony. After shaking hands courteously with German President Joachim Gauck, Neuer moved down the line to German Chancellor Angela Merkel—and, after shaking hands with her, he leaned over for a hug. Actually, "leaned" is not quite the right word: Neuer lifted his left leg behind him in a graceful arabesque, pivoting the entire length of his 6-foot-4 body to bring his head and shoulders to the 5-foot-5 chancellor's level.
Advertisement

Merkel later hugged the rest of Die Mannschaft as they collected their gold medals, but none of those embraces rivaled the Neuer hug for goofy spontaneity. Everything about the moment—the apparent emotional warmth between the 28-year-old athlete and the 59-year-old politician, their height discrepancy, the tiny chance that Neuer might lose his balance and topple over onto the one of the most powerful women in the world—was rivetingly perfect.
Don't Cry for Messi, Argentina. This Germany Team Is One of the Best in Years.
Lionel Messi seemed to recognize that he had lost the World Cup several minutes before the final whistle had blown. Moments after substitute striker Mario Götze scored a wundervolley in the game's 113th minute to put Germany up by the decisive margin of 1–0, the Argentine legend had his last somewhat realistic chance at goal. Defender Marcos Rojo sent a high arcing cross deep into the German area and Messi came flying in for a free header from about 15 yards out. Had his shot gone in, it would have been a glorious goal. Instead, the ball fluttered harmlessly over the bar, and Messi walked away with his head down, staring desperately at the turf.
Advertisement

Those inscrutable, brilliant, stoic—and in that moment sad—eyes had to know. This is probably the smartest soccer mind of our generation, and perhaps ever. He probably knew it the moment Götze's beautiful left-footed volley went into the back of the net. When ESPN later showed Messi's reaction after the goal, he was also boring his eyes deep into the turf. When he looked up at the camera, Messi lifted his hand to his face and gave a bemused grin. It was as if to ask: They can't possibly expect me to do this now?
He flashed the same smile, even wider this time, after he sent an impossible-to-score-on free kick well high on Argentina's final shot of the game. "If anyone can, he can," said ESPN's Ian Darke. No one could put that shot in, and no one could save Argentina against an unstoppable German machine.
Die Mannschaft, coming off of one of the greatest wins the sport has ever seen, deserved to lift this World Cup trophy. The German victory was a fitting end to a great tournament, one that tied the record for goals scored and for the number of matches that went to extra time. This is one of the best German sides in history, and that's saying a lot. It has finished in the top four in five consecutive major tournaments. It is ranked first in the world according to ESPN's Soccer Power Index. It has more points than any team in history in the highly touted World Football Elo Ratings, which places it ahead of Ferenc Puskás' 1954 Hungary team, Pele's 1962 Brazil team, and Spain's 2013 reigning Euro and World Champion team, in that order.* Most important, it is a team that has won Germany's first major trophy in 18 years and its first World Cup crown since beating Diego Maradona's Argentina in 1990.
"I think this is one of the best generations we ever had in Germany, at least the best generation I saw in Germany," said Mats Hummels, who was right the first time before realizing he was supposed to be slightly more humble. "You see in the Champions League, half of our team won the Champions League. Some of us stood against Bayern last year and lost in the final. So we just have a good team." Hummels is talking about his Borussia Dortmund club that fell to one of the great Bayern Munich teams of all time in last year's continental title match. Six members of Germany's starting 11—Neuer, star midfielder Toni Kroos, leading goal scorer Thomas Müller, talismanic captain Philipp Lahm, and World Cup final standouts Bastian Schweinsteiger and Jérôme Boateng—come from that Bayern side. Not to mention 22-year-old World Cup final golden goal scorer Mario Götze, who came on as a substitute. Yes, there's a lot of talent in Germany.
The statistics don't tell you that the game was fairly even in terms of number and quality of chances, but they do indicate that Germany largely dictated the pace and played the type of controlled, possession-based game it wanted to play. Germany capped off the title win by scoring its 18th goal of the tournament, the most of any World Cup team in 12 years.
To have such a team claim the title—the first European side to ever win in the Americas—is fitting. That's true even though it comes at the expense of one of the greatest players the world has ever seen and an impressive Argentina team that played stalwart defense in the tournament's final stages.
The Argentines deserves to be proud, and despite the sting of Sunday's loss, it seems as though they are. Prior to conceding that Götze goal, Argentina hadn't surrendered a score in 485 minutes, the third-longest such streak in World Cup history. The team trailed for a grand total of seven minutes in this World Cup, and unfortunately those seven minutes came at the end. Argentina also only conceded four goals, just two more than Spain did during its brilliant 2010 run and the same number the German champions did at this year's tournament. Argentina had come into the World Cup with a second-string goalkeeper from the weak French league and a couple of defensive journeymen holding up the backline. But it proved to be one of the best defenses in the tournament, led by holding midfielder Javier Mascherano, who was again all over the field in this final.
Though Argentina was clearly the second-best team at this tournament, La Albiceleste did have several opportunities to steal the game from a better side. In the 21st minute, Gonzalo Higuaín failed to convert an open chance on goal that will likely haunt him for the rest of his life. He blew another fantastic scoring opportunity 10 minutes later by running offside on a perfect cross from Ezequiel Lavezzi. In the second minute of the second half, Messi missed his own one-on-one chance with the keeper, though from a much tougher angle, zipping his shot wide. And in the seventh minute of extra time, another gorgeous pass sent substitute and Jet Li character Rodrigo Palacio one-on-one with the goalkeeper only to harmlessly see his chip go, again, wide. In all, Argentina had 10 shots and just two on target, according to FIFA. (Opta says that Argentina had zero shots on target, though I'm not sure why the discrepancy.) Neuer, who ended up winning the Golden Glove for best goalkeeper, was asked to make zero saves.
Surely many will put Argentina's offensive failure at the feet of Messi, and say his inability to score somehow tarnished his game, his tournament, and his legacy. Some already are saying so.
ESPN commentator and former Venezuela international Alejandro Moreno made the inevitable Maradona comparison afterward, saying that Messi's failure to replicate his predecessor's title-winning glory would lower him in the eyes of his countrymen. "I'm going to speak for the Argentinian men in this room and I'm going to say there is going to be no charity for Lionel Messi," Moreno said. "Yes, he has driven this team to the finals and yes he has had moments, but in order for him to win the heart of the Argentinian people, he had to carry this trophy home. And in not achieving that—he would always fall short to Maradona, but if he had won this title at least he gets in the room with Maradona."
There was much harrumphing to similar effect on Twitter when Messi was awarded the tournament's Golden Ball after the game. Many even suggested, not unreasonably considering FIFA's notorious corruption, that the prize was a gift to Adidas, who sponsored the trophy and, coincidentally enough, also Messi. For his part, Messi looked embarrassed to be handed the prize.
While it may have seemed farcical in that moment, it's not crazy to give Messi that Golden Ball. His final wasn't that bad—he made some dangerous attacking runs and was Argentina's most-threatening offensive player. And his tournament, while maybe not deserving of top honors, was amazing. He scored four goals and assisted on one, but was involved in seven of Argentina's eight goals. He led the tournament in successful take-ons and chances created. According to Opta, his 46 take-ons were the third-most since they started counting, behind only Jairzinho in 1970 and Maradona in 1986.
There's Maradona again. Unfairly for Messi, that title-winning 1986 performance is the one against which he'll be judged. That he couldn't beat one of the all-time great teams—a team that is historically stronger than any Maradona faced at the 1986 Cup—without any offensive support in the last few rounds is supposed to mark him as a failure for all-time (or until he wins the World Cup). As his coach Alejandro Sabella noted after the match, Messi attempted to achieve this feat on one day less rest than the Germans and having played 30 more minutes than them. Messi was also playing without the team's second-best attacking player Ángel di María and on legs that he felt weighed "100 kilos."
When 22-year-old match-winner Mario Götze came on in the 88th minute, Germany coach Joachim Löw was said to have told him "go out there and show everybody in the world that you're better than Messi."
But by the logic of those who still say that Messi has failed somehow, that he hasn't had his defining World Cup moment, Götze should be remembered as the better player. Most people are too smart to buy that malarkey. In truth, Messi did nothing to cement his legendary status in the final, but nor did he need to do so. If Messi played on a team as good as Germany, the World Cup wouldn't be a fair competition. The fact that Argentina took the Germans to extra time is an achievement to be applauded. But most of all, we should applaud Germany, one of the best teams most of us have ever seen.
*Correction, July 14, 2014: This post originally implied that Spain's 2013 team had won the Euro and World Cup championships. Spain at the time was merely the reigning holder of those titles.
Lionel Messi Is Sad
Lionel Messi won the golden ball as the best player at the 2014 World Cup, but that was small consolation for the world's best player. The Argentina star could not lift his team to glory against Germany in the World Cup final, and a whole lot of cameras were there to capture his glum expressions. Herewith, a sampling of his sadness.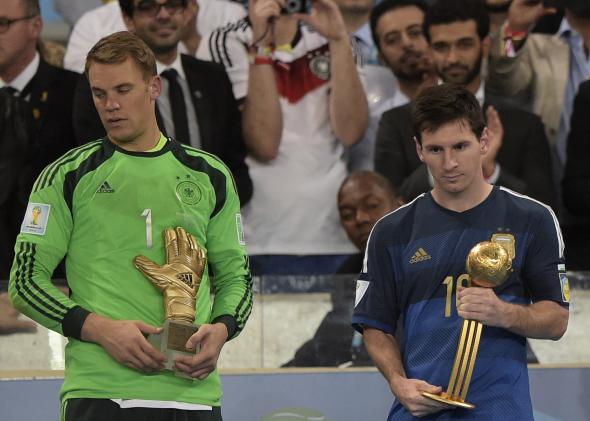 Whatta Mannschaft! Germany Wins the World Cup on a Wonder Goal by Mario Götze.
The World Cup's best team won the tournament with one of the best goals of the competition. In the second half of extra time, substitute André Schürrle made a fantastic run down the left side of the field, driving in a perfect cross to another substitute, Mario Götze, who trapped the ball with his chest and beat Argentine goalkeeper Sergio Romero with a left-footed shot. Congratulations, Mario: You're 22 years old, and you'll never have to buy the beer or schnitzel for the rest of your life.
Germany's 1-0 win over Argentina is Die Mannschaft's fourth World Cup title, and its first since 1990. This is the first time a team from Europe has won the World Cup in South America, and it took a fantastic team to do it.
It was not, though, a fantastic final. Solid defending from both sides meant that there were few scoring chances, and the chances the teams did earn were botched in one way or the other. Aside from Toni Kroos' near-disastrous back pass in the first half, the Germans made few major errors, but didn't show the brilliance that marked their historic 7-1 blowout of hosts Brazil in the semifinals. It's easier to look brilliant, it turns out, when your opponent is in total shambles.
Advertisement

Götze's late winner was a deserving one for a team that did outplay Argentina, and it exemplified what makes this German team great. Schürrle's speed down the flank made the goal possible, and Götze's skill ensured that the ball would find its way to the back of the net. The fact that both players were substitutes reveals how strong and deep the German system has become since the failures of Euro 2000, which led the nation to reform its national program. (Ken Early has those details in a great piece written before the World Cup.) It's also worth noting that Götze plays for Bayern Munich, a club that makes up the spine of this German squad, just as Barcelona made up the core of 2010 champions Spain. Given that so many of the Germans play together during the club season, it seems almost unfair to foist them on less cohesive international sides.
Argentina did well to hold the Germans down, nearly keeping its fourth consecutive clean sheet after shutouts of Switerland, Belgium, and the Netherlands. Gonzalo Higuaín will regret two missed first-half chances, and Lionel Messi had just one good look, which he left just outside the post. The Argentines' last chance came on a free kick that Messi sailed over the bar. It was a shame that this was how the tournament ended, with the world's best player failing in a final, futile effort to bring Argentina its first World Cup title since Diego Maradona led the 1986 team to glory.
FIFA's decision to award Messi the golden ball as the best player in the tournament (over Colombia's James Rodríguez, most notably) seems almost cruel. That decision could open Messi up to even more criticism, highlighting the fact that the sport's golden boy didn't have a golden final.
No, he didn't win a World Cup like Maradona did. But as my colleague Jeremy Stahl wrote this weekend, an Argentina loss doesn't change the fact that Messi is an all-time great. Germany had the better team. Argentina had the best player. The team won, and that's how it should be.