Slate's soccer blog.
The Most GIF-Worthy Man in Sports Just Lost His Job for Allegedly Hitting a Reporter
Mexico's soccer federation has fired team coach and human GIF Miguel Herrera after the El Tri boss allegedly physically attacked a reporter in the Philadelphia airport after his team's Gold Cup win.
"Matches never finish, and as public figures we have to keep that in mind," incoming federation president Decio de Maria said in a statement on Tuesday. "Everyone has had an opinion but as I said, our values have to be kept and no one can be above the type of situation we saw on Monday at the Philadelphia airport."
The situation in question occurred Monday morning after Sunday's Gold Cup final, which is when TV Azteca journalist Christian Martinoli claims Herrera punched him in the neck while he was going through a security line.
"I looked down to avoid any kind of provocation and suddenly feel a blow to the neck on the right side of my body. The next thing I see when I look up Luis Garcia is separating a madman who threw punches and kicks while I was insulted," Martinoli said. "Everyone will have his version of events, and he probably will deny it, I have no doubt."
Apparently, the Mexican federation wasn't going to wait for the case to be formally adjudicated, opting to let go of the extraordinarily animated coach one day after the alleged attack came to light.
Deadspin's Billy Haisley noted on Monday that Martinoli has a reputation for being tough on the Mexican team and Herrera, and there has historically been bad blood between the two men.
It was surprising to see a coach being fired two days after winning a regional federation's major tournament, but Mexico actually performed quite poorly at the Gold Cup. The team won both its quarterfinal and semifinal games thanks to terrible referee decisions that inspired cries that opposing teams had been CONCACAF'd out of the tournament—e.g., cheated either by the corruption or the incompetence of the Confederation of North, Central American and Caribbean Association Football.
As Sports Illustrated's Avi Creditor noted, it's possible that the still unconfirmed Martinoli incident is just being used as a "convenient excuse" to get rid of an unwanted coach whose team had underperformed at recent tournaments and who had previously made controversial political statements.
Herrera's fiery personality and gonzo sideline celebrations made him by far the most entertaining coach at last year's World Cup. As Slate's Josh Levin noted at the time, he is one of the most GIF-worthy men on the planet.
For old times' sake, here is Herrera in his finest hour.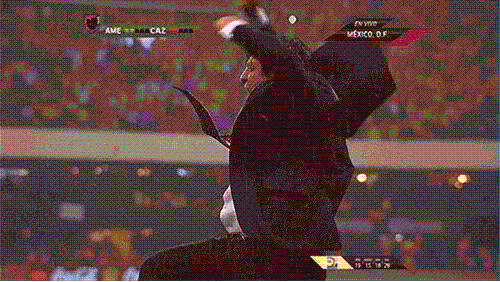 All Hell Broke Loose in the Panama-Mexico Game and It Was Entirely the Ref's Fault
Wednesday night's Gold Cup semifinal match between Panama and Mexico, which ended with Mexico advancing to the final 2-1 after a penalty in extra time, was by all accounts a complete disaster.
First off, the players looked like they might come to blows near the end of the game.
Secondly, Mexico's fans rained debris on Panama's players, including beer.
Most disturbing was what happened on the field, though. The CONCACAF officials, either through incompetence or for some other reason, essentially stole the match from Panama for Mexico. The preamble to the mayhem that would follow occurred in the 25th minute when the referee made an absolutely atrocious call in sending off Panama striker Luis Tejada for an elbow that may or may not have grazed Mexican defender Paul Aguilar, who acted as if he had been shot.
The Independent called it "arguably the most ridiculous dive of all time" and they are not far off. Panama was forced to play with ten men from that point on, but somehow managed to go ahead 1-0 on a second-half corner kick (a goal which prompted the beer ambush).
The refs weren't done yet, though. As the clock wound down and Mexico looked like its Gold Cup would be coming to an end, Panama defender Román Torres was fouled in his own box and fell on the ball, inadvertently touching it.
American referee Mark Geiger somehow saw this as a handball, called a penalty kick, and all hell broke loose. After a more than ten-minute delay Mexico scored the penalty to send the game into extra time. The match ended with Mexico earning a more legitimate penalty at the end of the first added period and easily closing out the 2-1 win. Mexico had only advanced to this stage of the tournament—being held in the United States where there are a lot of fans of the team eager to see them in the final—on a similarly dubious penalty call in the quarterfinals against Costa Rica.
Panama's players, coach, and national press have responded with righteous indignation and gone so far as to allege not just incompetence, but corruption. After the loss, Panama held up this banner in its dressing room, which calls the CONCACAF region "thieves" and "corrupt."
Panama's coach Hernan Dario Gomez described it in similar terms. "I'm shocked. At one moment in the match I thought of retiring from football. I won't because of the group [of players] I have," he said after the game. "It's the first time this has happened to me, it's hard, I was saying to myself 'I don't want to carry on any longer in football because this was a vile robbery.'"
As USA Today noted, such suspicious mishaps from CONCACAF, "perhaps the oiliest of all soccer's odious political confederations," are not uncommon. CONCACAF President and vice-president of FIFA Jeffrey Webb was among those arrested in the FBI's Zurich corruption raids against FIFA in May. None of that necessarily mean there was any wrongdoing, but at the very least, it looks awful. From Martin Rogers' report:
The latest controversy casts a murky tone over the tournament. Geiger is normally a fine referee, one of the best in Major League Soccer, but he made a serious error of judgment.
Social media went predictably crazy, the common theme being that Panama had been the latest team to be "CONCACAF'd." Certainly, given the level of alleged corruption that was unearthed by the FBI about the organization's prior practices, it is easy to see why conspiracy theories abound.
The most direct response came from Panama's Diario Crítica periodical, which said of the referees—well, see for yourself:
Watch Jamaica's Two Back-to-Back Goals That Just Shut Down the U.S. in the Gold Cup Semifinal
The crazy, unexpected, no good, very bad game. That's what people will call this match in years to come. There was no reason for the U.S. to lose, and yet here we are.

After a slow start from both teams, the U.S. seemed to gain some momentum around the 20-minute mark. 


Through a combination of quick and aggressive play, the U.S. dominated and seemed poised to score; it was only a matter of time. But then, this happened:

Then, less than 3 minutes later, this:

And with that, you could see the wind get sucked out of the Georgia Dome. Momentum drastically shifted. The U.S. came back fighting early in the second half, scoring in the 48th minute, it wasn't enough. The energy didn't last long, and it soon reverted to a game of catch-up.
U.S. coach Jürgen Klinsmann couldn't help but look shocked as the minutes at the end of the second half ticked away. He stood in disbelief as he realized the powerhouse U.S. team he had carefully crafted was, in fact, not heading to the finals of the Gold Cup. I know; we can't believe it either, Jürgen.
Sepp Blatter Showered in $1 Bills in Front of Reporters
In his first press conference since he said he would resign as FIFA's president, Sepp Blatter planned to talk about the special election to find his replacement at the most powerful governing body in sports.
Instead, moments into the conference, Simon Brodkin—a onetime medical doctor, now comedian who performs as the character Lee Nelson—stood before the disgraced 79-year-old executive. As seen in the clip above, Brokin began addressing the crowd about a faux North Korean bid for the 2026 World Cup. Blatter, helplessly, asks no one in particular, "Where is my security? Where is my security?"
Security does arrive to escort Brokin away—but not before the 38-year-old comedian turned to throw a wad of cash in the air, making dollar bills rain over Blatter's head as if he were in a Lil Wayne music video. Blatter quickly rose and walked to a dimly lit podium on the other side of the stage where, in obvious shock, he addressed the crowd: "Ladies and gentlemen, we have to clean here first. Otherwise I will not be able to speak to you ladies and gentlemen when we talk about football. This has nothing to do with football."
Blatter's displeasure in the charade is clear, but as we all know, his real irritation stems from the fact the comedian merely threw singles.
Watch Clint Dempsey Do His Best Carli Lloyd Impersonation
Today's quarterfinal Gold Cup soccer match between the United States and Cuba has been full of surprises. It started when four players defected from the Cuban team. Even without that advantage, the U.S. was expected to breeze through easily. But the early highlight of the game came when Clint Dempsey, the perennial hero dubbed "Captain America" in last year's World Cup, scored a beautiful header off a perfectly placed cross from teammate Timothy Chandler. Watching this kind of style, pizzazz, and confidence on the pitch from the USMNT is still a treat.
And while Dempsey has spent his career relegated to the lowly No. 8, he scored his third goal of the tourney just 3:22 into the match—proving the U.S. boys can hang as well as the women.
Why Tahiti Does So Great at the Beach Soccer World Cup When Its Grass Team Stinks So Much
When the Tahiti national soccer team scored a single goal in its 6–1 loss to Nigeria at the 2013 Confederations Cup, the team tweeted, "WE ARE THE CHAMPIONS!!!!" Fans from around the world quickly fell in love with the nation's enthusiastic celebrations and underdog story.
Now, the country has once again found itself in the spotlight, except this time it's with the beach soccer team. And this time it is actually good.
Since its formal founding in 1992, beach soccer has become one of the fastest growing sports in the world. The game, which is divided into three 12-minute periods, is played five a side—including a goalie—on a 35- to 37-meter by 26- to 28-meter sand court. In a typical match, there is relatively limited passing, and the ball is often in the air, a setup that demands well-honed technical skills and results in higher scoring than a traditional soccer game.
As of Thursday morning, Tahiti had won all of its matches at the 2015 FIFA Beach Soccer World Cup, including a 7–6 victory over two-time reigning champions Russia on Tuesday, earning a place in the quarterfinals. After an unprecedented semifinal appearance in 2013, when it became the first Pacific Islands nation to make it to the knockout stage of a FIFA tournament, Tahiti entered this year's World Cup ranked 33 out of almost 100 international men's teams. It's a remarkable statistic for a team pulling from a population of 280,000 and a country whose national sport is canoeing.
So why is Tahiti so successful on the sand when it has never even qualified for the grass World Cup?
Tahiti's rise to beach soccer stardom can be explained by several factors besides its year-round warm weather.
First, Tahiti caught on quick to the trend. While the island country has had a beach team for most of the time the sport has formally existed, it only started its grass program in 1989, years behind the rest of the world. In addition, in 2013, Tahiti hosted the beach tournament, which increased local enthusiasm for the game.
The beach players also have more international experience. While the grass roster is made up of athletes who play part-time for Tahiti club teams and work the remainder of their days as accountants, teachers, or mountain/coconut tree climbers, at least five of the 14 beach competitors play for beach clubs outside of Tahiti such as FC Barcelona.
At the 2013 tournament, current Switzerland coach Angelo Schirinzi coached Tahiti's beach squad. During his stay, he encouraged players to participate in Switzerland's club league. Schirinzi, who is the author of a book about beach soccer, is considered an expert on the game. When he isn't in Switzerland, he serves as a FIFA instructor, traveling around the world to deliver seminars and promote the sport.
Finally, it's important to acknowledge that the games are actually pretty different, so it's possible for a country to be talented at one sport but not necessarily the other. According to soccer-training-methods.com, few grass pros use beach soccer for training because it doesn't develop strong passing skills and, given the unlimited substitution rule, it prepares players for a different kind of fitness.
Watch America's World Cup Champions and Bill de Blasio Get Showered by Ticker-Tape in NYC
Chants of "USA!" and the sounds of bagpipe music were heard throughout New York's "Canyon of Heroes" on Friday, as the city celebrated Abby Wambach, Carli Lloyd, and the rest of the World Cup–winning U.S. women's national team with a ticker-tape parade.
Team members hoisted the World Cup trophy and wore medals proudly around their necks while Mayor Bill de Blasio could be seen wearing a U.S. flag–emblazoned soccer scarf and waving to fans from one of the main floats, as the team made its way through the city showered by some 1,500 pounds of confetti.
The images were all pretty cool and brought home the fact that this was one of the greatest American sporting accomplishments in history. According to Reuters, it's been 31 years since a national team was honored in the "Canyon of Heroes," the last time coming after the 1984 Olympic Games. It was the first time that an all-female team was exclusively honored by such a parade, which have become rarities in recent years. The parade was to be followed by a ceremony hosted by de Blasio at City Hall.
The mayor posted this Vine, appropriately rechristening the site of the parade:
Here are some more images from a great day for the sport of soccer and a great day for America.
The ticker-tape falling, although not always where it needed to be:
They brought their smartphones:
Kelley O'Hara is psyched:
Fifth Harmony, Abby Wambach, Hope Solo, and a couple of medals:
Every good parade needs some bagpipes:
Megan Rapinoe, Bill, and the trophy:
There's going to be some cleaning up to do:
This Pre-World Cup Interview with Carli Lloyd Shows Just How Awesomely Intense She Is
This interview with United States national team star and Women's World Cup Golden Ball winner Carli Lloyd, taken before the 2015 World Cup, originally appeared in the new issue of Howler, a magazine about soccer. The interview has been condensed and lightly edited for length and clarity. Order the summer 2015 issue here and follow @whatahowler on Twitter and Instagram for coverage of the Women's World Cup.
George Quraishi: When you were just starting out, you began training with a coach named James Galanis. He said in a recent interview that when he first met you, "she didn't know how to execute her skills properly, physically she wasn't fit at all, she lacked endurance, and mentally wasn't a fierce competitor." I imagine those were some pretty tough things to hear, especially for someone who had been playing with professional teams since high school.
Lloyd: To be quite honest, I didn't know all of that in the beginning. James is really, really good at getting inside of players' heads and mentally pushing them for all good causes. And so when I first met him, he just said, "Look, if you want to be a professional soccer player, if you want to make the national team, you have to do everything possible to work hard. You've got to put it number one." So for a number of years he didn't just flat-out say, "You were so unfit, your character needed to be better, you need to become mentally tough." Over the years he just kind of changed my mindset, and we've been chipping away at it each and every day.
Quraishi: When you first joined the senior national team in 2005, do you remember anything that you learned from the way the older players carried themselves or behaved that you now try to model for some of your less experienced teammates?
Lloyd: When I first joined the team, I was playing with the likes of Mia Hamm, Shannon MacMillan, Tiffeny Milbrett—all those big-time players. It was very intimidating. I had some of these players' posters on my wall growing up, and now I was able to play with them. The speed of play was a lot faster. And they demanded a lot from you. I remember playing a small-sided game, and Briana Scurry was in goal, and she would scream at you. If you weren't tracking your player back, she would be hounding you. I just try to lead by example with some of the younger players now, try to help them. But also, I'm honest. If people aren't putting in the effort, I will definitely let them know because I think that that can only help them.
Quraishi: How do you respond to having been benched?
Lloyd: My biggest benching was before the 2012 Olympics. It kind of came out of nowhere. I just kind of had one bad half, 45 minutes, and it pretty much cost me my starting spot. And there's two ways you can deal with it. You can be angry and pissed off at the coach and put your head down and pout. Or you can rise above it, respect the decision, but also know that you're going to go and work that much harder and prove everybody wrong. And that's the road that I chose.
Quraishi: Is that a natural response for you? Or is it the case that you say, "okay, I'm processing this—I need 24 hours."
Lloyd: Absolutely. I'd be lying if I said I wasn't human and tears weren't rolling down my face and I wasn't pissed and I wasn't angry. There are lots of times that those emotions come out in my career. But I think as you get older, you learn how to deal with those situations. And I had to be there for my teammates. I had to cheer my teammates on. I had to be respectful of the coaches. But I also knew that I had some work to do before leaving for the 2012 Olympics. I wasn't sure of the outcome. But James kept reassuring me, you know, "Don't worry, you're going to go over there, you're going to do fine, you're going to get your chance, and you have to be ready to seize your moment."
Quraishi: You wore the number 11 shirt at the 2008 Olympics. But by the 2011 World Cup, you were wearing number 10, and that's the number you still wear for the U.S. today. What does that number signify to you? How would you describe the type of player who wants to wear number 10?
Lloyd: It started in my youth career. I watched players, growing up, who wore the number 10. Peter Vermes, who grew up in Delran [Lloyd's hometown], wore the number 10. Michelle Akers wore the number 10. Pelé wore the number 10. Maradona wore the number 10. As a kid, you gravitate towards those types of players. I played center-mid, I was an attacking player, and I just got it with my club team and have had it ever since. And then obviously getting to the national team, number 10 was taken by Aly Wagner, and once she retired I was able to snag up that jersey. But, you know, it really doesn't mean too, too much to me. It's one of my favorite numbers, and it's an honor to be able to wear it for my country. But at the end of the day, it is just a number.
Quraishi: Yeah, but come on, it's got some status. It's got almost a sacred place in the game. I can imagine that there's some pride that goes with it.
Lloyd: Yeah. Yeah. You look at, you know, some of the greatest players that have played and are currently playing in the number 10 kit. I think that I'm just on such a mission with my career that you don't really get to stop and think about your jersey number too often.
Quraishi: When the top male players go to a World Cup and they play in a crowded stadium, it's not all that different from a regular club game in terms of crowd size. You also play in front of a lot of people at the Olympics and the World Cup, but the attendance at your day-to- day club games is quite a bit smaller. When you walk out into a big stadium packed with people at these big tournaments, does that still feel like a novelty?
Lloyd: Yeah. It's pretty surreal. I mean, playing in Wembley Stadium in front of 83-some-thousand fans to win a gold medal was unreal. I think, male or female, that was a record number. And I know that we've gone through some turning points with women's soccer. When I was first on the national team, we barely could get 5,000 fans. Now I feel like that's what we're averaging in the NWSL.
Quraishi: People think of you as being a very tough player. There are photos of you covered in mud. You got that shiner at the most recent Algarve cup. And Melissa Tancredi stomped on your head at the 2012 Olympics. What do you remember about that play?
Lloyd: Every time I step onto the field, whether people like it or not, I'm not trying to play dirty—I'm just playing tough. And I'm trying to earn my spot on the team. I'm trying to earn a starting spot. I'm trying to become a complete midfielder who attacks, who defends. So that's the mindset. Every time I step in between those lines, I'm in the zone. If you get between me and the ball, you might get smashed a couple times. Things happen, plays happen. I don't get too upset or bent out of shape from things that go on on the field. But I think that you always want to try to keep it classy. You don't want to do any stupid fouls, and sometimes—sometimes the game gets to you; people react differently. I've moved on from the Tancredi thing. I really, you know, didn't lose too much sleep over that.
Quraishi: This is sort of an uncomfortable thing to bring up, but in our society, we often sexualize female athletes, and that can factor into popularity, into financial rewards through endorsement deals. You've never taken part in that. Do you see it becoming more of the norm for female soccer players, or do you think we're moving beyond it?
Lloyd: I think our country prides itself, in any sport, on statistics— who's scoring goals, who's hitting home runs. But also, who's getting a million tattoos, who's dyeing their hair. For me, that stuff's not important. I want to be known as a great soccer player. I'm not into the glitz and the glamour and posting selfies of myself and getting all the attention. I want to be known and respected for putting my head down, going to work every day, not kissing anybody's butt, and just getting it done on the field.
Quraishi: You said that when someone plays against you, they might get "smashed" when you compete. We've had debates recently over whether we should use the word "bossy" with regard to girls, about whether young girls should be taught how to resolve conflicts the way that boys are taught. Do you see a role for yourself in terms of trying to make younger girls feel like, okay, we can—I can—smash somebody. It's okay for me to smash somebody.
Lloyd: Absolutely. I'm a competitor. No matter what I'm doing, whether I'm golfing, whether I'm playing indoor soccer with my fiancé—he's not going to get by me. I'm going to try to do whatever I can to win. And I think that society and youth sports has kind of gotten away from that a little bit. We just aren't doing the olden days' things—you know, just going out there and battling. I'm hearing in youth sports where you're not allowed to post scores of games online; everybody's gotta get a trophy. I mean, that's ridiculous. If you're a winner, you're a winner and you get a trophy. If you got second place, you don't get anything.
But, you know, I kind of play like a guy. I don't hold grudges. I don't get dramatic with things. If somebody slide tackles me in training and we leave the field, I'm still talking to them. I think that there's very few of us out there that can just take confrontation, and if you've got an issue with something, you can go to that person and say it. It's a little bit tricky with females. But I think that I act more like a male in dealing with those situations. There's no reason that young girls shouldn't feel like they can't smash people on the field. Nothing dirty. You want to keep it clean. You just want to play hard. Get your jersey dirty, shorts dirty, and just have fun out there.
Quraishi: You've scored a ton of goals, especially for a midfielder. Have you always been encouraged to shoot from distance?
Lloyd: Yeah. Growing up, that was kind of my thing. I've always, always done it. I think that I always tried to crush the ball. And when I met James, [I learned] it's not about crushing it. It's fine-tuning a golf swing. It's the mechanics. Don't try to break the net; you just want to get your technique right, and you want a nice fluid swing. I mean, I'm not afraid to [crush it]. And I got some goals that way as well.
Quraishi: You scored the winning goals in the last two Olympic finals—huge Lloyd. Do you have a favorite?
LLOYD: Gosh. That's kind of hard. I remember a really long shot I had; I believe it was before the 2007 World Cup against New Zealand. I had two goals in that game, and one of the goals was a long-range shot, which stands out to me. And another more recent one would probably be the lefty, kind of a dipper, that just tucked in between the keeper and the post against China in 2013. Thirteen? No—2014. I kind of forget some of the other ones. But I'm sure if I rewatched them, I'd be able to pick out my top two.
Quraishi: That's funny—you went for goals that are aesthetically pleasing, but I think most people would be like, "wait, you're not gonna list those Olympic finals goals?"
Lloyd: Yeah. Those were the most memorable goals, I would say.
Quraishi: I think it would be fair to say that when you first joined the national team, you were playing with players who were used to going into games and being the favorites. Now there are so many good teams in women's soccer, and the field is a lot more level. Has that shifted the attitude of the team when you go into games? And is that necessarily a bad thing?
Lloyd: Long gone are the days when the U.S. goes out and we beat people three–, four–nothing. That just doesn't happen anymore. And that's what we want to see—we want to see teams getting better. We want to see countries getting better, putting more into women's soccer. And it makes it that much more exciting. Nothing in life is worthwhile unless it's kind of hard to get there, you know? So if we were crushing teams and we just went through the stages and won the World Cup, yes, it would feel good. But I think that, with how hard it is now, for us to go through and win a World Cup would be that much more satisfying.
Sponsors Missed a Prime Opportunity at the 2015 Women's World Cup
Sunday's World Cup final had everything—Carli Lloyd scored an amazing hat-trick, a jubilant Abby Wambach embraced her wife, 1999 champion Christie Rampone made what will be her last World Cup appearance, and the Americans brought home the prize that the United States has been after for 16 years with an amazing 5–2 victory over Japan.
Well almost everything: The number of sponsors for the Women's World Cup was noticeably low. With the news of record ratings for the final, possible sponsors and corporations are likely kicking themselves for the missed opportunity. Had they advertised on Fox, they would have reached the estimated 25.4 million viewers of Sunday's game—more than the final game of last year's World Series, more than the average number for this year's NBA and NHL finals, and more than any single men's World Cup broadcast in history.
During the monthlong tournament, Fox and its sports networks showed ads from more than 20 sponsors, including Nationwide Insurance and Fiat.
While the network's revenue was three times that of the 2011 Women's World Cup, it is nowhere near sponsorship during the men's games. The Washington Post reports:
Fox grabbed an estimated $17 million in ads from corporate sponsors of the elite women's matches—a tiny fraction compared to the $529 million ESPN pocketed in sponsorship revenue from last year's tournament in Brazil.
[C]ompanies that invested exhaustively in ad blitzes and social media around last year's tournament, like Adidas, proved staggeringly quiet during the Women's World Cup.
The discrepancy is equal parts capitalist and sexist. With two 45-minute halves and a lack of constant commercial breaks, it's true that soccer doesn't lend itself as easily to advertising spectacle as the American favorite of football. Still, that doesn't explain why the women's final—seen by more people than the men's—didn't get the sponsorship respect it deserved.
Even though the the U.S. women's national team has repeatedly surpassed the stature of the men's—let's not forget that Abby Wambach holds the record for most international goals scored—TV sponsors apparently still aren't over the underlying assumption that women's soccer won't garner the attention that the men's tournament does, and is therefore not worth spending money on.
This World Cup in particular was marked by other disparities, with the women's teams forced to play on artificial turf. The most frustrating disparity might not even be TV sponsorships, but rather prize money: FIFA will award the U.S. only $2 million, compared with the $35 million that the German's men team received for winning the 2014 Cup.
While TV sponsors are clearly lagging behind the audiences for the Women's World Cup and FIFA is taking advantage of that lag to undercut the athletes on the field, this year's record viewing shows that they can't keep getting away with it for long without losing out on some serious cash.
Including Spanish-Language Viewers, Cup Final Was Most-Watched Soccer Game Ever in U.S.
Fox's coverage of yesterday's 5-2 United States win over Japan in the women's World Cup final was the most-watched single-network soccer broadcast ever in the United States, Fox said Monday, with 25.4 million viewers estimated to have seen the game on the channel. The soccer match that previously held the record for highest total viewership in the United States was the 2014 men's World Cup final between Germany and Argentina, whose estimated audience including both ABC and Univision broadcasts was 26.5 million. The Spanish-language broadcast of USA-Japan was on Telemundo—which announced this afternoon that an estimated 1.3 million people watched its coverage of the final, putting the estimated audience for the match at a total of 26.7 million. Thus it was, by a bald eagle's nose, the most-watched soccer competition ever broadcast in the United States, an event whose numbers are in the neighborhood of the largest-ever audiences for NBA and college basketball games. (Football remains the king of sports TV, and the World Series used to draw more than 50 million viewers.)

Those ratings, by the way, are estimates of in-home viewership (specifically the average number of people who were watching at any given moment during the broadcast). This New York Times piece suggests that such estimates actually undercount the total number of people who see live sporting events on TV by a about 10 percent because they don't factor in those who watch at bars and restaurants. In the span of a single generation, then, the women's World Cup has gone from an event that was broadcast on tape delay in the United States by "SportsChannel America" to one watched live by some 30 million Americans. Today, most truly, sisters are doin' it for themselves*.