Watch the Moment John McCain Killed Trumpcare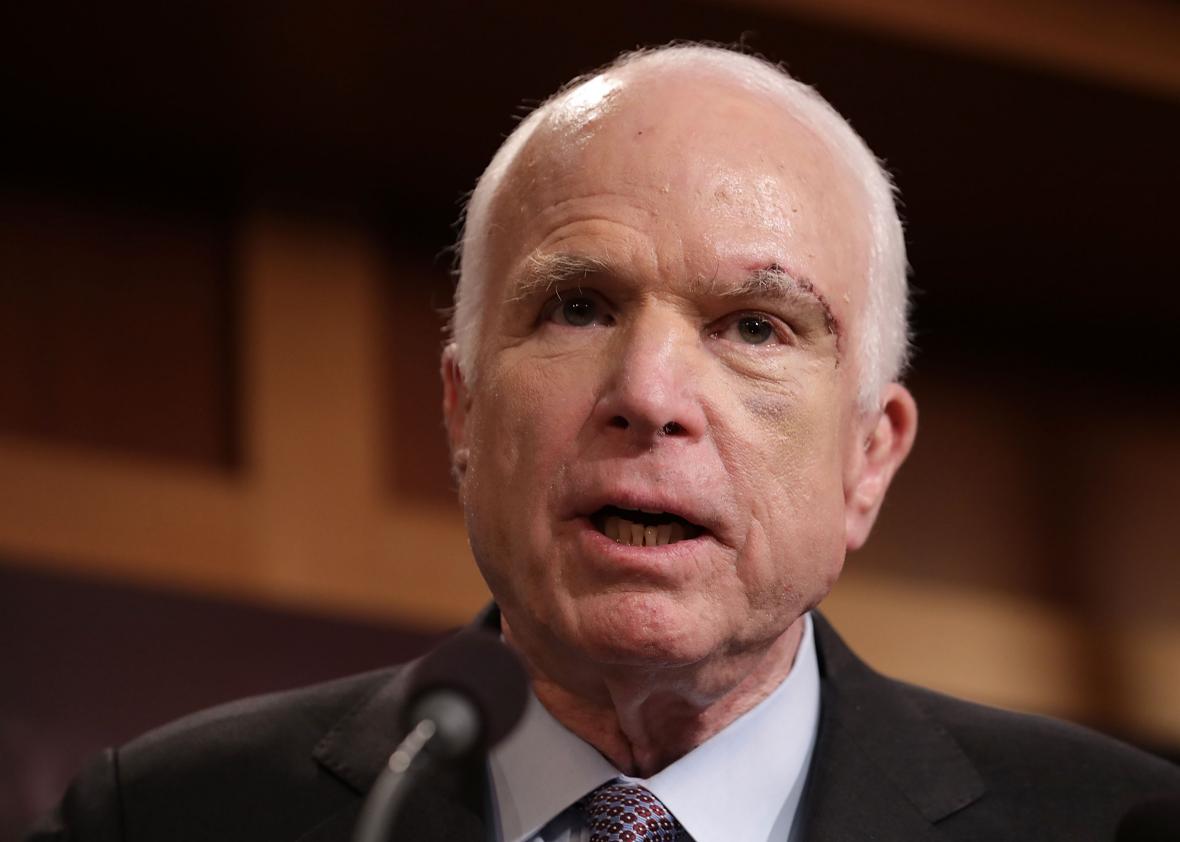 On Tuesday, Sen. John McCain returned to the Senate a week removed from his brain cancer diagnosis to cast the decisive vote on the motion to proceed to advance Trumpcare to the Senate floor. In so doing, he made what at the time seemed like an incongruous speech, calling for senators to "trust each other" and to "return to regular order" while voting to advance a bill that had not yet even been crafted. "We've tried to do this by coming up with a proposal behind closed doors in consultation with the administration, then springing it on skeptical members, trying to convince them it's better than nothing, asking us to swallow our doubts and force it past a unified opposition," McCain said. "I don't think that is going to work in the end. And it probably shouldn't."
In the early hours of Friday morning, during the decisive vote for the Senate's "skinny repeal" proposal, a bill that would have left 16 million additional people without health care and driven premiums up by 20 percent annually, McCain approached the front of the Senate chamber, held his right palm face down, then pointed his thumb down as he said a single word: "No." He then walked away as Democrats gasped and burst into applause.
Republicans needed 50 votes, plus Vice President Mike Pence's tie-breaking vote, to pass the bill and advance it to a conference committee with the House of Representatives. With Sens. Susan Collins and Lisa Murkowski as firm noes, McCain's decisive vote sent the bill down to defeat.
The motion to proceed to debate had historically been an automatic vote according to Senate norms, and one that didn't indicate which way a senator might vote on the final proposal. McCain supported that norm, which was changed during the Obama era when Mitch McConnell turned the motion to proceed vote into a lever for killing bills.
On Tuesday, McCain indicated that all he was doing was voting to advance to the debate, but that he was not a "yes" on the bill. This seemed dubious to those who witnessed him return so dramatically from brain surgery—why would he come back to kill a bill that would have been dead had he never shown up?
But he did say this at the time:
I voted for the motion to proceed to allow debate to continue and amendments to be offered. I will not vote for the bill as it is today. It's a shell of a bill right now. We all know that. I have changes urged by my state's governor that will have to be included to earn my support for final passage of any bill. I know many of you will have to see the bill changed substantially for you to support it.
On Friday, McCain proved himself to be a man of his word. In so doing, he may have saved health insurance for millions and cast a major blow to the Republican president who once described him as "not a war hero."