Maybe What Russia Wants From Trump Is Permission to Launder Its Dirty Money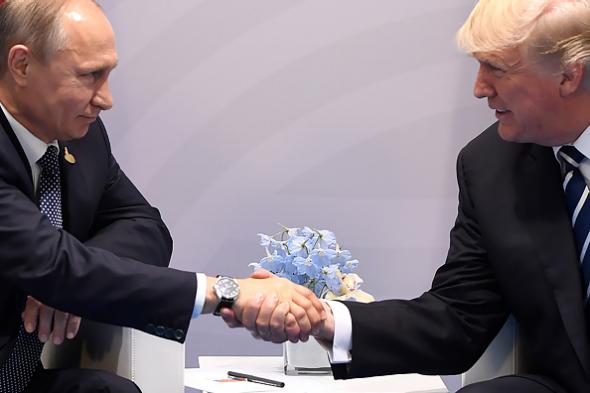 Bloomberg reported Thursday that special counsel Robert Mueller is investigating Donald Trump's business connections to Russia. "The roots of Mueller's follow-the-money investigation lie in a wide-ranging money laundering probe launched by then-Manhattan U.S. Attorney Preet Bharara last year," the Bloomberg story says, attributing this information to "someone familiar with the developing inquiry but not authorized to speak publicly." (Bharara was fired from his job in March.)
Meanwhile, new reports about the individuals who attended Donald Trump Jr.'s infamous Trump Tower meeting last June all seem to have one thing in common: dirty money.
1. Recent articles by Matt Taibbi and Julia Ioffe, who have both lived in and written extensively about Russia, assert that the Russian government works side-by-side with organized crime figures in the theft and embezzlement of corporate wealth, which is often ultimately derived from the sale of natural resources. According to these accounts—and to NGO watchdog reports like Transparency International's Corruption Perception Index—major business figures in Russia only operate with the approval and assistance of corrupt officials and organized crime.
2. Wealthy Russians have for years moved their fortunes out of Russia into assets and bank accounts in stable and/or low-scrutiny locations in the United States, Europe, the Caribbean, and elsewhere. This process can run afoul of other countries' rules against moving illegally obtained money into the above-board financial system, a.k.a. laws against money laundering.
That said, let's look at who was in the June 9, 2016 meeting aside from Rob Goldstone—the British go-between who set it up—and a translator.* On the Russian side, we have:
Natalia Veselnitskaya, a lawyer employed by a Russian-owned company called Prevezon, which at the time of the Trump Tower meeting had a money laundering case pending in former U.S. attorney Preet Bharara's Southern District. The case tangetially involved a Russian lawyer named Sergei Magnitsky, who, in 2008, publicly accused powerful Russian individuals of a $230 million theft involving tax fraud. Magnitsky subsequently died in jail under suspicious circumstances. The United States then passed a law named after him, the Magnitsky Act, whose sanctions prohibit certain Russians thought to be involved in his case and in other human rights atrocities from entering the United States—and from using its banking system. Prevezon was accused by Bharara's office of laundering some of the money that Magnitsky says had been stolen; its case was settled after Bharara was fired, though a credible report says the decision to settle was made at the district level and had nothing to do with the Trump administration. (Incidentally, a witness in the Prevezon case "fell" out of a fourth-story window in Moscow earlier this year, but survived.)
Russia's most high-profile act of retaliation against the Magnitsky sanctions was the passage of a law forbidding U.S. parents from adopting Russian orphans; any Kremlin-related discussion of U.S. adoption is thus inseparable from the issue of economic sanctions. Indeed, Donald Trump Jr.'s comically incomplete initial account of what happened on June 9 suggested that the meeting—which was explicitly arranged by anti-sanctions lobbyists to provide the Trump campaign with incriminating information about Hillary Clinton—was in fact an innocuous discussion about "the adoption of Russian children."
Rinat Akhmetshin, a onetime Soviet counterintelligence officer who has also been involved in anti-Magnitsky lobbying and, in an unrelated U.S. civil case, was once accused of organizing the hacking of a mining company's email system. (The accusation was withdrawn for unknown reasons.) In 2016, Politico reported that a House Foreign Affairs Committee staffer who worked on Magnitsky-related issues had written in an email that Akhmetshin "specializes in active measures campaigns," which the publication translates as "an old Cold War term for propaganda, disinformation and other dark ops."
Irakly Kaveladze, a Soviet-born business figure who was accused in a 2000 Congressional money-laundering investigation of having used U.S. banks to facilitate more than a billion dollars in suspicious transactions involving "Russians and other East Europeans." (Kaveladze denied the accusations at the time and was not charged criminally.)
Meanwhile, on the Trump side, we have:
Donald Trump Jr., an executive at his father's Trump Organization who once said that "Russians make up a pretty disproportionate cross-section of a lot of our assets." "Over the past three decades," a New Republic report on the Trump Organization's history with Russia concluded, "at least 13 people with known or alleged links to Russian mobsters or oligarchs have owned, lived in, and even run criminal activities out of Trump Tower and other Trump properties." From 2002 to 2007, the Trump Organization solicited investments in its real estate projects through a company called Bayrock whose liaison to the Trumps was a Russian-born individual named Felix Sater. Sater is a two-time felon with mob ties who has been accused in a civil lawsuit of using Bayrock to launder money from foreign sources, including Russian sources, into the United States. (The Trump Organization has never been formally accused of facilitating money laundering.)
Elsewhere in the world of Trump-Russia scandal, Michael Flynn—who reportedly broke disclosure laws by failing to report tens of thousands of dollars he'd been paid Russian entities, including a Kremlin-backed propaganda outlet, before he became national security adviser—was forced to resign because he was caught lying about a conversation he'd had with Russia's ambassador to the U.S. The subject of that conversation? Sanctions. Just this Tuesday, Donald Trump (Sr.) revealed that the subject of his previously unreported dinner conversation with Vladimir Putin at the G20 summit was "adoption," i.e. sanctions.
There has been much discussion in recent months about whether the Democratic fixation on the Russia scandal is a distraction from less abstract and more materially pressing issues. And while it is certainly fair to point out that the Obamacare repeal bill currently looming in the Senate will have a more immediate impact on the lives of Americans than any findings in Mueller's investigation, the backgrounds of the participants in the Don Jr. meeting speak to a larger question that's in fact quite relevant to the United States at this particular moment: Whether millionaires and billionaires here and abroad have the right to do whatever they want without answering to anyone.
*Correction, July 25: This sentence originally misidentified Rob Goldstone's first name.