The Democratic Response to Comey's Trump Memo Is Outrage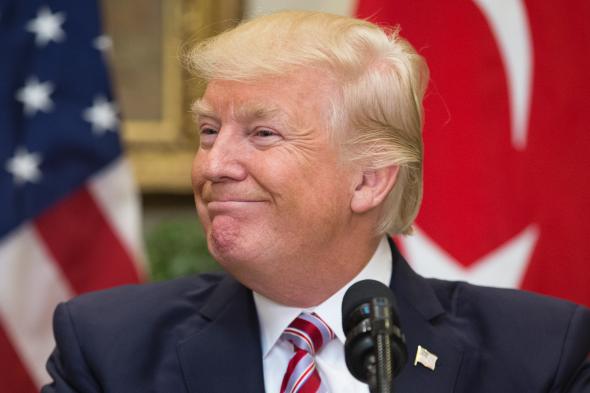 The New York Times dropped a news bomb Tuesday afternoon, reporting that James Comey authored a memo at the time of his dinner meeting with President Trump in January chronicling the president's efforts to get the FBI director to call off the agency's investigation into Mike Flynn. The revelation is perhaps the most serious yet to be leveled at the president and comes a week after Trump fired Comey and hinted he had taped the dinner. The White House denied that Trump pressured Comey, but the response by Democrats to the Times story was immediate and overwhelming.
Sen. Angus King, an Independent from Maine who caucuses with the Democrats, said impeachment hearings are increasingly becoming a reality:
New York Sen. Chuck Schumer spoke on the Senate floor Tuesday evening, saying "the country is getting tested in unprecedented ways."
Schumer says he "was shaken" by report Trump allegedly tried to "shut down an active FBI investigation" into Flynn. "History is watching." pic.twitter.com/ruxpwSk3Zy

— ABC News (@ABC) May 16, 2017
Minority Leader Nancy Pelosi: "At best, President Trump has committed a grave abuse of power. At worst, he has obstructed justice."
Sen. Richard Blumenthal (D-CT): "We are witnesssing an obstruction of justice case unfolding in real time."

Republicans, on the other hand, have been largely out of sight.
"We've tried to get Republicans to come out & talk to us & there aren't Republicans willing to go on camera tonight as of yet" @BretBaier

— Kristin Fisher (@KristinFisher) May 16, 2017
I just asked @DarrellIssa abt the Comey news and he flicked me off -- literally gave me the middle finger -- and kept walking. Said nothing

— Rachael Bade (@rachaelmbade) May 16, 2017
Asked if he's already invited Comey to testify, Graham turned to TV cameras and said, "I just did."

— Rebecca Berg (@rebeccagberg) May 16, 2017
.@GOPoversight is going to get the Comey memo, if it exists. I need to see it sooner rather than later. I have my subpoena pen ready.

— Jason Chaffetz (@jasoninthehouse) May 16, 2017