This Freaking Guy Climbs Trump Tower Using Suction Cups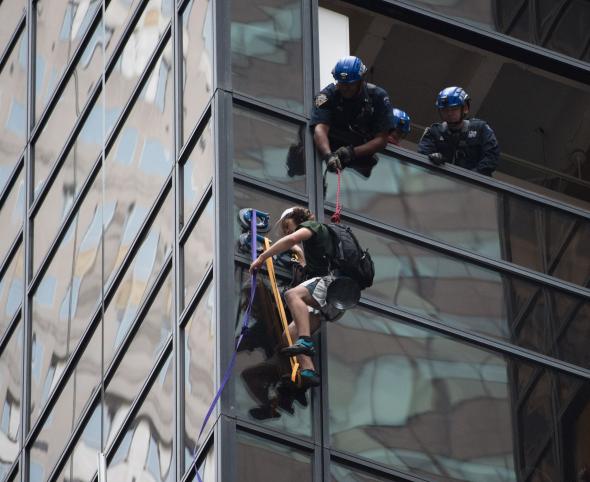 On Wednesday afternoon, America got a fresh dollop of crazy to help take its mind off things, when a climber attempted to scale the outside of Trump Tower in Manhattan using suction cups and a climbing harness. The climber, indentified as 20-year-old Stephen Rogata from Virginia, was able to climb for three hours, starting at the publicly accessible fifth-floor atrium and slowly inching his way up the glass windows of the 68-story building.

New York Police kicked out windows ahead of Rogata, who tried to evade capture, before being dragged into an open window on the 21st floor by officers just after 6:30 p.m.
A bizarre, minutelong Youtube video, apparently of Rogata, shows the man explaining that he wanted to meet with Trump.
"Hello, Mr. Trump. Excuse my manner of appearance. I just don't know how many people will watch this. … I'm an independent researcher seeking a private audience with you to discuss an important matter. I guarantee it's in your interest to honor this request. Believe me, if my purpose was not significant, I would not risk my life pursuing it. The reason I climbed your tower was to get your attention. … As for anyone else who's watching, please help make this video go viral so that it gets to Mr. Trump and be sure to get out and vote for Mr. Trump in the 2016 election."