This "Blizzard for the Ages" Headed for the East Coast Is Very Much the Real Deal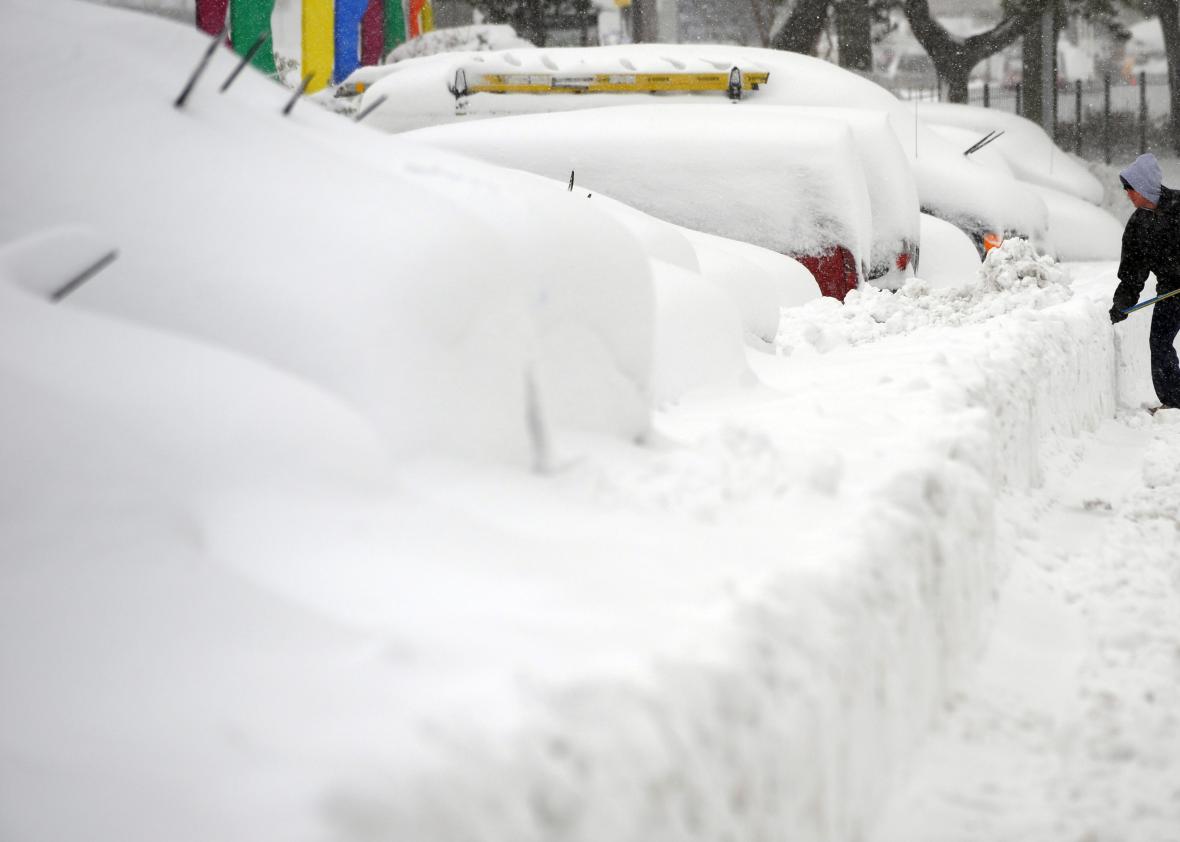 After a record-setting warm spell to start the winter, East Coasters could be forgiven if they started to worry that it was never going to snow again. Fear not, oh dendrite devotees, for Mother Nature has something special planned this weekend.
A few days ago, weather models began to hint at the potential of a major East Coast blizzard. As of early Tuesday morning, those models are way more insistent.
Since early Saturday, nearly every single run of every major model has shown the potential for a foot or two of snowfall on a track to hit somewhere between Northern Virginia and Boston. What's amazing—perhaps even more so than the impressive potential snow totals—is that all the major weather models are already locked in so far in advance. Simply put: There's definitely a big storm coming, it's just the details that are still being worked out.
It's rare to see such a storm modeled at all, but the agreement so far in advance greatly boosts confidence that the storm will actually happen. While it's still uncertain which specific cities will get hit hardest, the bull's-eye seems to be on the mid-Atlantic. The National Weather Service office with responsibility for the Baltimore-Washington area has already begun to warn of a high impact snowstorm bearing "significant travel delays, closures, and threats to life and property." But the storm won't be a slouch in New York City or Boston—a foot or so of snow is likely in those cities, too.
The storm won't arrive until Friday, but the setup is already looking nearly ideal: A strong blocking high pressure center over Quebec will supply enough cold air to ensure that very little of the storm's moisture will fall as rain, and a powerful low pressure center will rapidly strengthen as the storm likely slows to a crawl off the New Jersey shore at peak strength. The result will almost certainly be heavy snow between Friday evening and Sunday morning for much of the East Coast, with an extended period of whiteout conditions and thundersnow on Saturday in the hardest hit areas. Hurricane force wind gusts will increase the potential for large and damaging storm surges along the beaches, combined with higher than normal high tides coming near the full moon.
That means the most remarkable thing about this week's snowstorm is the sheer amount of water that will be available to be turned into snowflakes. The latest weather models show around three inches of liquid equivalent falling between Washington and Philadelphia from late Friday until early Sunday. An inch of liquid will usually make about 10 inches of snow, but ratios can go as high as 15 to 1 in storms with fluffier flakes and colder air. You do the math.
Washington Post Capital Weather Gang contributor Ian Livingston notes that there've been only three or four snowstorms since Washington-area weather records began in 1871 with as much liquid equivalent as is currently being forecast—opening up the possibility of a historic snowfall. For perspective, a 1922 snowstorm with 2.8 inches of water equivalent produced 28 inches of snow, the most in D.C. history for a single storm.
For those of you wishing this storm away, the forecast is a sharp contrast to the late-January blizzard of 2015 that famously spared New York City at the last minute. This week's storm will be a sprawling slow-mover, virtually guaranteeing heavy, multi-inch snowfall across a vast swath from Virginia to New England. So, my advice from October still stands: Buy a snowblower.