John Boehner Resigns From Congress, Will Leave Office at End of October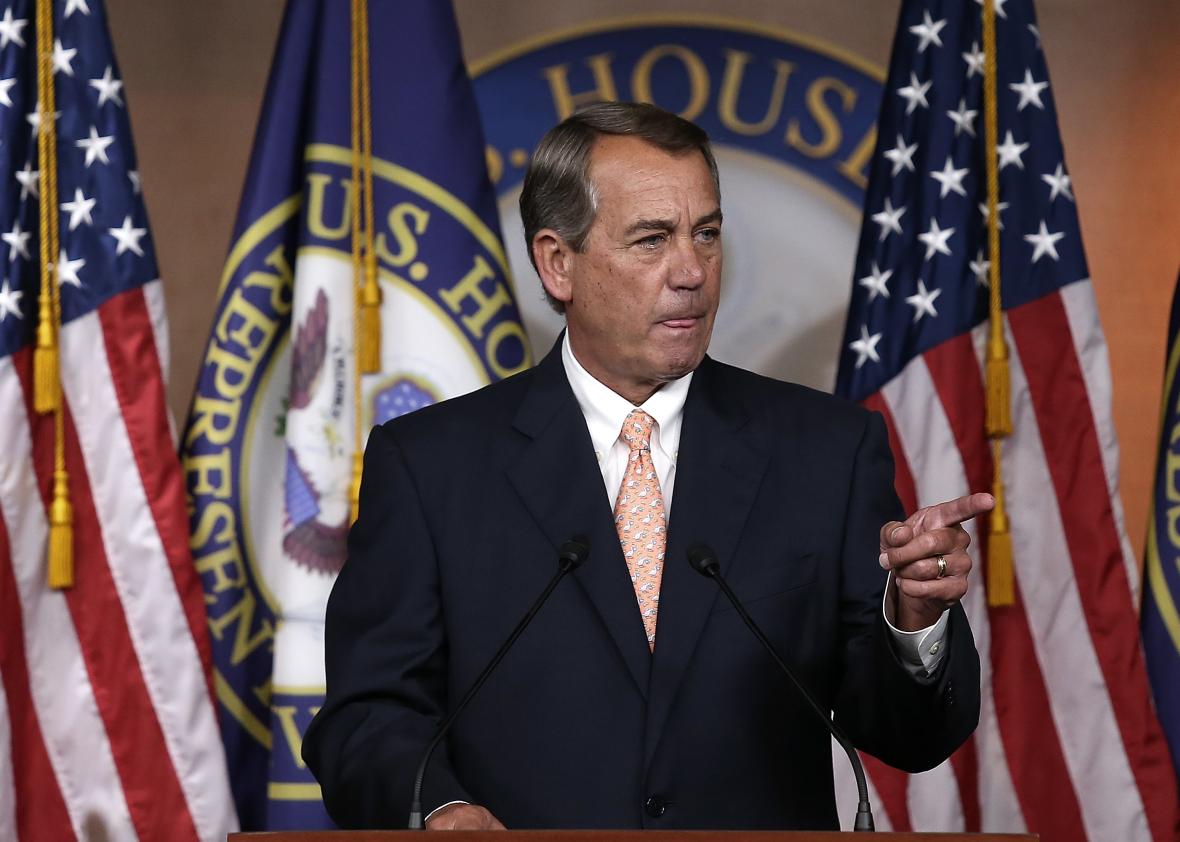 One of Boehner's aides told Politico that "the Speaker believes putting members through prolonged leadership turmoil would do irreparable damage to the institution" and that "he is proud of what this majority has accomplished, and his speakership, but for the good of the Republican Conference and the institution, he will resign the Speakership and his seat in Congress, effective October 30."
Politico highlighted some cryptic comments made by the Speaker after Thursday's visit by Pope Francis:
On Thursday evening as he left the Capitol, Boehner (R-Ohio) told two reporters—one from Politico and another from the Washington Post—that he had nothing left to accomplish after he brought Pope Francis to the Capitol. When asked if he was resigning, Boehner laughed before exiting into an awaiting SUV with his Capitol Police detail.
The news evidently came as a complete surprise to Democratic leadership, with Minority Leader Nancy Pelosi saying of the GOP conference: "God knows what's next over there. Coming from earthquake country, this is a big one."
Boehner, who has presided over the House since 2011, explained during a closed-door meeting with Republicans Friday morning that he had only planned to serve two terms as speaker but decided to hold onto his post after then-House Majority Leader Eric Cantor lost his seat during a primary last year, a Republican lawmaker in the room told CNN.
Boehner also told the lawmakers that Pope Francis' visit to Congress the day before was a crystallizing moment, according to the lawmaker. Boehner then read the prayer of St. Francis to the conference after announcing his decision.
"After yesterday with the Pope, he decided to leave on this high note," a top Boehner aide told CNN. "Literally did not make the decision til last night."
Boehner first came to Congress in 1991 and ascended to a leadership role early in his career, taking over for Dick Armey as chairman of the House Republican Conference in 1995. He served as Majority Leader before Democrats took control of the chamber in the 2006 midterms, then reclaimed the gavel from Nancy Pelosi in 2011, but his most recent tenure has been marked by continuing strife with some of the more extreme elements of his caucus. Unhappy with what they saw as Boehner's influence over the Republican Study Committee, once a conservative check on more moderate Republicanism, a group of far-right congressmen formed the purist "Freedom Caucus" in January.
By ousting a good man like Speaker Boehner -- someone who understood the art of compromise -- the party of Eisenhower and Reagan is no more.

— Senator Harry Reid (@SenatorReid) September 25, 2015
The turmoil over Planned Parenthood funding in the wake of controversial videos about the organization is only the most recent eruption of hostilities between Boehner and the right-most reaches of the Republican caucus. House conservatives have twice attempted to remove him as Speaker, with familiar names like Louie Gohmert among those throwing their names in the ring as potential replacements. These attempts have not amounted to much of a threat—only about two dozen Republicans voted against Boehner for Speaker last January—but signalled a growing discontent with Boehner's leadership.
As recently as June, when North Carolina conservative Mark Meadows introduced a resolution to remove Boehner from his post, the Speaker dismissed the possiblity that he was going anywhere. "You've got a member here and a member there who are off the reservation—no big deal," he said at the time, according to CNN. "I'm looking forward to a very successful fall."
This post has been updated.