Civil Rights Activist Amelia Boynton Robinson, Beaten During Selma March, Dies at 104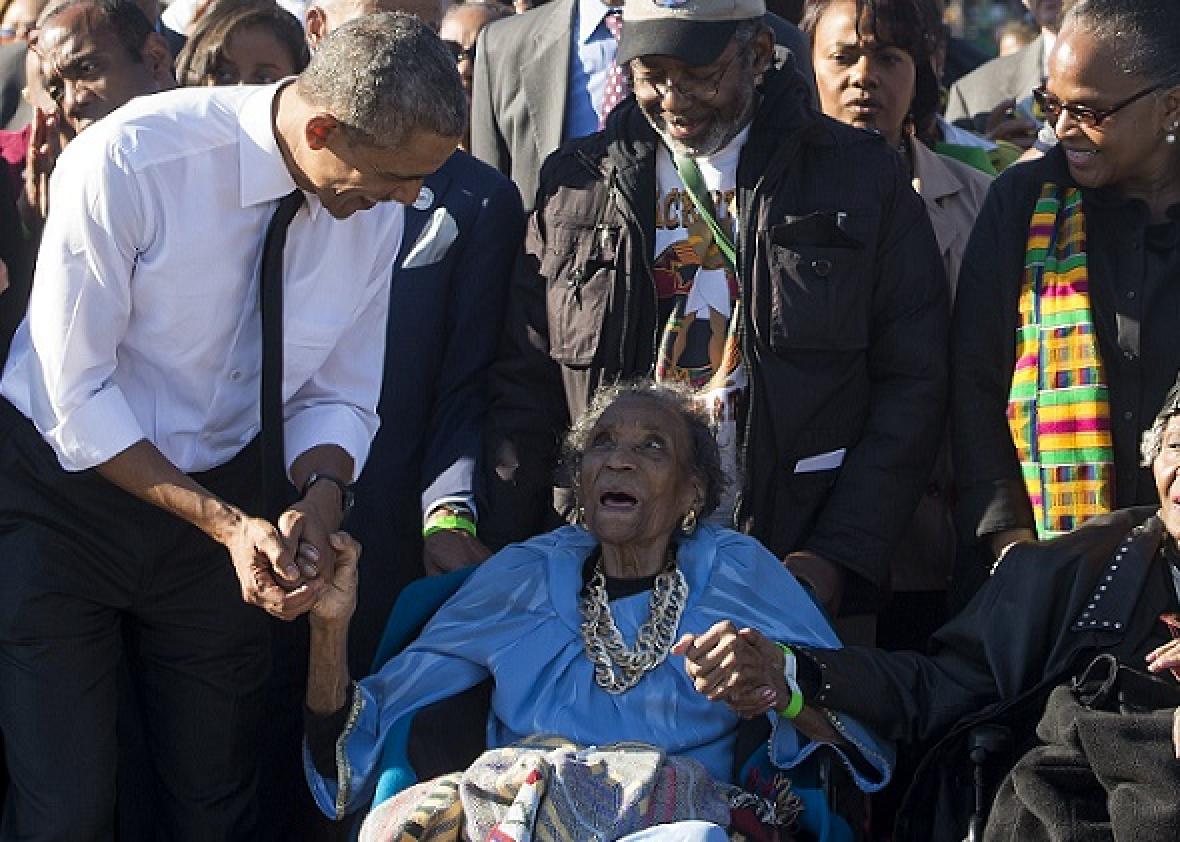 Voting rights pioneer Amelia Boynton Robinson, whose beating by police on the Edmund Pettus Bridge in 1965 became one of the iconic moments of the civil rights movement, died Wednesday in Montgomery, Alabama. Relatives said she had been hospitalized after suffering a series of strokes in July, CNN reports. She was 104.
Boynton Robinson became an early voter registration activist when she and her first husband, S.W. Boynton, moved to Selma, Alabama in the mid-1930s. She first met Rev. Dr. Martin Luther King Jr. at his church in Montgomery in 1954 and ten years later, by then a widow in her early 50s, she became the first black woman to run for Congress in Alabama. She won 10 percent support in a Democratic House primary at a time when Selma had only a few hundred registered black voters.
"I saw them as we marched across the bridge, some with gas masks on, clubs and cattle prods in their hands, some on horses," Mrs. Boynton Robinson told The Crisis, the official magazine of the NAACP, in 2005. "They came from the right, the left, the front and started beating people."
A trooper struck her on the shoulder with a billy club.
"I gave him a dirty look," she told The Crisis, "and the second time I was hit at the base of my neck. I fell unconscious. I woke up in a hospital."
A photographer captured the incident, as a fellow marcher sought to comfort Mrs. Boynton Robinson, who was 53 at the time. She was wearing a light-colored coat, gloves and heels.
Boynton Robinson, who was portrayed by Lorraine Toussaint in the 2014 film Selma, remained politically engaged and unafraid of controversy even in advanced age, making public appearances into her late 90s for Lyndon LaRouche's Schiller Institute. She attended the State of the Union address this past January with Rep. Terri Sewell, the first black woman elected to Congress from Alabama. Less than two months later, Boynton Robinson accompanied President Obama across the Edmund Pettus Bridge to commemorate the 50th anniversary of the march.