Cellphone Video Appears to Show Moment of Fatal Shooting in New York Subway Confrontation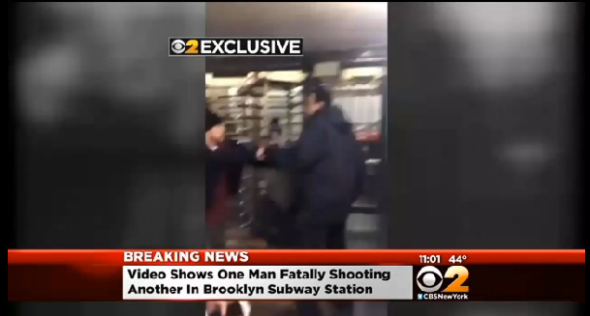 A CBS affiliate has obtained cellphone camera footage of what appears to be the moment that a man was fatally shot in a busy Brooklyn subway station during rush hour Tuesday:
The man on the right, the alleged shooter, is reportedly a 69-year-old retired corrections officer named William Groomes who had become involved in a confrontation with victim Gilbert Drogheo, 32, and another man on a four-train subway car. From the New York Times:
After a preliminary investigation, the police said the retired officer, who was armed with a 9-millimeter handgun in a holster, encountered two younger men while riding a southbound train. The older man stepped between the two, friends who were having a conversation, the police said, at which point an argument ensued. The argument turned physical on the train, the police said, and one of the younger men spit on the retired officer.
The three men separated, and the train pulled into the Borough Hall station shortly after 6:30 p.m., the police said.
But on a mezzanine level of the station, the police said, the men encountered one another again and an argument again escalated into a physical confrontation.
The New York Daily News spoke to a witness who said that either Drogheo or Drogheo's companion punched Groomes as the older man was attempting to leave the train at Borough Hall.