Video Shows Gunman Entering Dutch National TV Studio Demanding Airtime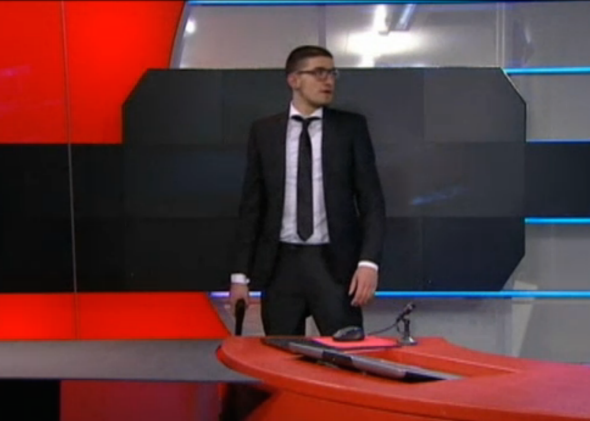 An armed man was able to get past security and enter Dutch national broadcaster NOS on Thursday. The 19-year-old, wearing a suit and tie, demanded to go on air after reportedly threatening a security guard with a pistol that later turned out to be fake.
"He had intended to speak to the country on the most popular evening news broadcast, but was led to an empty studio by a quick-thinking security guard," Reuters reports. "Footage aired on Dutch TV showed the man pacing in the studio with a black pistol behind his back." Police stormed the studio, the man surrendered, and was quickly arrested. "He took the security guard hostage and said he wanted air time. If they didn't give it to him, he said there would be bombs in different places in the Netherlands that would explode if he didn't get time on TV," police spokesperson Christine Scholts said.
The motive for the man's commandeering of the studio is still unknown, although he claimed to be from a "hackers' collective," according to local reports. NOS reported that the man is a student whose parents had recently died. Inside the empty studio, the NOS footage showed him saying: "The things that are going to be said (pause) those are very large world affairs. We were hired by the security service." The broadcaster's office was evacuated around 8 p.m. and the evening newscast Journaal was canceled. In its place the message "One moment please" aired for more than half an hour.