"Forever Prisoner" Released From Guantánamo After 12 Years Without Being Charged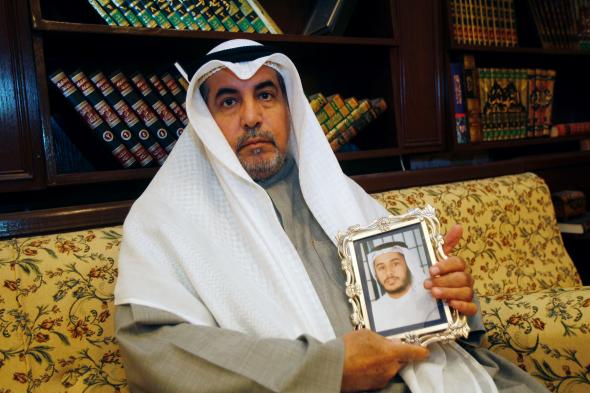 A Kuwaiti man held prisoner at Guantánamo for nearly 13 years was sent home on Wednesday, according to the U.S. military. Fawzi al-Odah, often referred to as "the forever prisoner," was the first prisoner to be released by a review board created late last year and charged with re-evaluating the cases of low-level prisoners at the detention facility.
Al-Odah, who is now 37-years-old, has been a prisoner at Guantánamo since February 2002 after he was captured in Pakistan and said to have terrorist ties. Al-Odah was never charged with a crime. The Miami Herald notes: He "was among the more high-profile prisoners because his name appeared on Supreme Court cases and his father was dogged in campaigning for his release." "[His] father, a former Kuwaiti Air Force officer, said his son was a school teacher in a region near the Afghanistan-Pakistan border before he was captured by bounty hunters and handed over to the Americans," according to the Herald. "The U.S. military considered him to be a member of al-Qaida who was captured in Pakistan after fleeing Afghanistan through the Tora Bora mountains in the aftermath of the Sept. 11, 2001, attacks."
"Mr. al-Odah faces a minimum of one year at a militant-rehabilitation center on the grounds of a Kuwaiti prison under the transfer agreement," the Associated Press reports. "His transfer brings the detention center population to 148 and is the first since May, when President Barack Obama angered Congress by trading five Taliban prisoners for captive Army Sgt. Bowe Bergdahl without notifying lawmakers."
"Al-Odah's release leaves 79 Guantanamo inmates cleared for release—never charged or tried for any crime and who have been approved by a special committee to be freed," according to Agence France Presse.