Feeling Left Out of Global Turmoil, North Korea Threatens Nuclear Strike on White House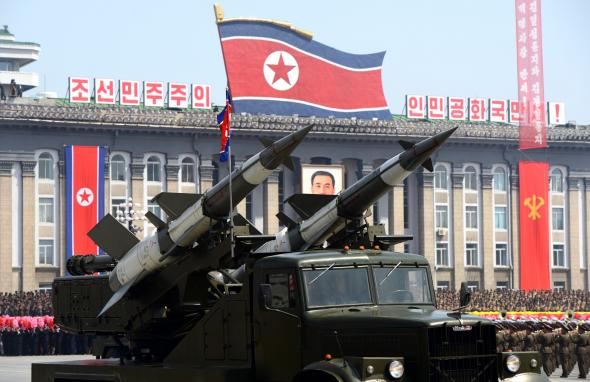 As if the world needed another theatre of global conflict, North Korea, as if on cue, threatened a nuclear strike on the White House and Pentagon on Sunday. The threat came from Hwang Pyong-So, director of the military's General Political Bureau, who was presumably playing to the audience by dishing out some serious red meat to what Agence France Presse described as "a large military rally in Pyongyang." "If the US imperialists threaten our sovereignty and survival... our troops will fire our nuclear-armed rockets at the White House and the Pentagon -- the sources of all evil," Hwang said in his speech broadcast Monday on state television, according to AFP.
The over-the-top rhetoric came after North Korea test fired a short-range ballistic missile into the sea over the weekend and analysts "say Kim Jong-Un won't order troops to stop testing weapons unless rival South Korea and the U.S. make a major concession such as downsizing their regular joint military drills or conducting them in a low-key manner," according to the Associated Press. Simultaneously, according to the AP, "North Korea is seen by foreign observers as pushing for better ties with South Korea and other countries as a way to lure international investment and aid to revive the country's stagnant economy." North Korea's people skills may need some work. This is not the first time North Korea has threatened to stage a nuclear attack on the U.S., but AFP reports, "most experts believe it is still a long way from developing a viable intercontinental ballistic missile with the required range."
TODAY IN SLATE
Politics
Smash and Grab
Will competitive Senate contests in Kansas and South Dakota lead to more late-breaking races in future elections?