World's Most Wanted Drug Lord Is Captured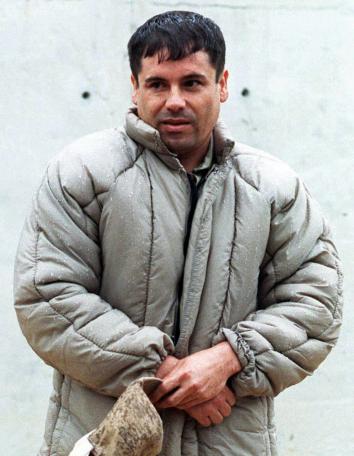 Joaquín "El Chapo" Guzmán, the leader of the Sinaloa Cartel, was captured by U.S. and Mexican law enforcement authorities early Saturday. The world's most wanted drug kingpin was arrested overnight in northern Mexico, and it seems the legendary drug boss went down without a single bullet being fired, according to the Associated Press. The 56-year-old Guzmán was captured with an unidentified woman. The capture effectively ends a manhunt that had been going on for more than a decade as law enforcement officials repeatedly tried to capture the man who ran the cartel believed to be the biggest supplier of illegal drugs to the United States. Under his leadership, the Sinaloa Cartel grew into a sophisticated, expansive network of traffickers with operations in every continent.
On Saturday afternoon, Mexican President Enrique Peña Nieto confirmed Guzmán's capture:
Reconozco la labor de las instituciones de seguridad del Estado mexicano, para lograr la aprehensión de Joaquín Guzmán Loera en Mazatlán.

-- Enrique Peña Nieto (@EPN) February 22, 2014
Guzmán, or "Shorty," had eluded capture ever since he escaped from prison in a laundry truck in 2001. Part of his fame and larger-than-life persona was built around the ever-changing rumors of his whereabouts and his apparent ability to outsmart the hundreds, if not thousands, of law enforcement officers who were searching for him. Meanwhile, he became "the world's most powerful drug trafficker," according to Forbes, which ranked Guzmán as the 67th-most-powerful person in the world.
That's partly why some in Mexico found it difficult to believe the news. "They finally got him? It would be good for the country, but I kind of doubt it. And if they have got him, they'll let him go again. He's untouchable," a 35-year-old office worker tells the Wall Street Journal.

(A photograph of Guzmán allegedly taken by Mexican authorities when he was detained.)

His mythic status meant that ballads were written in his honor and there were lots of stories about his generosity as a way of buying people's silence. His self-made-man status as someone who was born into poverty to become one of the world's most powerful men has also long been a key part of his local fame. But several of his top associates had been arrested over the past year and experts had been speculating it was only a matter of time before Guzmán himself was captured. While no one doubts his prominence, "the practical effect of his end remained unclear," notes the New York Times. Analysts say it is likely he no longer ran the day-to-day operations of the Sinaloa Cartel.
This post has been updated with new information since it was originally published.