Slatest PM: What to Expect (and What Not to) From Obama's Big NSA Speech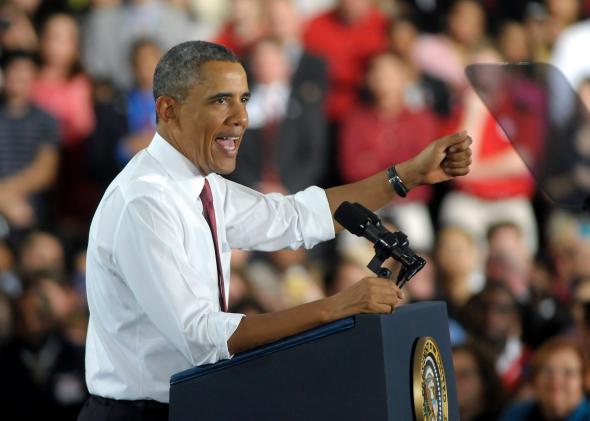 ***Sign up here to receive the Slatest PM—along with the best posts from Slate's other blogs—in your inbox every weekday afternoon.***
What to Expect From Obama's Big NSA Speech: Associated Press: "President Barack Obama is expected to endorse changes to the way the government collects millions of Americans' phone records for possible future surveillance, but he'll leave many of the specific adjustments for Congress to sort out, according to three U.S. officials familiar with the White House intelligence review. That move would thrust much of the decision-making on Section 215 of the USA Patriot Act toward a branch of government that is deeply divided over the future of the surveillance apparatus and in no hurry to settle their differences and quickly enact broad changes. Among the key decisions Obama is expected to leave to Congress is whether the National Security Agency should continue hold the trove of phone records or move the data to the phone companies or another third party. In a highly anticipated speech Friday, Obama is also expected to announce broader oversight of the process that helps determine which foreign leaders the U.S. government monitors. And he's likely to back increased privacy protections for foreign citizens, a step aimed at soothing international anger over U.S. surveillance programs."
Reform in Spirit, Not in Practice: New York Times: "The emerging approach ... suggested a president trying to straddle a difficult line in hopes of placating foreign leaders and advocates of civil liberties without a backlash from national security agencies. The result seems to be a speech that leaves in place many current programs, but embraces the spirit of reform and keeps the door open to changes later. ... But as intelligence officials have sorted through Mr. Obama's evolving position, they have been divided about how significant his adjustments will be. Some officials complained that the changes will add layers of cumbersome procedure that will hinder the hunt for potential terrorists, while others expressed relief that Mr. Obama is not going further and confidence that they could still work within the new guidelines without sacrificing much."
It's Wednesday, January 15th, welcome to the Slatest PM. Follow your afternoon host on Twitter at @JoshVoorhees, and the whole team at @Slatest.
Weigel: "Had Mitt and I Won, This Would Not Be Necessary"
Filling In the Blanks: National Journal: "The House passed a 12-part omnibus appropriations bill 359-67 on Wednesday, with a majority vote from both parties. The legislation is also expected to pass the Senate later this week. The omnibus builds on last month's budget agreement between Rep. Paul Ryan and Sen. Patty Murray, which set the topline spending for Fiscal Year 2014 at $1.012 trillion by allocating those funds at the program- and department-level. Once it clears the Senate, the legislation will keep the government funded through the end of September and prevent a shutdown this weekend. Like the Ryan-Murray budget bill, the omnibus drew the overwhelming opposition of outside conservative groups. Both earned the votes of a majority of House Republicans, including many conservative votes, a sign of the loosening grip those groups hold on the Republican conference."
XX Factor: Abortion Clinic Workers on Why the Supreme Court Should Uphold Buffer Zones
SCOTUS Talks Abortion Buffer Zones: Associated Press: "A 35-foot protest-free zone outside Massachusetts abortion clinics appeared unlikely to survive Supreme Court review after liberal and conservative justices alike expressed misgivings about the law in arguments Wednesday. Lawyers for both sides faced tough questions about the Massachusetts law aimed at ensuring patient access and safety at abortion clinics. Nationwide, clinics have dealt with threats and violence, including the shooting deaths of two employees in Boston-area clinics in 1994. But the court questioned the size of the zone and asked whether the state could find less restrictive ways of preventing abortion opponents from impeding access to clinics without prohibiting peaceful, legal conversations."
Slatest: The Supreme Court Struggles to Estimate the Length of 35 Feet
A Troubling Pattern: The Lede: "A Florida couple said they believe they encountered a 71-year-old retired police captain in December at the same movie theater where police said he shot and killed a man and injured the man's wife during an argument that began over texting. Jamira and Michael Dixson, told reporters that the same man, Curtis Reeves, sat near them at the Grove 16 movie theater in Wesley Chapel, about 20 miles northeast of Tampa. They said he became visibly angry when he saw Ms. Dixson texting on her phone as the movie started. "He made it very apparent that he wanted me and my husband to know that he complained because he sat there and he talked to the staff and pointed and was irate and irritated about the situation," Ms. Dixson said during the interview, standing with her husband in the driveway outside their Pasco County home."
Weigel: Latest Conservative Attempt to Undo Obamacare Fails in Court
Proof of Life: NBC News: "The United States has obtained a 'proof of life' video of American soldier Bowe Bergdahl who disappeared from his base in Afghanistan in 2009 and is the only U.S. service member held captive by enemy forces, officials said Wednesday. The video — which was on a thumb drive intercepted by the U.S. last week — shows a frail, shaky Bergdahl making a reference to the recent death of South African leader Nelson Mandela, the officials said. Although the Taliban has offered to release Bergdahl in exchange for five Taliban prisoners being held at Guantanamo Bay, U.S. military officials told NBC News they believe he is being held hostage by the Haqqani network in neighboring Pakistan. ... Those holding him have released several videos of Bergdahl in captivity, but the last one was more than three years ago."
Slatest: TMZ Publishes Grisly Photos Allegedly Showing Marines Burning Iraqi Bodies in Fallujah
A Friendly Auidence: Washington Post: "Embattled New Jersey Gov. Chris Christie (R) will meet with over 100 wealthy Republican donors on Sunday afternoon in Florida. Ken Langone, the billionaire co-founder of Home Depot, will host the private gathering. ... The conclave, he added, will be the first major meeting of Christie's national fundraising circle since Christie was reelected last year. ... Langone said Sunday's affair would be casual, and it will not be a fundraising event. Rather, it will be a time for Christie to personally connect with prominent Republican supporters from the financial and political communities. Langone arranged a similar confab in 2011 when he was wooing Christie to enter the 2012 Republican presidential primary. As Dan Balz reported in his book, Collision 2012, Henry Kissinger attended that meeting and industrialist David Koch participated via speakerphone. The location and list of attendees for this weekend's affair are being kept private."
Future Tense: Google Just Fixed One of the Most Annoying Things About Browsing the Web
NYC Agrees to Pay GOP Convention Protesters: Guardian: "The city of New York has agreed to pay $18m to settle a civil rights claim from hundreds of protesters who were rounded up and detained in overcrowded and dirty conditions after they rallied outside the 2004 Republican National Convention. The settlement, between city hall and almost 500 individuals, brings to an end a long-running sore between the overwhelmingly peaceful protesters and the New York police department (NYPD) that had been pursuing aggressive surveillance and detention tactics in the wake of the 9/11 terrorist attacks. More than 1,800 people, including teenagers and many uninvolved bystanders, were caught up in the massive police sweep outside the convention that was held to mark the nomination of George W Bush for a second presidential term. The deal, announced by the law department of the city of New York on Wednesday, does not come down on either side of the argument."
Moneybox: Is a Silicon Valley Hiring Cartel Forcing Down Wages?

That's all for this today. See you back here tomorrow. Until then, tell your friends to subscribe or simply forward the newsletter on and let them make up their own minds.