Inspectors Begin the Hunt for Syria's Chemical Weapons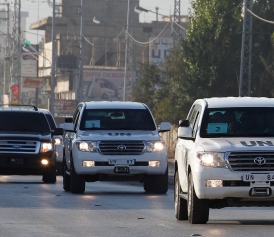 After weeks of diplomatic wrangling over how to address the use of chemical weapons in Syria, international inspectors arrived in Damascus on Tuesday to oversee the dismantling of the country's chemical weapons stockpile.
The task of finding and destroying the weapons isn't expected to be an easy one, given the country is embroiled in a brutal civil war, and inspectors from a Netherlands-based chemical weapons watchdog will have around nine months to eliminate President al-Assad's estimated 1,000-ton arsenal, the Associated Press reports.
Syria's Foreign Minister has said that seven of the 19 chemical weapons sites declared by the government last month are in combat zones, the BBC reports. A spokesman for the opposition Syrian National Coalition told the BBC that the rebel Free Syrian Army (FSA) would ensure that inspectors "will be protected, and granted access to all locations." Different rebel factions in the country, however, operate with a great degree of autonomy.
The advance team of 19 inspectors and 14 U.N. staff members arrived in Damascus in a 19-vehicle convoy escorted from the Lebanese border and set up a logistics base for its immediate work, according to a U.N. statement. The demolition task, now underway, is the product of a U.N. Security Council resolution that calls Syria's chemical stockpile to be scrapped by mid-2014. The deadline is the tightest that the experts from the Organization for the Prohibition of Chemical Weapons have ever faced, according the AP.