Gov't Agencies You Won't Hear From On Twitter During the Shutdown (But You Might Wish You Would)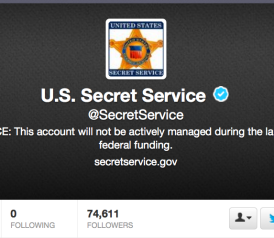 Dispensing information via Twitter may not seem like a big deal, but when you take a look at the number and breadth of government agencies (and their massive followings) that won't be able to distribute information on Twitter during the shutdown, it's a reminder of what it was like in a pre-digital age. It may be time to dust off the old radio.

Here are but a few you won't be hearing from.
Due to Congress's failure to pass legislation to fund the government, updates to this account will be limited. #Shutdown

— FLOTUS (@FLOTUS) October 1, 2013
Due to a lapse in government funding, this account will not be active until further notice.

— U.S. Capitol (@uscapitol) October 1, 2013
Signing off! In the event of government #shutdown Tuesday, this account nor the #FAA Safety Briefing magazine email will be monitored.

— FAA Safety Briefing (@FAASafetyBrief) September 30, 2013
We're sorry, but we will not be tweeting or responding to @ replies during the government shutdown. We'll be back as soon as possible!

— CDC Emergency (@CDCemergency) October 1, 2013
This account will be posting limited recall news during the government shutdown. We will not respond to or monitor tweets.

— U.S. FDA (@FDArecalls) October 1, 2013
We're sorry, but we will not tweet or respond to @ replies during the government shutdown. We'll be back as soon as possible!

— USA.gov (@USAgov) October 1, 2013
We will not be tweeting or responding to @ replies during a government shutdown.

— DOT.gov (@USDOT) October 1, 2013