Venezuela Expels U.S. Diplomats for "Sabotage"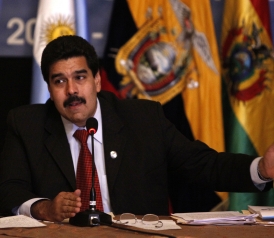 Venezuelan President Nicolas Maduro announced on Monday that three top U.S. diplomats in the country will be expelled for "acts of sabotage."

Maduro said that the diplomats have 48 hours to leave the country after, he said, Venezuelan authorities had tracked their actions for months. "We detected a group of U.S. embassy officials dedicated to meeting the far-right and to financing and encouraging acts of sabotage against the electrical system and Venezuela's economy," the president said in a televised speech.
Maduro said the country was expelling U.S. diplomats Kelly Keiderling, the senior American diplomat in the country, along with Elizabeth Hunderland and David Mutt. According to the Associated Press, the U.S. Embassy had not been officially informed of the expulsions when Maduro announced them.
Venezuela last expelled U.S. diplomats in March of this year for allegedly trying to destabilize the country. That announcement came hours before the president announced the death of Hugo Chavez from cancer.
Ever since he was elected in April in a special election to replace Mr. Chávez, Mr. Maduro has struggled with intense economic woes and a deeply divided populace. He has often accused plotters and saboteurs of being responsible for a variety of the nation's ills, including blackouts and the deadly explosion at the national oil company's enormous Amuay refinery.