Iran: It Takes More Than a Phone Call to Restore Ties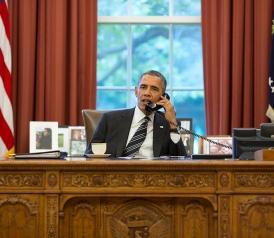 The Iranian government tried to tone down expectations that a groundbreaking phone call between the presidents of the United States and Iran marked the beginning of restoring relations between the countries. "Definitely, a history of high tensions between Tehran and Washington will not go back to normal relations due to a phone call, meeting or negotiation," Deputy Foreign Minister Abbas Araghchi told the semi-official Fars news agency. The Associated Press notes the words seemed to be directed at hardline Iranian factions that are wary of President Hassan Rouhani's clear outreach to the United States. Araghchi also echoed Iran's Supreme Leader Ayatollah Ali Khamenei, who had said direct talks with Washington were possible, but he was not optimistic.
The toning down of expectations came a day after a small group of hardliners threw eggs and shoes at Rouhani's official car on his return from New York on Saturday. Although Rouhani's supporters were clearly in the majority and they greeted the president with chants of "Iran calls for moderation" and "Rouhani we thank you," some 100 conservative hardliners also made their presence felt, shouting, "Death to America," reports Reuters.
Advertisement

Iranian hardliners are not the only ones uneasy about the recent overtures between Tehran and Washington. On Monday, Obama will be meeting Israeli Prime Minister Benjamin Netanyahu at the White House that could end up being "their most consequential encounter," notes Reuters. Although no one expects a public outburst, it seems likely Israel will express renewed concern over Iran and what it sees as Tehran's effort to buy time with diplomatic talks while it continues moving forward with its nuclear program. And to make matters just a tad more complicated, Israeli security officials chose the day before the White House meeting to announce they had arrested a Belgian businessman who was apparently spying for Iran.
"Foiling Iran's plan to plant a businessman with Belgian citizenship as an intelligence agent is important, but it's hard to ignore the attempt to equip Netanyahu with a little more ammunition for his U.S. visit," notes Haaretz's Amos Harel. "He'll need it; his visit this time opens from a clear inferior position amid the blossoming romance between the Obama administration and the ayatollah regime."
TODAY IN SLATE
Technocracy
Forget Oculus Rift
This $25 cardboard box turns your phone into an incredibly fun virtual reality experience.