McDonald's Hopes It Can Win Friends With Salad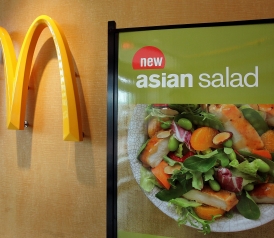 In a move that will surely disappoint Homer Simpson, McDonald's CEO, Don Thompson, announced on Thursday that the global fast food chain is going healthy (-er) and will begin offering salad, fruit and vegetable options, instead of exclusively french fries in its value meals.
The company says it will work to make the healthier, non-french fry, options available in 20 of the chain's biggest markets around the globe, which amount to 85 percent of sales, according to the AP. The announcement was made at the Clinton Global Initiative in New York City, and is expected to be implemented in as many as 50 percent of the targeted areas within the next three years and all the regions by 2020, according to the company. McDonald's also said it would begin promoting healthier options for kids, by using more attractive packaging.