Would You Buy Kurt Cobain's Childhood Home for $500K? Here's Your Chance.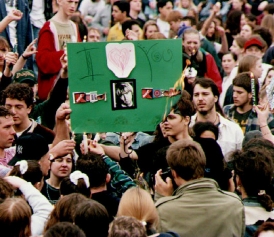 To some the chance to buy the childhood home of your music hero growing up might seem like can't miss opportunity, to others it might seem a wee bit creepy. If you're in it's-not-creepy-at-all camp and grunge was your thing, you're in luck–Kurt Cobain's childhood home is set to hit the open market this week.
Wendy O'Connor, the late Nirvana frontman's mother, is putting the one-and-a-half story bungalow in Aberdeen, Washington up for sale with a listed price of $500,000, according to the AP. The home was last appraised at less than $67,000. Here's how the AP describes the home that Cobain lived in from age two until nine and then again in his teen years: "a 1923 structure with dingy carpeting, water-stained wooden shingles on some interior walls, and a recent coat of yellow paint, is on East 1st Street in Aberdeen, a gritty and struggling former timber town at the mouth of the Chehalis River near the southwest Washington coast."
Advertisement

But, it's the history, not the accoutrements that would be of interest to potential buyers and fans alike. Cobain's room, for example, still has the stencil-like band names — Iron Maiden, Led Zeppelin — he put on the walls. The family, somewhat bizarrely, is also including Cobain's childhood mattress in the deal.
"We've decided to sell the home to create a legacy for Kurt, and yes, there are some mixed feelings since we have all loved the home and it carries so many great memories," Cobain's sister, Kim Cobain, said in an emailed statement to the AP. "But our family has moved on from Washington, and (we) feel it's time to let go of the home."
TODAY IN SLATE
History
Slate Plus Early Read: The Self-Made Man
The story of America's most pliable, pernicious, irrepressible myth.