Disgraced Former IMF Chief DSK Attempts a Comeback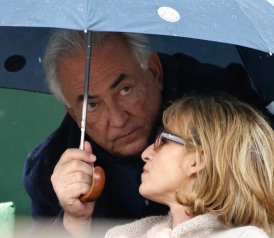 If you thought you'd heard the last of disgraced former IMF chief Dominique Strauss-Kahn, you'd be wrong. On Wednesday, DSK appeared to hit the career comeback trail being named the head of a multinational investment firm.
The one-time presidential hopeful in France is also buying a stake in Anatevka, the Luxembourg-based, publically traded financial services firm, Bloomberg reports. The move comes weeks after DSK was hired as an advisor to the Serbian government, completing his consultancy trifecta, including his roles as an advisor to the Russia Regional Development Bank and the South Sudan government.
The recent flurry of more visible roles comes after his career appeared to be in a free fall. In 2011, DSK was charged with attempted rape and other crimes for his interaction with a hotel employee at New York's Sofitel hotel. The charges were later dropped and he settled the civil suit brought by the hotel maid. DSK's troubles with the law were far from over. Here's more from France 24:
He was subsequently accused of sexually assaulting a French journalist during a 2002 interview and then implicated in a prostitution ring. He now awaits trial in France where he faces pimping charges in what has become known as the Carlton Affair. Strauss-Kahn has denied any wrongdoing.
If you thought all of that amounted to a track record of someone you wouldn't exactly want as the face of your company, again, you'd be wrong. According to Bloomberg, Anatevka is set to change its name with DSK as a named partner in the revamped Leyne, Strauss-Kahn & Partners or "LSK."
DSK is set to become chairman of "LSK" on October 18th following a shareholders' meeting.