NCAA Lightens Sanctions on Penn State for Sex Abuse Scandal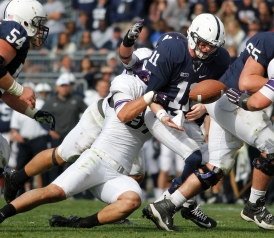 The NCAA announced on Tuesday it will reduce the sanctions placed on Penn State University, imposed as punishment in the wake of the Jerry Sandusky child abuse scandal.
The NCAA Executive Committee moved to ease the university's punishment on the recommendation of former senator George Mitchell, who has served as an independent monitor of the process, because Penn State has "made progress toward ensuring athletics integrity," according to the NCAA.

Penn State's scholarship ban will gradually be reduced, with five scholarships being restored next year and additional scholarships will gradually be restored until the standard 85 scholarship limit is reached in 2016-2017. The $60 million fine imposed on the university to help fund child abuse programs will remain. The school's four-year postseason ban will also stand, but could be shortened with continued progress, the NCAA said.