Study: Pentagon Could Cut 100,000-Plus Troops, Maintain Fighting Power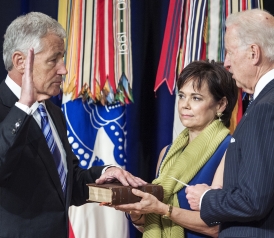 With leaders in Washington looking to cut costs wherever they can, a report released on Tuesday, finds that the Defense Department could bear a greater burden of the cost cutting and make significantly deeper cuts than initially proposed.
The report, authored by former military leaders for the non-partisan Stimson Center think tank, recommends an array of reductions that would amount to nearly $50 billion in budget cuts to American defense spending. The report's biggest proposed savings, according to the AP, would amount to a $22.4 billion reduction next fiscal year and would include cutting overhead costs, such as civilian employees, headquarters staff and contractors, as well as reforming pension and health programs.
Military officials were already planning a reduction in the 570,000 uniformed soldiers in the Army by 80,000, along with reducing the size of the Marine Corps. The report suggests that the Defense Department could go farther in troop reductions, shedding an additional 60,000 troops and 50,000 more civilian employees than planned without hurting American military power.
Other savings, according to the report, would come from the Pentagon's modernization program, which includes cutting or delaying certain weapons systems.
"The Defense Department is not a jobs program," Barry M. Blechman, one of the authors of the report, said in a Capitol Hill conference Tuesday. "He said lawmakers have 'stood in the way' of some of the cuts because they mean job losses among constituents," according to the AP.